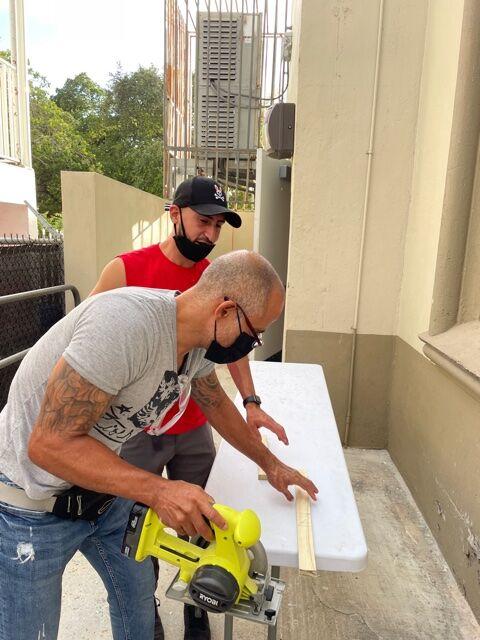 A partnership between the Southeast Overtown/Park West Community Redevelopment Agency, Florida International University, Camillus House and Community Awareness Construction Services is providing hands-on paid training to Overtown residents seeking jobs in construction.
The Miami Times spoke with Lola Capers, the executive director of CACS, who organizes the training needed to help create a pathway for the individuals that need it most.
Answers have been edited for clarity and brevity.
What is the purpose of the program?
We place individuals that have made bad mistakes in life and train them so they're more employable. If they came out of prison or something like that, they get certificates from the Law School of Construction, they get their NCCER (National Center for Construction Education Research) certification, they get the OSHA 30 cards, and we pay them a biweekly stipend for coming to class. It's not a lot, but they get $40 a day just to come to class for three hours a day. In total, we've had 11 graduates. Eleven right now are being hired.
When did the program start?
We started this program in 2019, partnered with the CRA. In the middle of doing the hiring and the graduating, we went into the pandemic. There's a lot of people from that class that will be hired on projects now because we couldn't do anything because of the pandemic. Most contractors wanted to stay with the staff that they had already. Things have gotten better now. It's a slow process but it's a workable process, due to the fact that we [now] have the vaccine.
What are the classes like?
Students have a classroom portion and then they go and do their hands-on training. With the hands-on, they learn how to build, how to hold hammers correctly, how to drill, saw, put things together – all of that. If you've been incarcerated or made bad decisions, you're not used to doing that and it's easy for you to get hurt on the job site. So we teach them safety.
Who is able to participate?
Anyone in the Overtown area that's willing to dedicate themselves for three hours a day, 14 weeks, then you qualify. We don't turn down anyone. The only thing that would eliminate you is if you're on drugs. We do drug testing.
What does doing this job mean to you?
I love what I do. I believe that individuals make mistakes in life and we, as citizens, need to give them a helping hand. To work with them and to see them grow. And to see that they get a second chance back in life. 'Cause it's all about second chances. We all have done something wrong, we just didn't get caught. I like to see our men and our women have the opportunity to say "Hey, I made a mistake, but I'm willing to learn from my mistakes, and to do better."
Classes are held at the Overtown Performing Arts Center, located at 1074 NW 3rd Ave. For more information, visit the center or call 305.316.4662.
This monthly business spotlight is brought to you by the Southeast Overtown/Park West Community Redevelopment Agency.