With rising vaccination rates, so came more restaurant customers. People thrilled to be out and about in Miami started dining out so frequently, some restaurants saw long waits for tables because there weren't enough servers to handle the onslaught.
Sylvia's Restaurant, a 59-year-old Harlem, N.Y., mainstay went through the same. According to a report in The New York Times about the struggling restaurant industry, the eatery has had such a hard time finding workers – even after raising its wages – that owners were forced to call in relatives from across the country to help. Indoor seating remains limited because it's impossible right now to serve all the tables. Breakfast has been put on pause. And as food prices soar, customer favorites like the smothered beef short ribs have been taken off the menu.
"Everyone was like, 'OK, restaurants, go ahead; you can open up again,'" said Tren'ness Woods-Black, an executive of Sylvia's and a granddaughter of its founder, Sylvia Woods. "But it's not as easy as flipping on a light switch."
Nya Marshall's Ivy Kitchen + Cocktails Detroit had been open about six months when the pandemic hit. After a rough year, she told CNN that business picked up in spring.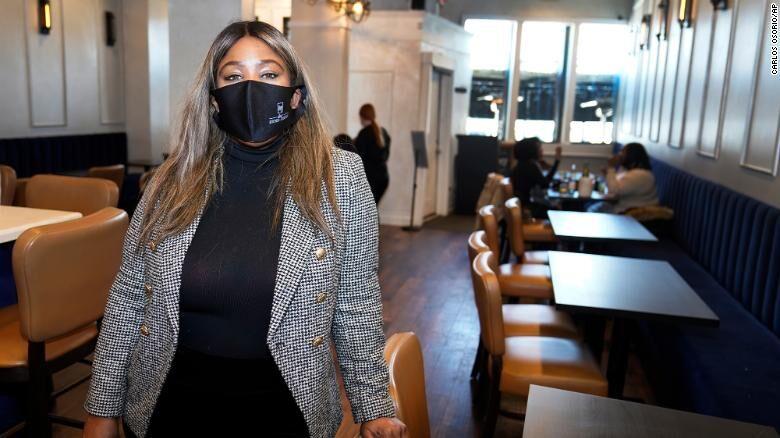 "Things were improving," said the restaurateur. "People were coming back out."
But now all that's changed. Six weeks ago, things took a turn. Ivy Kitchen's sales dropped about 24%.
With the rise of the delta variant, many restaurants are experiencing fewer customers and cautious guests.
"The delta variant is unnerving to people," Marshall said.
She told CNN that customers are wearing masks again indoors, even though fully vaccinated people can go without them in Michigan. Some patrons have also asked to remain socially distant. No-shows have increased, along with requests for outdoor dining. She worries about another shutdown.
Laurie Thomas, executive director of the Golden Gate Restaurant Association and owner of San Francisco restaurants Rose's Café and Terzo, reports that she's also noticed up to a 20% increase in customers who make reservations but don't show up or cancel.
Then, this month, her city became the first major metropolis in the U.S. to enforce a stringent vaccine mandate for entering restaurants, bars, gyms and large-capacity concert venues.
Greg Ryken showed up to his favorite lunch spot in San Francisco last Friday with an appetite and his vaccination record in hand.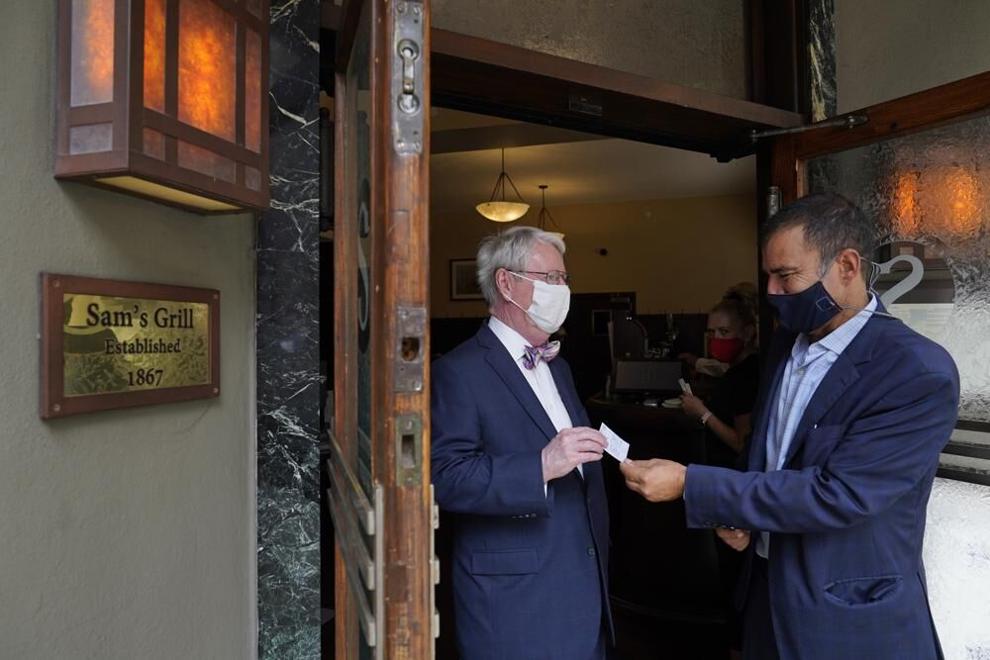 A manager at Sam's Grill & Seafood Restaurant verified Ryken was fully vaccinated against COVID-19, put him on a list of customers who have met the city's new requirement for future reference, and walked him to his table.
"Easy," Ryken said to the Associated Press.
Businesses in the area have posted signs and added extra staff to begin verifying people's vaccination and identity cards before allowing them in.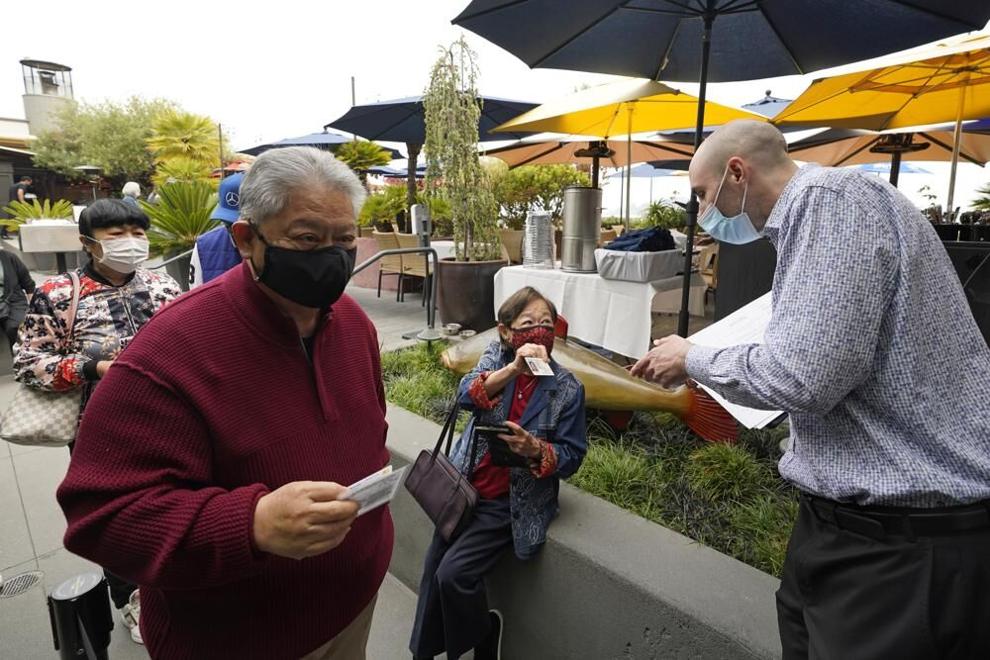 Pete Sittnick, a managing partner of the Waterbar and Epic Steak restaurants on the city's waterfront, said he was worried about slow check-ins, resistance from guests against the requirement or people showing up without proper documentation. So far, he said, the lunch crowd came with vaccination cards in their hands, and the line to get through the door was short.
"The good thing is, if somebody doesn't have their verification of vaccination they can still eat outside. There is an option and we just need to be ready for different scenarios," he said.
San Francisco Mayor London Breed announced the requirement more than two weeks ago in an attempt to stem rising COVID-19 cases, saying she was worried the highly contagious delta variant could disrupt the city's economic rebound. She also hopes it will encourage vaccine holdouts to join the 79% of the city's population that have gotten their shots.
"This is not a punishment," Breed said. "It's really about a chance to try and get us moving in the right direction and keeping people safe."
Online ordering and reservation systems such as OpenTable are helping by warning customers of the mandate ahead of time. The city's hospitality industry has launched a campaign called "Relax, We're Vaxxed" to get the word out to travelers.
City officials said a paper card issued by the U.S. Centers for Disease Control and Prevention, a photo of the CDC card or a digital vaccine credential will suffice. Proof of vaccination issued by foreign governments is also acceptable.
Pearce Cleaveland, co-owner of Temple nightclub, said his security guards have been trained to check all forms of vaccination proof and they have caught some people with fake vaccination cards.
"We've had people who get upset at the door when they're turned away, but in general they're understanding," he said.
The mandate in San Francisco goes further than that of New York City's, which requires people to be at least partially vaccinated for a variety of high-risk indoor activities, and New Orleans, which requires proof of vaccination or a negative COVID-19 test for indoor dining or drinking. All three cities make exceptions for people who don't qualify for the vaccine, including children under 12.
Not all restaurants are enthused about the mandate. A group of New York City dining establishments asked a judge last week to block the city's latest effort to curb the spread of the coronavirus, calling the city's mandate that customers show proof of vaccination "arbitrary, irrational, unscientific and unlawful."
The group argued that the new rules would severely harm their businesses and livelihood.
The city's proof-of-vaccination edict went into effect last Tuesday and requires anyone dining indoors at restaurants, going to museums, attending concerts, working out at a gym or entering many indoor public venues show proof that they have been inoculated against COVID-19.
The group of restaurateurs that filed the lawsuit in Richmond County, which encompasses Staten Island, said restaurants and other establishments included in the city's vaccine mandate were unfairly targeted because many other places – such as grocery stores, hair salons, churches, schools and office buildings – were excluded.
"This vaccine mandate is arbitrary and capricious due to the fact that it targets certain establishments but not others with no rational whatsoever," the lawsuit states.
New York Mayor Bill de Blasio first announced the new rules on Aug. 3. He said enforcement won't begin until Sept. 13 in order to give businesses more time to prepare, and to give people an opportunity to get vaccinated before they would become excluded from partaking in many aspects of public life.
During his virtual news conference Thursday, de Blasio said it would take time for restaurants and other establishments to "get used to it or to figure out" how to put the new rules in place. He said he was open to issuing a "a specific template out there for folks to use if that's helpful to them, but I think a lot of business owners are going to have their own approach."
The day before, he said he had "tremendous confidence that we're in a very strong legal position," regarding the new rules.
De Blasio said the global pandemic, and particularly the fast-spreading delta variant, prompted him to take more urgent and aggressive measures.
Industry group NYC Hospitality Alliance has said it supported the city's new measures to prevent harsher restrictions that could cause many restaurants and bars to go out of business permanently.
Still, the restaurant group that filed the lawsuit asserted the new rules go too far and that it carved out few exceptions, particularly for those who cannot or should not get a vaccine.
Meanwhile, supply chain issues also are putting a crimp in the restaurant business. Dick's Drive-In, a small Seattle chain of quick-service restaurants that mostly serves customers who take their orders to go, is experiencing all kinds of shortages.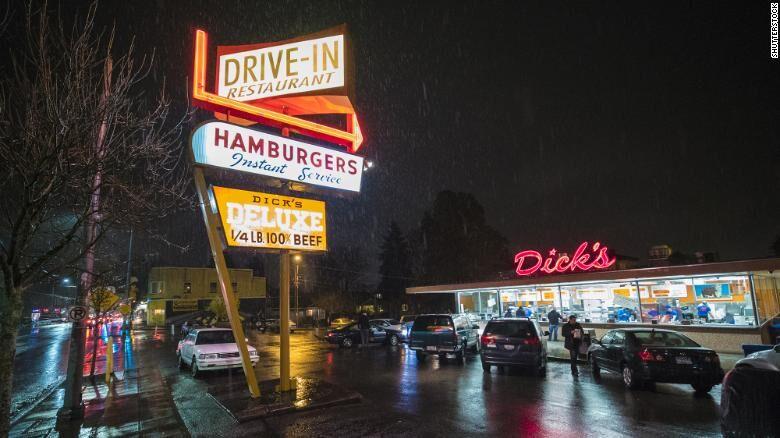 "This week it's straws, last week it was salt, a couple of weeks ago it was mustard," the company's president, Jasmine Donovan, said in a recent interview with CNN.
Each disruption poses a unique challenge. On one occasion, Donovan said, a major distributor shut down while quarantining employees after someone tested positive. Her team had to send a van to pick up products. And sometimes items are slow to come because of labor shortages along the supply chain.
"It's just a mad scramble every day to make sure we have what we need to serve our customers," Donovan said. "Our people are under a lot of stress. And we just really appreciate everyone's patience and understanding."