Jackson North Medical Center is nearing completion of its $100 million, three-year-long modernization project, as it continues to welcome patients and visitors while trying to shake off the facility's previous reputation.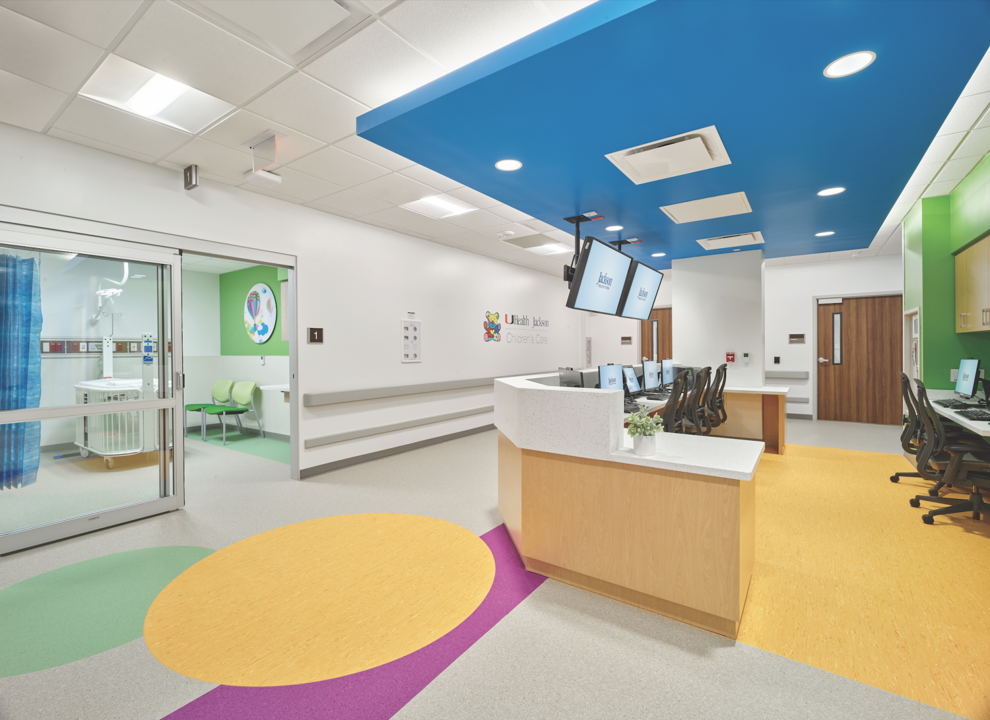 The 382-bed North Miami Beach hospital has received a complete makeover, from a new emergency room to operating room robotics. The project has expanded the hospital's ER, doubling its size, and added a pediatric ER. Labor and delivery suites have been refurbished with the exception of one section still under construction. Surgical suites and an outpatient rehabilitation center also feature new equipment.
The difference is immediately apparent – even the entrance has a completely different design. An updated and brightly lit new lobby and reception area is a stark contrast to its previous appearance. The facility also boasts a new dining center to complement its modernized rooms.
Most of the project's funding, $85 million, came from Jackson's Miracle-Building Bond Program, which takes a portion of profits from the institution's annual income for reinvestment in upgraded facilities and medical equipment across Jackson campuses. The rest of the work is being funded through the hospital's own capital dollars.
Renovations began in 2018 with an anticipated completion date in 2020, which was delayed due to due the pandemic. The project is expected to be finalized by the end of this year. Areas are still undergoing construction, amid the challenge of operating and renovating during a time when health care facilities are overwhelmed with COVID-19 cases.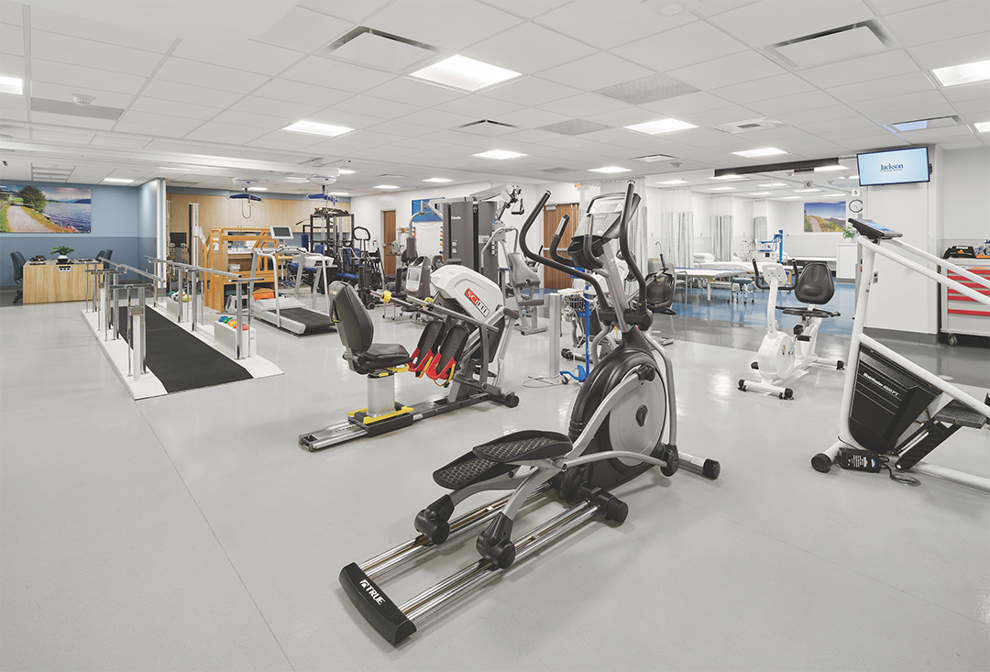 Throughout the process, the hospital has opened in phases. When the new rehabilitation center was being built, rehab patients were relocated to the old ER. Once the new space was completed, patients were then moved there.
Tracilyn Urruela, director of rehab services, was thrilled to move into the new area because the previous room was off-puttingly colored in lurid shades of blue and orange.
"It was awful," she said. "When we moved up here, we had modern colors and new furniture. Even the front desk from before, the Formica on it was all powder blue. It was really horrible."
Urruela has been at Jackson for nearly 30 years, starting off as a student, then coming back as a new grad therapist and working her way up to director. Most of her staff were rollovers from the hospital's previous owner.
"The only negative piece that came out of [the renovation] was we did have to lose our pool," she said. "We had a pool that we provided to the community for 40 years, which I think was hard on the staff and the community to lose that. But other than that, it's really worked out well to be up here and the patients love it."
The hospital, which hadn't undergone any large renovations in more than four decades, was formerly known as Parkway Regional Medical Center. It was acquired in 2006 by Jackson Health System and renamed Jackson North.
Since then, Jackson has not been able to fully dismantle the facility's poor reputation as Parkway and is looking to build up its reputation as Jackson North. Because the building overlooks the Golden Glades interchange, it stands out to residents and nonresidents alike.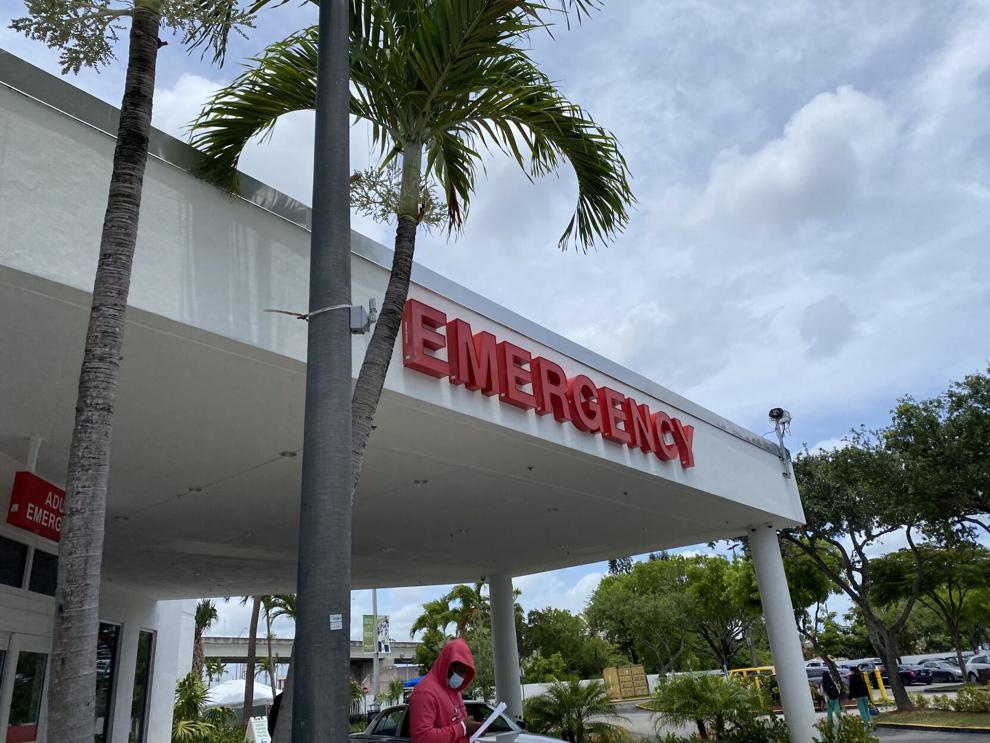 "A lot of times people will look at the building and it still looks like Parkway, [but with] Jackson North's name on it," said the hospital's chief operating officer, Ryan Hawkins. "We are very proud of the care that we are providing, but people are very visual. If it still looks like the old building, [even] if you change the name, that's what they associate it with."
Hawkins said Jackson will be installing a marquee with lit-up and increased sign lettering of Jackson North for all to see by the end of June.
"We wanted to give the community a brand-new experience, or an experience that, quite frankly, we felt that they deserve to have," he said.
Former County Commissioner Betty Ferguson, who represented District 1 and held the seat for 11 beginning in 1993, said residents came to her with complaints about the hospital during her time as a commissioner.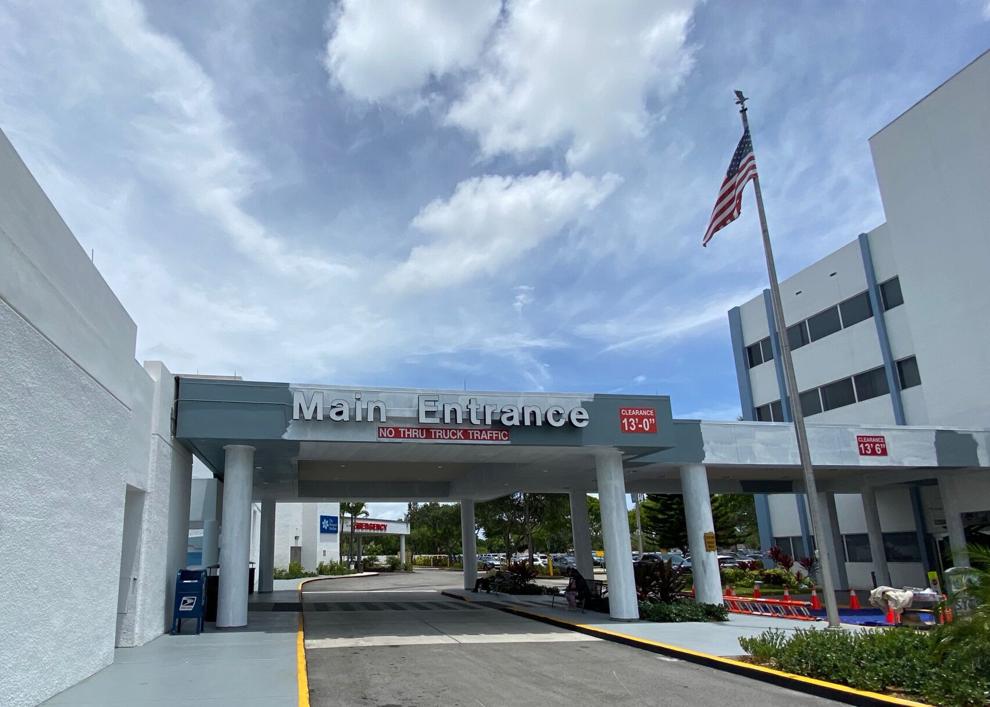 "There was a period where the reputation was not good and that was a known fact in the community," she said. "[Complaints were] coming from so many different people ... It's almost like they needed more training basically. It was like, 'Do they know what they're doing? I can't get a response. The service isn't good.'"
In one instance, someone in the community was not receiving a response from the hospital, despite both their elderly parents being there. That person came to Ferguson hoping something would be done. Ferguson called the hospital and the issue was resolved the following day.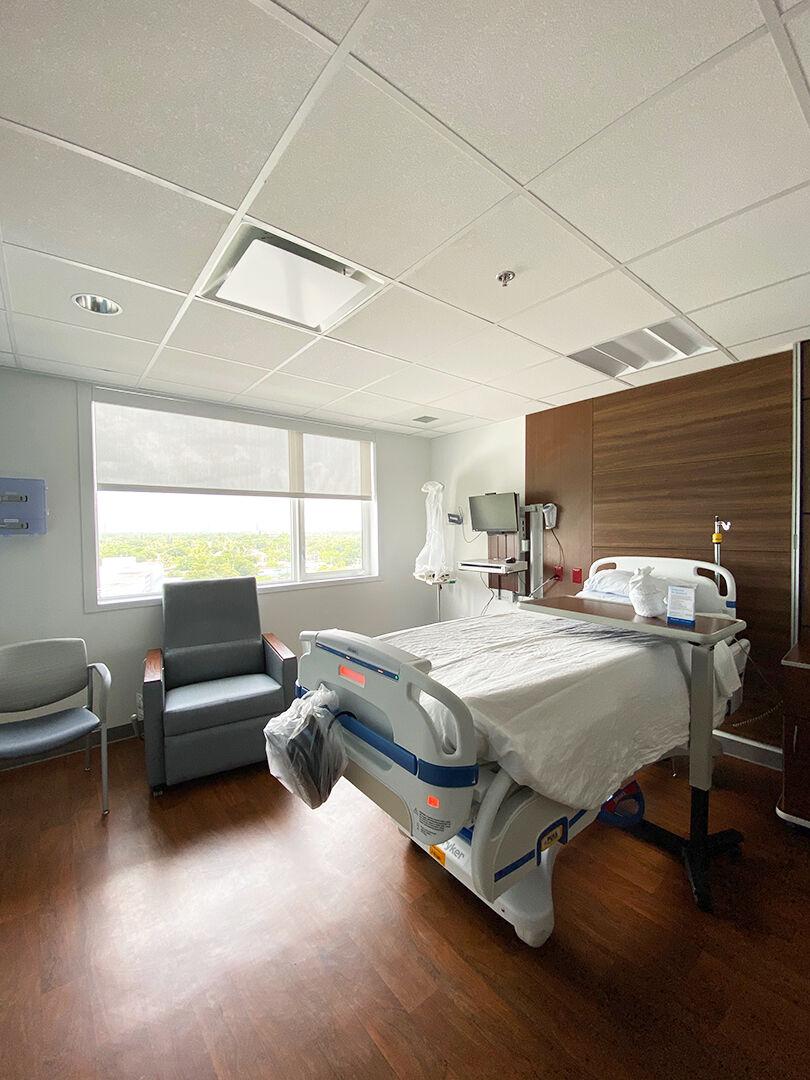 "The problem is [people] feel like they shouldn't have to come to me to get to the hospital staff or get things taken care of, but that appears to be changing," she said.
Residents continued to contact her despite her term ending in 2004, because she holds weekly UP-PAC (Underrepresented People's Positive Action Council) community meetings. She formed UP-PAC in 1987 and has been hosting meetings every Saturday since.
At a meeting Jackson Health CEO Carlos Migoya attended to inform community members about upcoming building enhancements, he listened to what residents had to say.
"I think the community really appreciated that, and [Jackson has] been working very hard to let the community know that things have changed and a lot of money has gone into renovating the facility," Ferguson said.
Tony Gomez, senior vice president and CEO of Jackson North, said building trust among the community is a message that needs to be put out, not just for Jackson North, but any hospital.
"We want people to understand that this is their hospital," he said. "That we're there to serve them, so we go out [in the community] and meet with a lot of different folks that are either current employees, past employees, volunteers, physicians, community leaders, a lot of active members in chambers and different events, to really get an idea of what the perception is of Jackson North. And the perception wasn't the best."
In addition to changing the hospital's appearance, Gomez said time and effort have put into improving its service and the responsiveness provided to patients. The hospital has made sure it has an adequate amount of staff to tend to patients' needs.
"Since the renovations have taken place, it's given the community a different outlook of who we are. Not only do we provide excellent care, which is something that we've always done, but we're doing it in a more patient-friendly environment," Gomez said. "A lot of people have given us a new chance, and they've been wowed by their experience."