Joann Redmond, founder-owner of Derma CosMedics in Miami Shores, received a $5,000 check from St. Thomas University president David Armstrong on Monday, funds she'll be able to use to help her struggling business stay afloat.
The company is one of 20 small businesses in Miami-Dade County to receive a micro-grant sponsored by the university's Center for Pandemic, Disaster and Quarantine Research (STU PDQ), which was established in April to help provide pandemic relief. About 50 businesses applied for grants totaling $100,000.
"This is money [businesses] wouldn't have to pay back, money they could use to actually help them get through tough times, like having to buy personal protective equipment and paying rent because sometimes you don't have people coming in, so we want to get those grants out," said Miami-Dade County Commissioner Oliver Gilbert III, executive director of STU PDQ.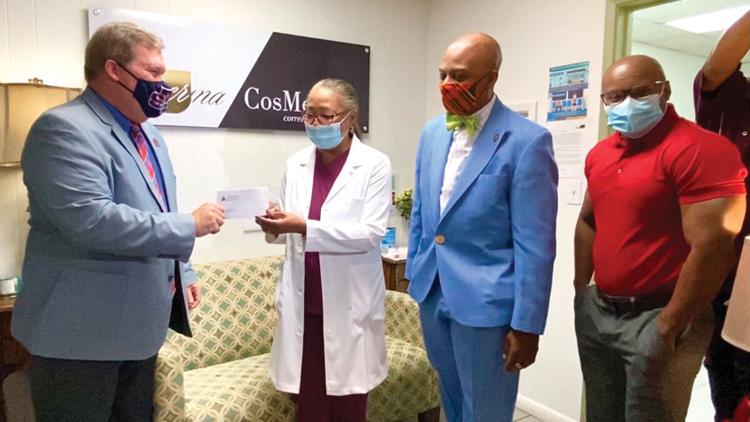 Redmond, who has been in the skincare business for 30 years, said her company has been hit hard by the coronavirus, like so many other small businesses in the community.
"It has caused a reduction in clientele. We can't afford to take the number of customers that we were taking before because we have to do a lot of preparations to get the rooms ready, like sterilize the floors," Redmond said. "Of course, we want to make sure that everybody stays safe and we will be buying more PPE using this grant."
It was a client that told Redmond about the grant opportunity, thinking it would be something she'd be interested in applying for. Learning Derma CosMedics was named a recipient was an overwhelmingly joyful moment.
The grant monies came from CARES Act funding received by the county, said Armstrong, and were specifically meant to help small businesses.
"For me, I'm the son of a tool and die maker who started his own business and [supported] all these families who were able to make their living and have a good life," he said. "I'm all about supporting small businesses because, to me, that's what America is about."