Miami's West Grove neighborhood can expect to see an influx of job opportunities and affordable rental units through the up-and-coming Platform 3750.
The mixed-use, mixed-income housing project developed by Cornerstone Group Partners will be located at the intersection of Douglas Road and South Dixie Highway/US 1. Construction is already underway with a projected completion date of August or September 2022.
The $90 million project is a partnership between Cornerstone, the City of Miami and the U.S. Department of Housing and Urban Development (HUD). It will consist of 21,000 square feet of commercial space that will include an Aldi supermarket and a Starbucks, as well as 191 mixed-income residential units and an additional 27,000 square feet for office space and parking.
The Frankie Shannon Rolle Center, which lives under the umbrella of the Miami-Dade County Community Action and Human Services Department, will find a new home at Platform 3750 after its original building located at the site was demolished for reconstruction, as will District 7 county commission staff. Cornerstone also plans to relocate its Hollywood-based corporate headquarters to the new facility.
"We are excited about the upcoming groundbreaking of Platform 3750," said County Commissioner Raquel Regalado, expressing excitement for her district's new satellite office and everything else that will be accessible to her constituents through the project.
Because the land is owned by the county, the rent for its office spaces will be waived and it will receive a minimum of $250,000 in annual ground rent from the project.
"Our mission is to build affordable housing where people can live in and be happy about [being there] and get a good value," said Lenny Wolfe, a partner at Cornerstone. "From a governmental aspect, economically and even from a social services perspective, I think [this project] is a win-win for everybody."
Roughly 250 construction jobs have resulted from the project so far, with 57 permanent jobs in retail or apartment management coming once construction is completed.
Architect Kobi Karp designed the building using a neo-Bahamian style as an ode to the immigrants who first settled in the historically Black neighborhood of West Grove in the 1870s.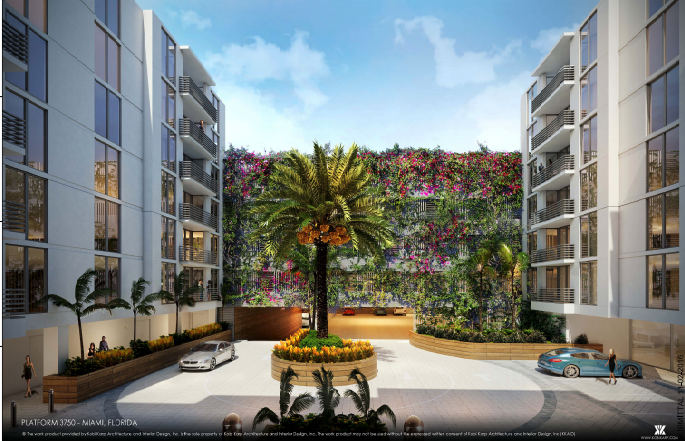 Developers and county officials who had a hand in bringing the project to life made the conscious decision to maximize neighborhood assets. The building will be situated near the Douglas Road Metrorail station with a pedestrian bridge for residents, employees and customers to safely get across the busy streets and access public transportation.
Seventy-seven of the residential units will be reserved for leasing to low-income families who earn less than 60% of the area median income, thanks to former county commissioner and current mayor, Daniella Levine Cava, who fought to prioritize the community by securing as many units as possible for those families on tight budgets. The remaining 114 units will be available at market price.
"The West Grove community has been neglected for a very long time," said Wolfe. "In the past 20 years, only about 50 affordable housing units were built."
West Grove is somewhat emblematic of Miami's affordable housing crisis. There is a surge in the number of two-story modern homes and duplexes being built in the area, both largely out of financial reach for its Black residents. And on top of the limited affordable housing options in the area, the condition of existing lower-income properties was not desirable.
In 2018, five affordable housing properties located at 3410 Hibiscus St., 3401 Grand Ave., 3375 Grand Ave., 3400 Florida Ave. and 3412 Florida Ave. were demolished following a City of Miami lawsuit against corporations who owned the properties. The city was forced to take legal action when it was made aware of code violations and residents living in substandard to unbearable conditions. Some residents experienced roofs caving in, raw sewage backups and mold infestation. Many were displaced and forced to seek shelter elsewhere.
But while Platform 3750 and the recent establishment of a community redevelopment agency is making the future look brighter for Black residents, West Grove's failure to secure homes for low-income families in the past has fear looming over the neighborhood.
Carolyn Donaldson, vice president of GRACE Inc. (Grove Rights and Community Equity) and a board member of the South Dade branch of the NAACP, shared concerns about a history of unkept promises when it came to proposals to create affordable housing projects.
"[Platform 3750] should be a nice addition to the community," she told The Miami Times. "I guess for the most part [Cornerstone] made a commitment to put some affordable housing there. We would like to see that come to fruition. Promises have been made in the past but we believe it should be moving forward."
Wolfe, who is adamant that the project will positively impact the neighborhood, said he is hoping to meet the expectations of the community and reassure those who are uncertain about the project's outcome.