As the new normal for eating out around the nation has shifted from takeout to dining in, local Black-owned restaurants throughout Miami have their stoves, ovens and fryers on standby to keep up with the times and continue serving the community.
During these unprecedented times, Miami-Dade County's Black Affairs Advisory Board's "I Support B.O.B. (Black Owned Businesses)" campaign has launched the "B.O.Bs TAKEOUT CASH MOB" initiative which seeks support by letting the community know these restaurants are open for takeout orders and deliveries.
The list of Black-owned restaurants open for takeout and delivery orders is continuously updated in order to share information on these businesses, and the Black Affairs Advisory Board encourages our community to patronize them during these challenging times.
The following list reflects Black-owned restaurants participating in the initiative from April 2 to April 11:
-Shuckin' And Jivin': 4759 NW 167th St., Miami Gardens. Call for hours, 305-974-4751.
-iSeeFood: 16194 NW 27th Ave., Miami Gardens. Call, 305-454-0403. Open Wednesday through Sunday from 4 p.m. to midnight.
-World Famous Rib Shack & Seafood: 7506 NW 17th Ave., Model City. Call for hours, 786-558-7068.
-Lorna's Caribbean & American Grille: 19752 NW 27th Ave., Miami Gardens. Call, 305-623-9760.
-Lil' Greenhouse Grill: 1300 NW Third Avenue, Overtown. Call, 786-277-3582. Open 11 a.m. to 10 p.m.
-House of Wings: 1039 NW Third Avenue, Overtown. Call, 305-371-6556. Open 11 a.m. to 9 p.m.
-iKrave: 4799 NW Seventh Avenue. Call, 786-747-4161. Open: 11 a.m. to 9 p.m.
-Jackson Soul Food: 950 NW Third Avenue, Overtown. Call, 305-374-7661. 14511 NW 27th Ave. Call, 305-982-8167. Closed Tuesdays, open: Monday through Friday from 6 a.m. to 2 p.m., and Saturdays and Sundays from 6 a.m. to 4 p.m.
Retha Boone-Fye, director of the Black Affairs Advisory Board ordered takeout from Lil Greenhouse Grill in Overtown Thursday, March 26.
"They did curbside service," she told The Miami Times. "They had people waiting for food in their cars and they would bring their orders out."
While there, she made sure to order herself a plate of their shrimp and grits and barbeque rib tips along with mac and cheese and greens.
iKrave co-owner Eric Van Dyke, indicated that the turnout over the past weekend was much better than he expected.
"In times like this there's a lot of people that are home right now, but there's also a lot of people that are still eating,'' he said. "When they come, they let us know that they are still supporting Black businesses during these times."
The restaurant owner also mentioned that in addition to the Black Advisory Board's program, social media use by their patrons largely contributed to getting the word out.
"We have a lot of people right now on Instagram and Facebook promoting us and we really appreciate it because that's a big help in a time like this," said Van Dyke.
Shuckin' and Jivin' in Opa-locka found customers embrace takeout orders that are combos and loaded with their menu favorites.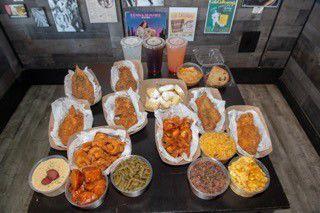 For business efficiency and to accommodate, they've created "The Grand Daddy" meal that feeds two to four people and includes one piece of fish, one piece of chicken, 10 shrimp and three large sides for $25. "The Great-Grand Daddy" meal feeds four to six people and includes two fish, two pieces of chicken, 15 shrimp and three sides for $34. Beverages and desserts are sold separate.
Owner Ernisha Randolph learned that many senior customers do not utilize delivery apps like GrubHub door delivery, so "Shuckin and Jivin'" started their own personal delivery using company vans.
For Georgette Lawson, manager of Jamaica House Restaurant located in Miami Gardens, she said her business has dropped 25% since the pandemic.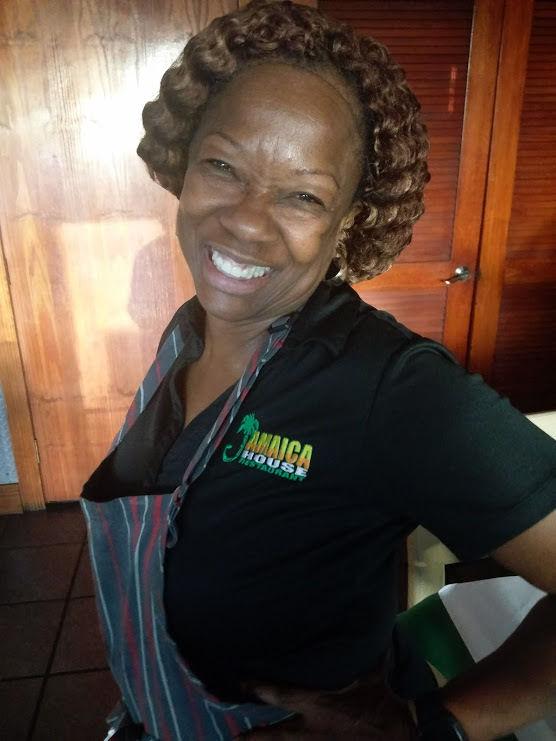 While she continues to sell her customer's highest demand items of jerk chicken and oxtails, she has had to cut hours from their normal operation of being open 24-hours. To comply with social distancing mandates, only five customers are allowed in the restaurant at a time to place take-out orders.
In the past, the B.O.B. campaign initiative has joined forces with community based organizations such as the Miami-Dade Chamber of Commerce, Miami-Dade Economic Advocacy Trust (MDEAT), ICABA, Legacy LLC, NAACP, National Action Network, 100 Black Men of South Florida, NANA, fraternities, sororities, civic organizations and similar groups. Local Black churches have also encouraged their congregations to support the businesses that are registered to participate in the campaign.
For more information regarding the B.O.B. campaign initiative, please contact Black Affairs Advisory Board Director Retha Boone-Fye by email at Retha.Boone-Fye@miamidade.gov.