Exchange for Change (E4C) is aiming to impact social change with a pen and paper by promoting the words of South Florida's incarcerated communities. The local nonprofit teaches writing to inmates serving time inside South Florida prisons with an emphasis on collaboration.
Students from high schools and universities on the outside anonymously partner with imprisoned writers to foster empathy and create opportunities for individual and social change, allowing both sides to learn from the knowledge and experiences of their writing partners. Ultimately, prisoners are prepared for their reentry into the outside community and prepare the community for their return.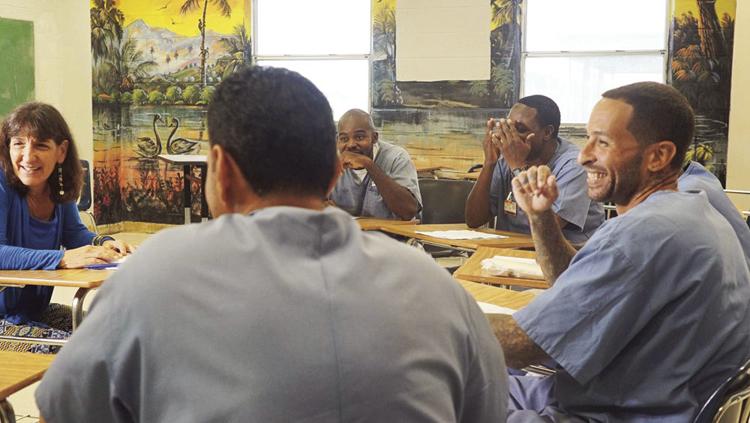 "More than three quarters of incarcerated populations will eventually come back into the community and all studies have shown that those people who engage in educational opportunities inside do better outside," Kathie Klarreich, executive director and founder of Exchange for Change told The Miami Times on Friday, April 24. "They are more successful, they have better chances of gaining employment and staying out. So it's not an emotional response, it's actually proven that these kinds of programs help people thrive inside."
Klarreich said E4C also assumes the task of educating the community about incarcerated people through their dialogue.
"We do that in a variety of ways," she said. "One of which is a literary journal that has their writings so that people could see for themselves who these students are and what they write about."
E4C has graduated nearly 1,500 students from a variety of writing courses ranging from legal writing, creative writing, non-fiction, journalism, songwriting and has expanded their program from one facility to four across the Florida Department Of Corrections, Federal Bureau of Prisons as well as Juvenile Detention Centers.
In the wake of the public health crisis, the E4C writing exchange program has come to a halt in Florida prisons due to safety concerns over social distancing and the inmates' overall lack of adequate technological resources to carry on virtual distance learning.
The program is currently exploring their options in correspondence with the Department of Corrections to safely administer learning materials to their students on the inside.
"We're putting together packets of weekly assignments which we will deliver to the institutions and they will distribute to the students so that each week the students will have an assignment so that our students know that we have not abandoned them."
To give back to one of the pandemic's most vulnerable populations, E4C kicked off its COVID-19 relief efforts through providing basic hygiene and sanitation items to incarcerated individuals and corrections officers to combat the spread of coronavirus in Florida.
Just four days after the initiative launched on Friday, April 10, E4C and its affiliated groups raised more than $10,000 dollars to purchase the hygiene supplies for one of the most susceptible groups of the virus amid the outbreak.
"We put out a GoFundMe and a couple of organizations affiliated with the Florida coalition had seed money," "Once we got more money we immediately placed an order for the soap and the sanitizer."
In partnership with the Florida Coalition for Higher Education in Prisons; Community Education Project; Florida Prison Education Project and Institute for Educational Empowerment, the groups ordered nearly 10,000 bars of soap and 50 gallons of hand sanitizer to incarcerated people and Department of Corrections staff in eight Florida prisons. An additional 20 gallons of sanitizer will be sent to Okechobee Correctional Institution, increasing the total number of prisons reached to more than a dozen.
Klarreich explained that the 5-inch antibacterial bar of soap is a luxury hygiene item to incarcerated populations-- who typically only receive a single generic hotel-sized bar of soap weekly.
While the hand sanitizer is restricted to the prison staff because of its alcohol content, it still works as a small step to protect this otherwise unprotected population from the pandemic.
The supplies were delivered and distributed to Everglades Correctional Institution, and have been delivered and are awaiting distribution by the wardens at Dade Correctional Institution; Everglades Re-Entry; Polk; Lake; Lowell and Tomoka Correctional Institutions and the Central Florida Reception Center.