Faith is that thing you feel but can't see. It is the unexplainable sense of confidence that gives you reassurance when disaster is all around you. It's also the subject of the new movie, "The Sun Is Also A Star," starring Yara Shahidi from "Grownish" and Charles Melton from "Riverdale." The romance-drama is set to release in theaters May 17.
The movie's stars hosted a screening in hopes to get locals excited about the movie and more importantly, believe in love.
"This is a story about two diverse human beings that discover hope, faith and love in one day. I feel like this is a reminder to anyone who has been in love," said Melton.
The screening for "The Sun Is Also a Star" took place Thursday, May 9 at the Regal Cinemas in South Beach. The film, directed by Ry Russo Young, is based on the 2016 book written by New York Times bestselling author, Nicola Yoon. Yoon is also responsible for the novel "Everything, Everything," which also was made into a film in 2017.
"A Sun Is Also a Star" is about a Jamaican teenage girl named Natasha Kingsley (played by Shahidi) who met a Korean teenage boy named Daniel Bael (played by Melton) on the day that she and her family are being deported. Natasha has a pragmatic way of thinking while Daniel is a dreamer and believer in fate.
The film reflects what families actually go through when dealing with deportation. Temporary Protected Status is one of the biggest immigration issues in South Florida. TPS for Haitian-Americans was set to expire this year, which would have caused many people living in South Florida to return to Haiti. Shahidi, who is Black and Iranian, understands the struggle.
"Deportation issues are why I signed on with this project. I feel like often times when we talk about deportation we are talking about fake borders that were created in 1914. It's really beautiful to be part of a project that says we should get rid of these barriers," said Shahidi.
It's also a coming-of-age film that reminds you that fate can really bring you closer to the one with whom you are supposed to be. The movie takes place in New York within a span of one day. Natasha's goal is to try to reverse her removal decision and at the same time deal with her budding feelings for Daniel.
"What I loved about this project is it is complicated and complex, which reflects what so many of my peers know," said Shahidi. "The story of culture, immigration and identity is something that we can't separate from any other thing. It's cool to see a love story that incorporates all the complex things we deal with on a regular basis."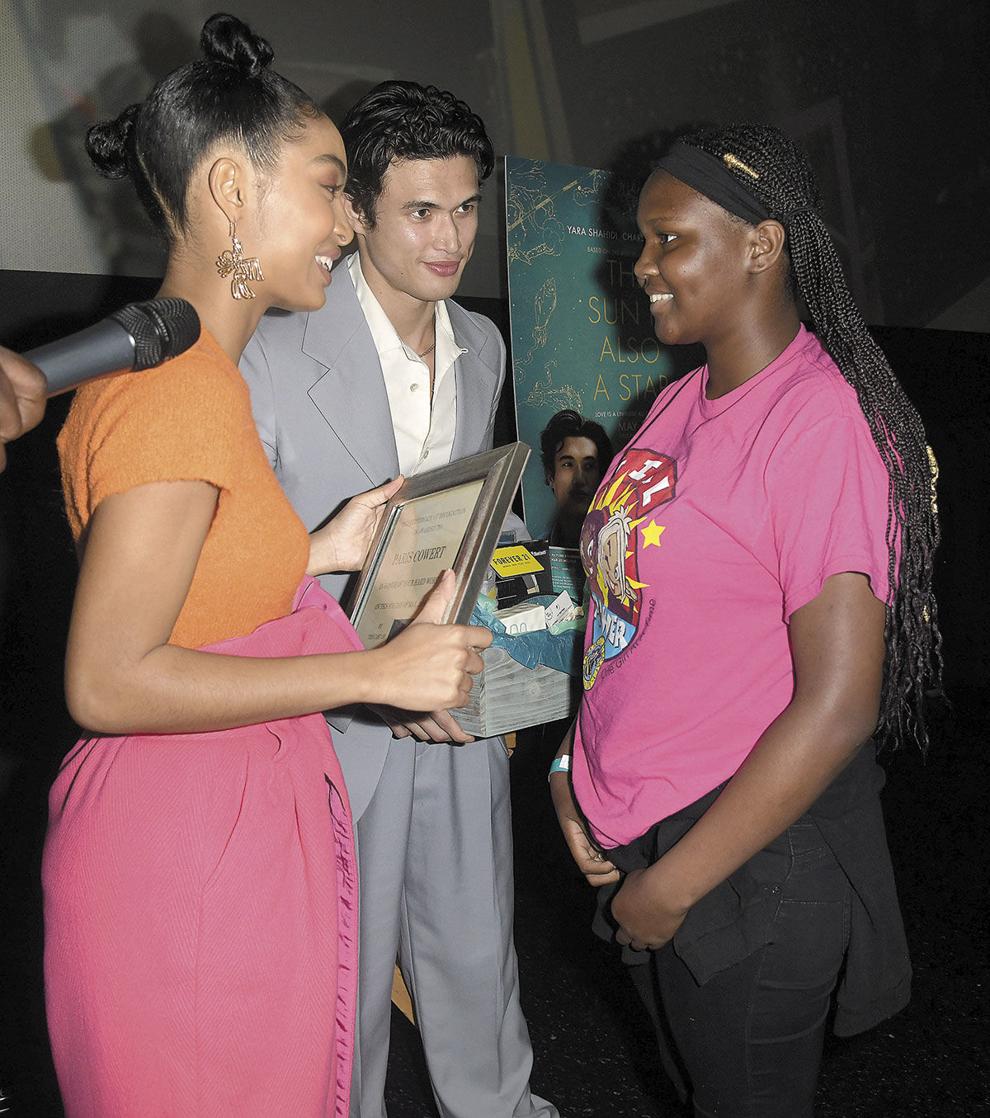 The film tackles the subject of fate by showing the many times Natasha and Daniel's trajectory crosses each other. The same building where Natasha meets a lawyer to help her case is the same place Daniel goes for his interview. Natasha's father and Daniel's father met their wives while they were at work in their younger days. There are even more creative coincidences that happens in the film that ends with a sweet payoff for the audience.
Audience member Paris Cowert received a gift from "The Sun Is Also A Star," from the film's actors. The Georgia Jones Ayers Middle School seventh-grader had shown the most academic improvement in her school. Paris is also a member of Girl Power, a nonprofit mentoring group for young women.