A veteran of higher education administration has been selected as Florida Memorial University's interim president.
Jaffus Hardrick replaces interim president Castell V. Bryant, the Board of Trustees announced Friday evening. Hardrick, who worked for 10 years at Florida International University, begins his tenure on July 16.
"Dr. Jaffus Hardrick is a visionary and transformational leader with 20 years of higher education experience in academic affairs, student services, human resources and diversity and community relations," FMU board chairwoman, JoLinda L. Herring said in a statement. "He has a strong community presence and involvement, and we look forward to his service to our students, faculty, staff and community." 
Hardrick in 2014 was appointed FIU's first vice provost for Student Access & Success, a role created to showcase the university to "economically disadvantaged students." Hardrick served as vice president of Human Resources and vice provost simultaneously.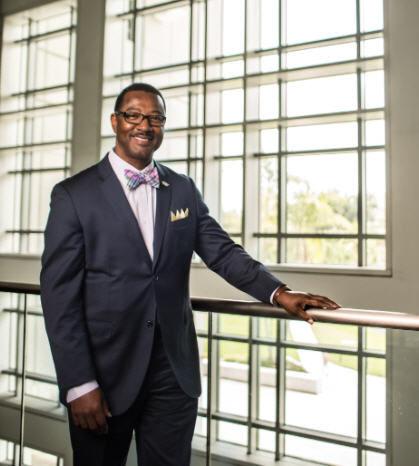 "This appointment recognizes Dr. Hardrick's commendable efforts in support of our minority student population," said a statement issued at the time by Douglas Wartzok, FIU provost and executive vice president. 
Hardrick had responsibilities ranging from strategy and innovation in academics, policy development and governance to donor development and community relations. As vice president of Human Resources, he managed an $800 million payroll, as well as a $30 million operations budget.
Hardrick's last salary at FIU was $281,000 per year.
Previous to his 10-year run at FIU, Hardrick served as an assistant vice president of Human Resources and assistant provost for Academic Affairs at Baylor University in Waco, Texas.
While at Baylor, he earned his doctorate in education, upgrading his education master's degree from Prairie A&M University. He earned a bachelor of arts in sociology from the University of Louisiana at Lafayette.
Hardrick is affiliated with numerous service and civic organizations including the Greater Miami Chamber of Commerce, the Miami-Dade Chamber of Commerce and the 100 Black Men of South Florida.
Stephen H. Johnson, president of the 100 Black Men of South Florida, said Hardrick's extensive career in higher education helps to shape the group's educational and mentoring programs.
Johnson met Hardrick – who is a  member of the group –  four years ago and said he's a good fit for the organization. 
"He couldn't be a member of the 100 Black Men of South Florida unless he is a person of good character," Johnson said. "He certainly has been a person who was dedicated to students of FIU and,  hopefully in the future, for the students of Florida Memorial University as its president." 
In an 2016 interview with FIU Magazine, Hardrick said he worked 40 hours a week to put himself through college. He is the first in his family to earn a degree; mentors supported and guided him through his career, he told the interviewer. 
Hardrick in 2015 made the shortlist to become a president of LeMoyne-Owen College in Memphis, Tennessee. Friday evening he issued this statement regarding his FMU appoint:
"For over 140 years, FMU has been a key educational institution educating and preparing students to be globally competitive leaders.  I am honored to serve FMU in this capacity in order to help move the university to the next level of excellence."
Hardrick will be the third interim president since the departure of Roslyn Clark Artis, who was named president of Benedict College July 1,  2017. Michelle Howard-Vital was named interim president shortly after and left for medical leave in November. Bryant assumed the role Nov. 20. 
FMU is South Florida's only historically Black university or college, known by the acronym HBCU.
Bryant said she came out of a nine-year retirement to take the reins of FMU, and is heading right back in. She served almost six months and said she didn't expect for it to last as long. 
The FMU board wished her well.
"We sincerely appreciate the service of Dr. Bryant during her time with us," said board chair Herring.