With household names like Teddy Bridgewater, Devonta Freeman, Amari Cooper, T.Y. Hilton, Dalvin Cook and Duke Johnson, Miami-Dade has been a talent hub for the NFL, past and present. All of the players whose names were mentioned played high school football in Miami-Dade County Public Schools. Many of those players also led their high school teams to even participate in a state title game.
But it's a process to get high school sports teams up to Daytona to play in state title games. Financials play a huge role. The expenses for a school's football team to compete in a state title game can exceed $15,000 for travel, food and lodging.
Through the cooperative efforts of its member schools, the Florida High School Athletic Association has provided opportunities for high school students in Florida to participate in interscholastic athletic programs for over a century. However, the current Florida High School Athletic Association (FHSAA) criteria for revenue sharing give schools less than $7,000, leaving individual schools to come up with the difference – sometimes more than $10,000.
Miami-Dade School Board Steve Gallon wondered if it is fair to "punish financially" the schools for excelling on the field and qualifying to play in the state title game? And if limited to participate financially, is it fair to the students whose exposure may be limited by the lack of necessary support from the Florida High School Athletic Association?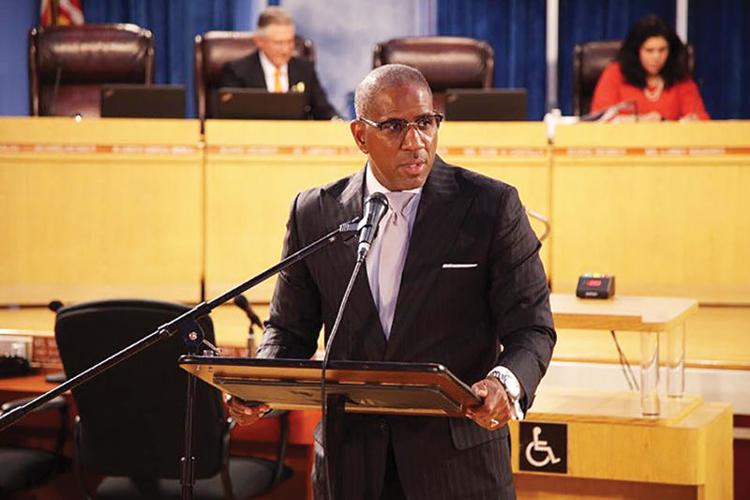 "This was a concern during my tenure for seven years as a high school principal at Miami Northwestern – nearly two decades ago," Gallon said. "For me and many, it is an issue of economic fairness and equity. Many schools in our district and throughout the state financially struggle to support their student-athletes who have earned the right to compete and win at the highest level. I am vexed with any financial relationship that may unfairly profit on the backs, sweat, and sacrifices of our students, and to financial loss to our schools."
For example, if you are a fan and you're unable to attend the games in person and you would want to tune in to the game via stream. In the past, the state games would be televised on Florida Sports Network (FSN) for free but that was not the case this school year.
"Not available for viewing for free but available viewing for a fee," Gallon said. In order to watch our hometown talent in the state title game the FHSAA was selling digital tickets online to stream the game for a fee. The FHSAA sounds like the NCAA where they find ways to profit off the players but do little or none to help support the players or teams financially. But now with legislation made by several states like California called "Fair Pay to Play Act," individuals are starting to see that the players matter."
California became the first state to pass a law that would allow college athletes to get paid for endorsement deals and hire sports agents. Despite the NCAA's latest decision, the organization said California's law is still "likely unconstitutional" and is considering all potential next steps as states continue to address the subject of student-athlete pay. The law takes effect in 2023.
Florida Rep. Kionne McGhee also filed a similar bill in the Florida House Bill 251 aimed at preventing the NCAA from blocking student-athletes from receiving compensation for the use of their likeness or name.
Gallon started looking out for student-athletes in 2018 when he filed legislation to see if schools were in their right classes.
Back in December 2019, seven South Florida high school football teams participated in the Florida High School Athletic Association state football championships and all seven returned home champions from classes 2A-8A. Three out of the seven were from Miami-Dade: Booker T. Washington (4A), Miami Northwestern (5A) and Miami Central senior high schools (6A).
Gallon's initiative to review the county's athletic programs classifications contributed to their wins. The Florida High School Athletic Association released their updated football classifications for the 2019-2020 season in a way aligned as called for by Gallon. When the juggernaut district 6A (Miami Carol City, Miami Northwestern, Miami Norland, Hialeah-Miami Lakes and Miami Central) was split up, sending Carol City to 4A and the three-time defending champion Miami Northwestern to 5A, multiple Miami-Dade Public Schools were able to compete and win state championships in multiple classes.
At the upcoming M-Dade County Public Schools board meeting on Feb. 12, Gallon will proffer Item H-8, FHSAA Revenue Sharing. This item is a request from Gallon for a review of the financial relationship between district schools and the Florida High School Athletic Association. Specifically, he wants to examine instances in which the costs and subsequent payment from the Florida High School Athletic Association for a school's participation in postseason competition and/or state championship series events result in a deficit to the school.
It has been suggested that although there may be a financial benefit to the Florida High School Athletic Association, schools that often participate realize a financial loss – often very significant ones for schools with limited resources to support and invest in their athletic programs.