Area teachers and parents brought the heat to a panel of educators at last Thursday evening's town hall.
Issues were addressed at Miami Norland Senior High School to the three-person panel of state and county officials: Miami-Dade School Board District 1 Vice Chair Steve Gallon III, Florida Education Commissioner Richard Corcoran and State Rep. Shevrin Jones.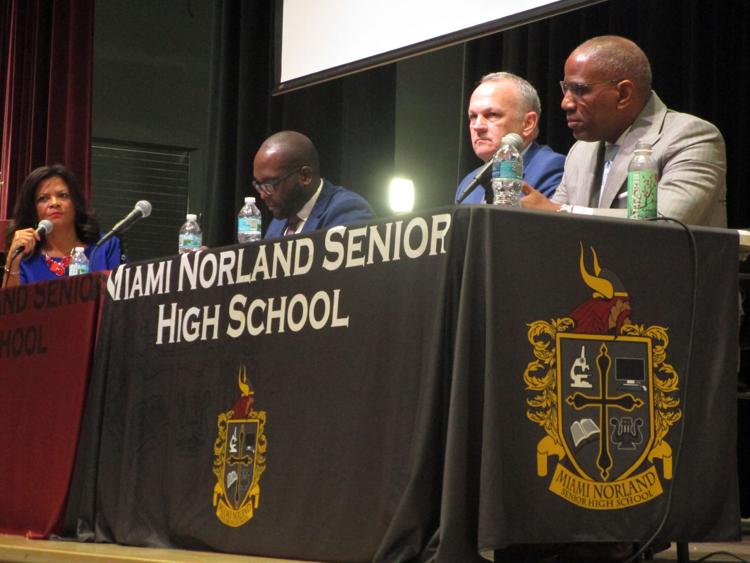 Some of the hot topics of the night were teacher salaries, school safety and student performance.
While the education commissioner highlighted Gov. Ron DeSantis' recent policy to increase the minimum salary for teachers to $47,500, teachers in the audience were not satisfied.
"Teachers are not happy," Broward Teachers Union First Vice President Terry Lopez Preuss announced. "And you can tell Gov. DeSantis that in my opinion, whatever he's doing with his $47,500 and getting all this publicity is something to bring on divide and conquer – and it's going to bring division in the ranks."
Lopez Preuss has been an educator for 35 years, working in Los Angeles, Miami-Dade and Broward schools, and claims she never received any raise that she was promised for her work over the years.
"It is insane," she said to the panel. "So, I'm going to hope you just don't get it because otherwise, I think it's sinister."
In addition, others argued that this base salary for state teachers does not incorporate the higher costs of living in counties like Miami-Dade and Broward and it isn't fair for veteran teachers who've been working in the system for longer.
"There's this issue of equity," Gallon brought up. "So, $47,000 in Miami-Dade County is different than $47,000 in Polk County."
In response, Corcoran indicated that one of the "great things" the governor has done is to rewrite the standards for pay from the input of teachers around the state. The audience argued the amount is not enough and Lopez Preuss asked for the Broward Student Union to be a part of that conversation.
Another issue was school safety when it comes to the teachers.
"There are a lot of teachers who are being pummeled by students in classrooms, and there are a lot of administrators being pummeled by parents in classrooms," a Miami-Dade Juvenile Justice Center School teacher said. "So, I would like to know when will the felonies start to take place because it's a misdemeanor to hit a teacher or abuse anyone in the school system. But if you start treating us like you treat police officers, and when you hurt a police officer it's a felony, then maybe they might start thinking about things when you start charging felonies for assaulting us."
Other teachers expressed concerns over frequent disrespect and threats made by their students and asked where were their parents.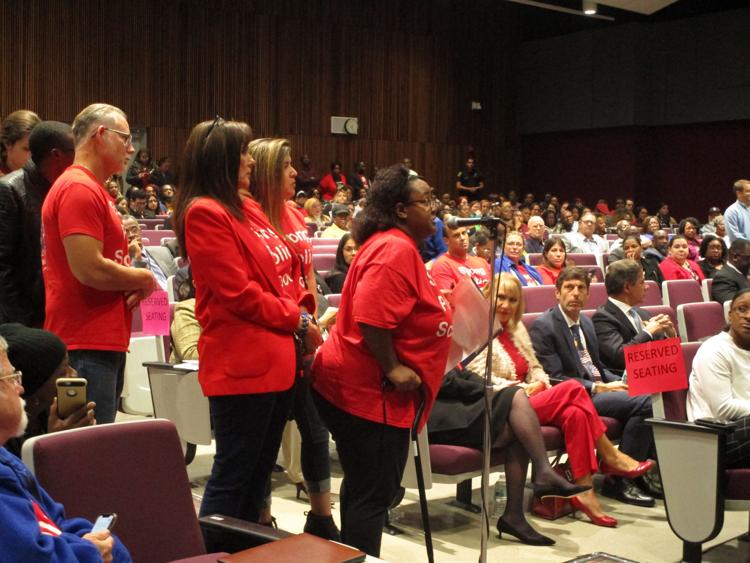 "We as educators will give you the tools, we will teach the children, but at three o'clock, what happens then?" a teacher from the audience asked. "You want us to do everything and that is not going to happen."
The question of teacher accountability has also played a part in student performance.
One teacher asked the commissioner, "Are you aware that there are people in this room that are being evaluated for kids that they don't even have in their classrooms?"
Others shared their thoughts on how the school grading system and standardized testing are not an accurate representation of overall student performance and need to be eliminated.
"We have an accountability system we have to protect," the education commissioner said. "It tells us where we need to send in those resources and where we need to get better."
Rep. Jones told the crowd that he and Corcoran will be scheduling a meeting together to collectively follow up on all of the issues brought to their attention at the town hall.