Author Michael Eric Dyson speaking at the Miramar Cultural Center on Saturday, weighed in on the recent controversy about blackface.
The blackface issue raised its head in Virginia, when a 1984 Eastern Virginia Medical School yearbook picture alleged to be of Virginia Gov. Ralph Northam surfaced. The photo shows one white man in blackface makeup and the other wearing a Ku Klux Klan hood.
First discovered Feb. 2, as of Feb. 11, Northam is still in office, amid calls for his resignation.
Dyson said if all the white people in blackface were removed, there is a risk of getting rid of a lot of good people who were in office.
The person coming up behind them might be worse, he said.
He spoke of a time when Martin Luther King Jr. was in Chicago, and one of his fellow marchers got spit on by a white person. King, noted Dyson, told his friend that he was getting mad about something minor, and told him that if he had a bad landlord he would do nothing about it. Dyson also said that the Me Too Movement was a difficult time for Black brothers who had to acknowledge a lot of what they did in the past and how wrong it was.
"The spit gets you mad," said Dyson. "In an ideal world, neither should exist."
A Conversation with Dr. Michael Eric Dyson: The Truth About Race Relations in America was moderated by Calvin Hughes of WPLG Channel 10. All ticket buyers received a copy of Dyson's latest book, "What Truth Sounds Like: Robert F. Kennedy, James Baldwin, and Our Unfinished Conversation About Race in America." A book signing and VIP reception was held before the main event, and a book signing was held after the event.
Dyson spoke in an almost stream of consciousness format, speaking mostly about America and its amnesia about race relations. Dyson spoke about the fact that too many people in America wanted to remember and glorify a certain past, but not selectively remember what minorities and Black people went through in this country.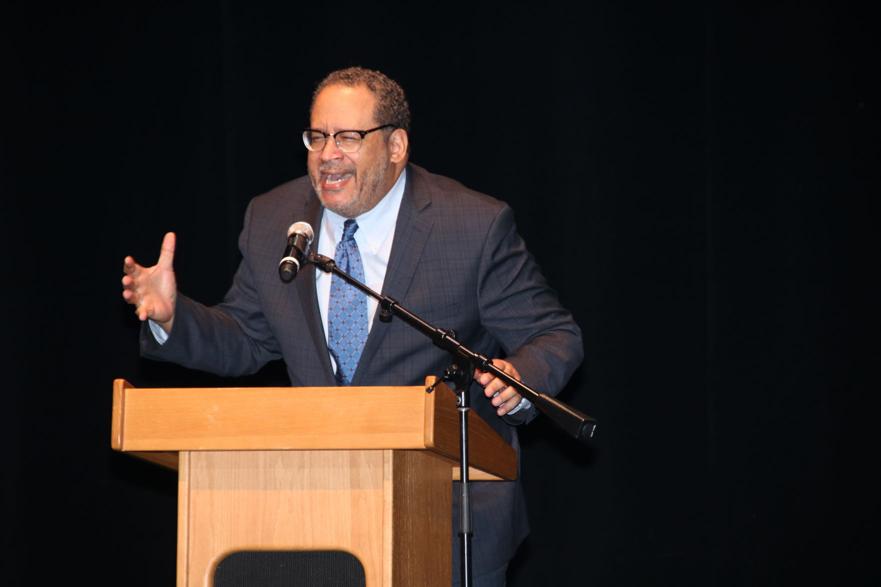 Dyson spoke about many issues, and during his speech, he also made references to R&B, pop and rap music genres. Dyson made reference to author William Faulkner, and Faulker's comments about the past not being past, especially due to the current occupant of the White House. Dyson made reference to pop singer Barbra Streisand's song the "Way We Were," and the lines "what was too painful to remember, we simply choose to forget." America seemed to want to glorify the civil war and other activities in its past, but not remember what it put Black people and other minorities through. Many people, mostly white, he said, wanted to glorify the uniforms that people wore during the Civil War, but they didn't want to remember the injuries and deaths from that war.
"The United States of Amnesia," said Dyson. "The title alone is indicative of forgetfulness, and the refusal to acknowledge the centrality of the past. It makes us vulnerable to present developments. We experience a trauma so devastating, and radiating from the heart and mind, that you forget it."
He also spoke about the impact of slavery and how its remnants were still visible in the generations after the war. The Civil War, he said, was fought about slavery and the battle to keep it in place. He spoke about how Black men and women were forced to come to this country, stacked in ships, and how many parents killed themselves and their children so they wouldn't have to suffer once they came to this country. He also spoke about what happened in the movie, "The Help," when the worker in that home, put a little something extra in the pie that she made for her employer. He also spoke about the music that Black people performed and how much of that music was a form of resistance, especially playing drums. He spoke about James Brown and other musicians like him whose music was almost subversive in its own way.
"They didn't want us playing the drums," said Dyson. "We were communicating without talking."
Dyson also said that with the shootings of Black men and women in this country that it didn't matter if the Black men and women respected law enforcement. They still would get shot even if they respected them.
"It doesn't matter what you do," he said. "They still shoot them. It's not what you do. It's who you are."
Toward the end of the evening, Dyson took questions from the audience. One was about whom he supported for the 2020 Presidential election. Dyson said that both Cory Booker and Kamala Harris were very good candidates, but that Democrats should unite behind whomever was the frontrunner. He said that people shouldn't let "white supremacists jack them up." He also said that the undocumented workers were not taking jobs and work from people who needed them.
"If we are not careful," said Dyson about President Trump, "he could get re-elected."
Dyson also was asked about a difficult moment in his life when he was pulled aside by law enforcement for disciplining his son, and how he, and his family, were embarrassed and humiliated in public by it. He also said he realized he could have been hurt seriously or murdered by the police just for what he did with his son.
"The police said we heard a report of someone abusing their kid," said Dyson. "My son is crying. My wife was saying he did not do this. They didn't care. They forced me against the car. I said I was a professor. It was humiliating. It was degrading. I had limited response. They could shoot me, kill me or hurt me. I can't tell you the sense of powerlessness I experienced."