The Reverend Joseph E. Lowery fought to end segregation, lived to see the election of the country's first Black president and echoed the call for "justice to roll down like waters and righteousness like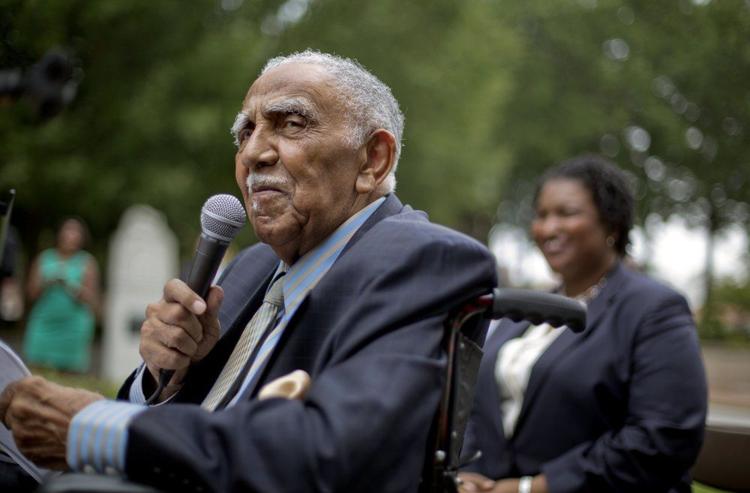 Lowery had a knack for cutting to the core of the country's conscience with commentary steeped in scripture, refusing to back down whether the audience was a Jim Crow racist or a U.S. president.
"We ask you to help us work for that day when Black will not be asked to get in back; when brown can stick around; when yellow will be mellow; when the red man can get ahead, man; and when white will embrace what is right," Lowery prayed at President Barack Obama's inaugural benediction in 2009.
Lowery, 98, died peacefully, Friday, March 27 at home in Atlanta around 10 p.m., surrounded by his daughters, a statement from the Joseph & Evelyn Lowery Institute for Justice and Human Rights said.
He died from natural causes unrelated to the coronavirus outbreak, the statement said. It was the end of a life that helped fundamentally shape human and civil rights in the United States and around the world that started out with humble beginnings.
Introduction to racism
Born in Huntsville, Alabama, on Oct. 6, 1921, Joseph Echols Lowery grew up in a Methodist church where his great-grandfather, the Reverend Howard Echols, was the first Black pastor. Lowery's father, a grocery store owner, often protested racism in the community. His mother taught school part time, and would insist that he attend church, sing hymns and make speeches before the congregation, he recalled.
At the age of 14, Lowery was introduced to Southern racism. He entered his father's store to get candy, and as he left, a large white policeman hit him in the stomach with a nightstick and said, "Get back boy, don't you see a white man coming in?"
After the incident, Lowery vowed to fight prejudice when he grew up.
Education and family
Lowery earned a Bachelor of Science degree in sociology from Paine College, Augusta, GA in 1943. He later earned his Doctor of Divinity degree from the Chicago Ecumenical Institute. Lowery worked as a journalist/editor for the Black press, an educator in Alabama and ultimately a pastor of the Warren Street Methodist church in Mobile, Alabama where he joined the growing civil rights movement in the U.S.
He met Evelyn Gibson while attending Paine Theological Seminary in Birmingham. She worked alongside her husband
of nearly 70 years and served as head of SCLC/WOMEN. Evelyn Gibson died in 2013.
A member of Alpha Phi Alpha fraternity, Lowery is survived by his three daughters, Yvonne Kennedy, Karen Lowery and Cheryl Lowery.
Civil rights leader
In 1957 Lowery joined forces with King, the Reverend Ralph David Abernathy and other civil rights activists to found the SCLC, led peaceful boycotts, marches and become instrumental in the non-violent resistance used by the Civil Rights Movement in the late 1950s and early 1960s.
In a statement released after being informed of Dr. Lowery's passing, Congressman John Lewis said this:
"Lowery led the Southern Christian Leadership Conference for two decades — restoring the organization's financial stability and pressuring businesses not to trade with South Africa's apartheid-era regime — before retiring in 1997.
Words of remembrance
President Barack Obama chose Lowery to deliver the benediction at his presidential inauguration in 2009, paid tribute to the civil rights leader, calling the charismatic preacher "a giant who changed the face of America".
"He carried the baton longer and surer than almost anybody," Obama said in a statement posted to Twitter Saturday, March 28. "It falls to the rest of us now to pick it up and never stop moving forward until we finish what he started – that journey to justice.
Obama said he and his wife, Michelle, were grateful for Lowery's "personal and spiritual support he offered us from the early days of our campaign ... and for the friendship and counsel he provided ever since."
The King Center in Atlanta remembered Lowery in a Friday night March 27 tweet: "Tonight, the great Reverend Joseph E. Lowery transitioned from earth to eternity. He was a champion for civil rights, a challenger of injustice, a dear friend to the King family."
In 2009, Obama awarded Lowery the Presidential Medal of Freedom, the nation's highest civilian honor.
The Associated Press, The Guardian, Washington Post reporter Krissah Thompson and WGCL-TV Atlanta digital content manager Tim Kephart contributed to the information and quoted material in this report.