Alex and Mary Gaines awoke to much fanfare Saturday when community members showed up in droves, most in their cars, for a socially distanced celebration of the couple's 75th wedding anniversary.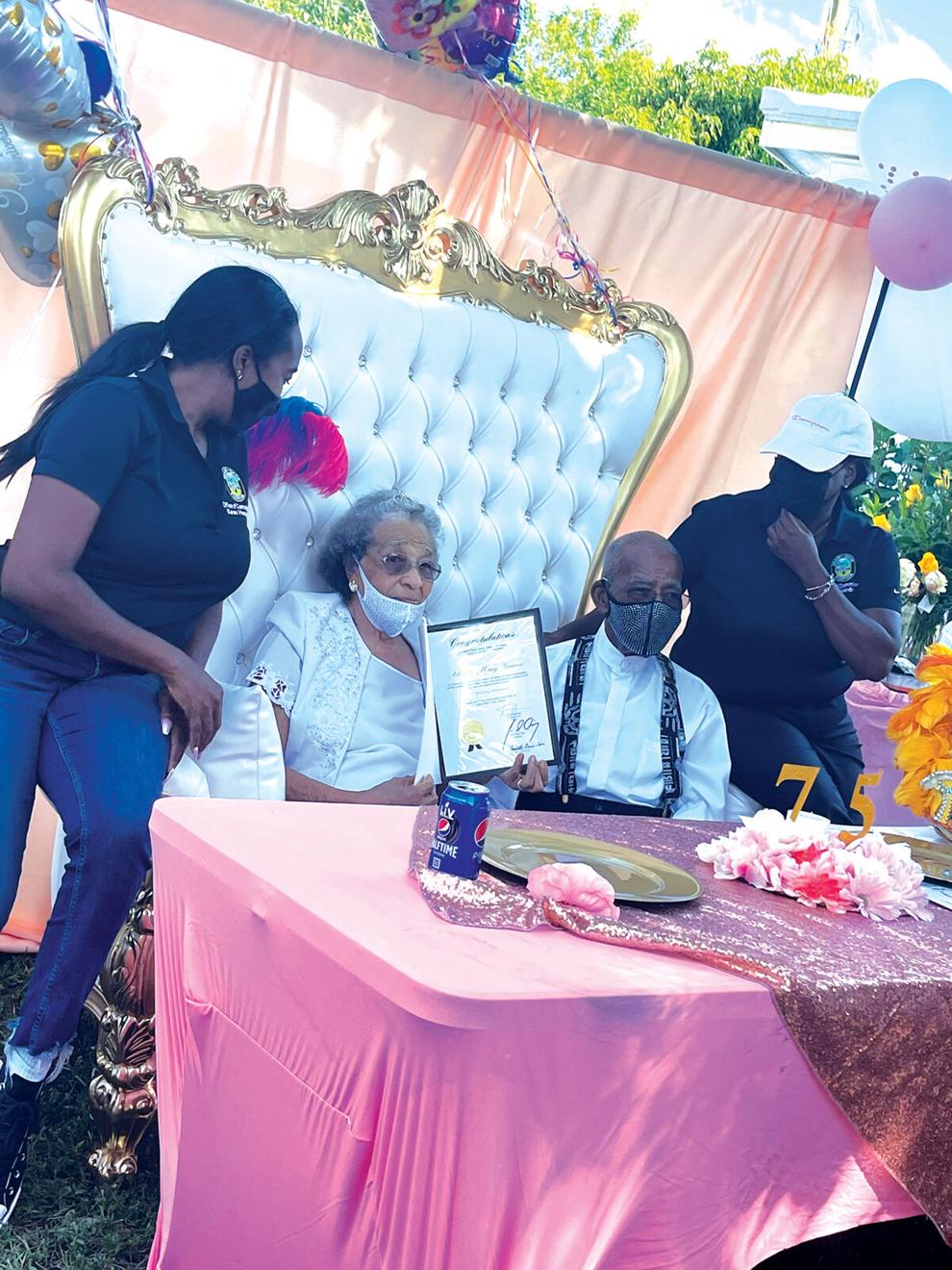 The milestone was marked by a front lawn decorated with congratulatory signs, balloons, and a parade of cars led by the City of Miami Police Department. A junkanoo band in bright, Bahamian-style costumes followed, lifting the spirits of everyone present with a dance and musical performance using drums, bells and trombones.
Representatives from District 3 County Commissioner Keon Hardemon's office presented the Gaineses with a certificate on behalf of the commission and the mayor's office, wishing them 75 more years of happiness.
They were left in tears and overjoyed by the community's support of their union.
Alex, 94, who worked as an aircraft cleaner for Eastern Airlines at Miami International Airport for 37 years, was born in Tallahassee, Florida, in 1927.
He was raised on a farm by his great-grandmother, Sister Sally Carter, and a family of cotton growers that included his grandmother. Growing up, the family's priority was simply surviving in the midst of segregation and other calamities that befell Black communities of the time. Alex kept that in mind after completing junior high school in Leon County.
A short distance away, there was Mary and her family.
Mary, 92, was one of 16 children, including 13 half-siblings on her father's side. Her blind grandmother was their primary caretaker and took on the responsibility of raising five of them, including Mary.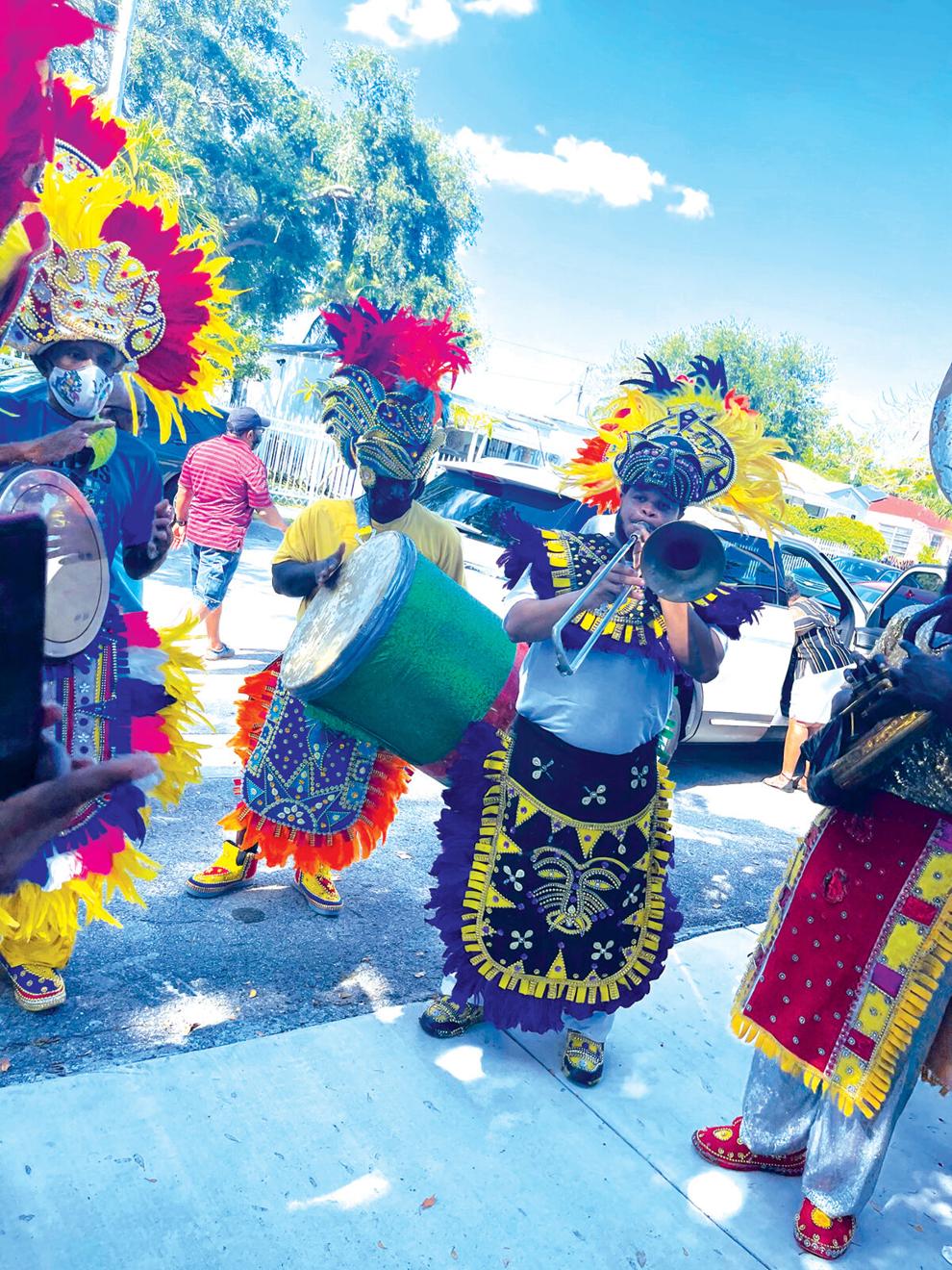 The daughter of a preacher, Mary was raised in the church and has lived a life informed by prayer and service. She spent most of her adolescence babysitting young children in her Tallahassee community.
Alex's family was no stranger to Mary's.
At a young age, the two would frequent each other's homes because their grandmothers were well-acquainted.
"My grandmother told me that I would marry her," Alex recalled.
Alex and Mary became good friends who could rely on each other no matter what. The relationship continued to blossom until it was tested in 1946.
Alex made the decision to seek work elsewhere after realizing that not many financial opportunities existed for young Black men growing up in the area. He moved to Miami for a job and left Mary behind. Shortly after that, he made the decision to enlist in the U.S. Army.
A photo of his hometown sweetheart, however, ended up changing his life.
Sharing Mary's picture with a few friends during a nostalgic moment, Alex was told by them in no uncertain terms to go back to Tallahassee and profess his love. He did, and rather than making plans to leave for boot camp, he instead began preparing a wedding.
Alex and Mary were married in Georgia and moved to Miami, where they remain to this day. Alex was 19 at the time; Mary, just 17.
The new Mrs. Gaines started work as a hairdresser, eventually specializing in wigs and glamorous hairstyles for women of color at the historical Seybold building for 28 years.
"A marriage takes two people, one can't do it by themselves," said Mary. "They have to work together to make it work."
According to both, their faith is the glue that keeps them together.
The longtime members of Mt. Carmel Missionary Baptist Church in West Little River said their strong bond was developed because of values passed down from church. Alex was a singer in the choir; Mary an usher. They used their roles to spread messages of hope and to remind people of the importance of love, especially among married couples.
"If you love God first, you'll be able to love one another," said Alex, adding that he loves his wife more than he did in his teenage years. "What I value most about her is the way she loves and cares for me ... everything she cooks is the best meal I've ever had."
For Mary, consistency, communication and affection are some of the most valuable things in a relationship. She said their marriage has survived for as long as it has because she learned to see the value in her partner, and both make sure to never let a day pass without resolving conflicts. Their love has served as an example and a goal for younger couples.
Granddaughter Quanisha Brice, a newlywed, says she's fortunate to have them around to give her advice.
"Nowadays, it seems easier to be divorced because we go through so many obstacles," said Brice. "We may not be as strong as our elders but they encourage us to keep fighting. Seeing the love and their strength inspires me to get through it."
Brice planned her grandparents' anniversary celebration to commemorate the impact their love has had not only on their family, but also in the community.
For years, the Gaineses opened up their hearts and home to people in their Liberty City neighborhood. The couple would cook meals, babysit, and buy and repair bikes for local children; fix neighbors' broken furniture; and host prayer nights. Some of those same children, now in their late teens and early 20s, showed up on Saturday to thank the Alex and Mary for the contributions they'd made to their upbringing. It was another example of the influence of the couple's love, life experience and wisdom on the people around them.
"I take all their advice," said Brice. "They won't ever steer me wrong."