Kennedy White piloted her first airplane and attempted small turns and maneuvers when she was just 13 years old, the same age as Gianna Bryant who died Sunday, Jan. 26 in a helicopter crash that claimed nine lives including her father, NBA all-star Kobe Bryant.
White is now an 18-year-old licensed private pilot who is saddened by the air tragedy, but shares a story with a happy ending that can comfort a world in mourning and inspire Black girls to aim high.
The St. Thomas Aquinas high school senior also amplified the National Safety Council statistic that the odds of dying in air and space transport incidents, which include private flights and air taxis, are 1 in 9,821.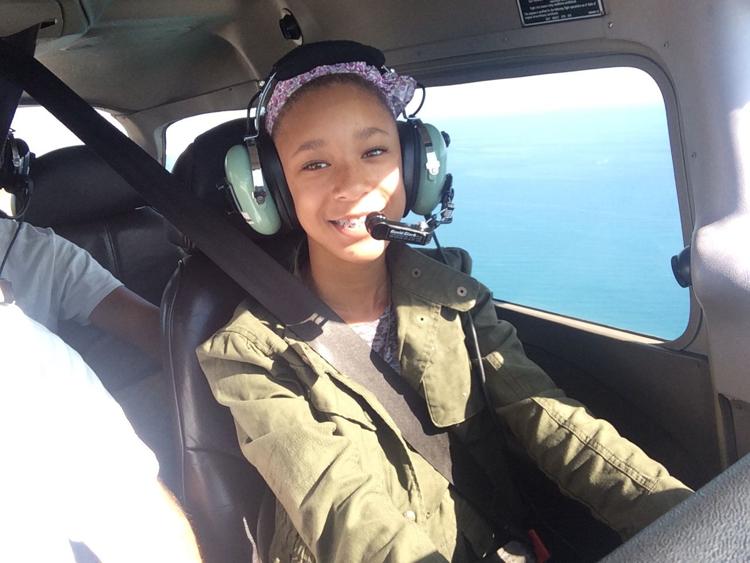 "People fail to realize that flying is still safer than driving cars and accidents happen a lot less," said White who is beating odds as a Black female poised to graduate May 17 and pursue a college major in aeronautical engineering at any one of three Florida schools on which she awaits acceptance.
As a precursor, White completed a flight training program at Wayman Aviation Academy at North Perry Airport in Pembroke Pines.
"I wouldn't know aviation if my father wasn't a pilot," said White. "As a child, I always wondered why I never heard a woman's voice on the plane's intercom when I went on family vacation, so I learned to fly to show young girls, and people of color, that the aviation industry isn't just for men."
White's father is Capt. Kelwyn White, a veteran commercial pilot for American Airlines whose 30-year aviation career includes rising to ranks of lieutenant in the U.S. Navy. His path gave flight to his daughter's vision to fly.
"My fascination with aviation began as a child," said White, who spent late nights watching TV. "The programming concluded with formation of USAF F-4 Phantoms skimming clouds. A narrator recited the poem, "High Flight". I still get chills."
A graduate of Howard University with a Bachelor of Arts in political science and a Bachelor of Science in chemistry, White skirted careers in medicine or law and returned to Vero Beach where aviation thrived.
"One day I ran into Oscar Braynon, Lieutenant U.S. Navy walking in a Navy flight suit. He had the swag I wanted to have," mused Capt. White. "Turns out he was a Navy pilot stationed with the Miami recruiting command. After a brief office meeting, he took me up and upside-down in a T-34B Mentor, then the Navy's primary trainer. I was hooked!"
Sage parenting advice Capt. White employs to guide Kennedy's career includes showing her that she can work hard and enjoy life and encouraging exposure.
"I try to expose her and let her try everything," said Capt. White. "The more you do, the more you know you can do and eventually you get to choose your life."
White completed a nine-month program and was issued her license April 6, 2019 from the Department of Transportation and Federal Aviation Administration. Her training included rigorous textbook application in ground school.
"I started my first ground instruction classes in June 2018, but studied from books tediously until it was time for me to get my license," said Kennedy White. "When I had spare time at lunch during school, I had a sectional map and a plotter out practicing navigation from a paper map."
White experienced her anticipated solo flight shortly after her 17th birthday.
"I took my first solo flight in a Cessna 172N. During the cross-country portion, I flew from Pembroke Pines to Immokalee to Pahokee, and back," said White, who admitted to being extremely nervous. "I stayed at around 3,000 feet for the majority of the three-hour flight. The whole experience was wonderful."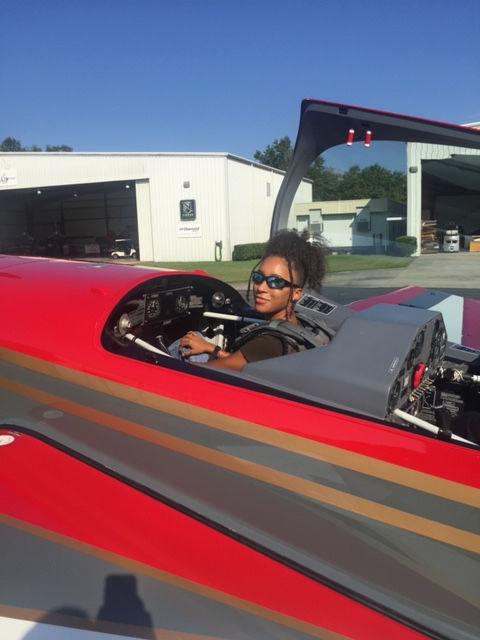 Tracey Douglas-White, is the young pilot's mother who fielded the most important safety inquiry: would someone be in the plane with her? The possibility of an adverse outcome catapulted Douglas-White into "mama mode."
"Flying solo meant, no one would be with her," said Douglas-White, a certified real estate professional from Jacksonville who earned a Bachelor of Science in finance from the University of South Carolina.
"My first reaction on that January morning was, I can't watch," said Douglas-White. "…After about 30 minutes, I said to myself, how can I not watch? When I arrived, Kennedy was flying the plane with precision. All I felt was pride, amazement and admiration."
Aviation perks have enabled family vacations to Iceland, Dubai, Morocco, Canada and Brazil. While global travel is commonplace, access to private flight training is a benefit Kennedy White does not take lightly.
"Prices usually hover around $115 an hour to rent an airplane, but hiring an instructor can be just as expensive," said Kennedy White. "My parents paid for my training, and I couldn't thank them enough."
Kennedy White is active in STEM, a National Spanish Honor Society inductee and varsity cheerleader who enjoys being hurled mid-air during stunts as – you guessed it – a flyer.
"A misconception about women in aviation, especially women of color, is that we are too emotional to handle a career that places so much pressure on an individual," said Kennedy White. "… Once we encourage women to be pilots and engineers, we will see more diversity. I don't ever want to see a little Black girl with big dreams think she can't achieve them because of her gender or race."