The first of two international conventions to be staged in Miami at Marlins Park by Jehovah's Witnesses ends on Sunday.
The Sunday program features the public Bible discourse, "True Love in a Hate-Filled World—Where?" The speaker will share how showing love is helping millions of people worldwide to overcome prejudice and hatred.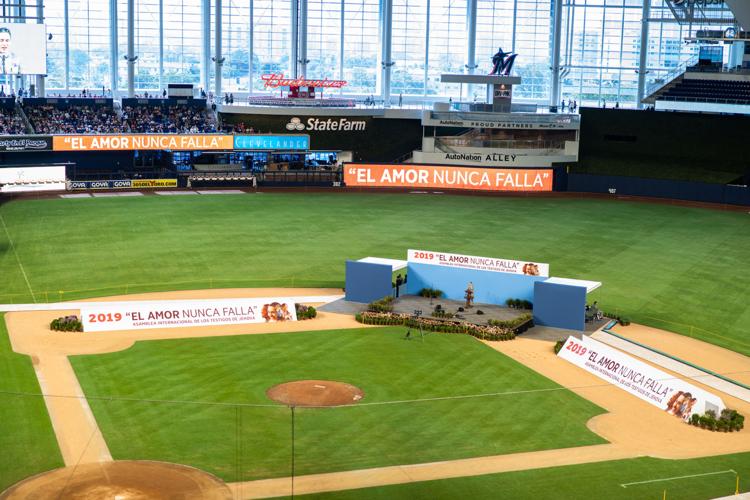 The program will conclude at 3:20 p.m. with delegates from 28 countries taking the field at Marlins Park – waving goodbye to their Miami hosts.
The Spanish-language sessions over three days were delivered to more than 28,000 attendees, 4,500 of whom are from 28 different countries. The presentations surrounded the theme, Love Never Fails.
An English-language version of the same program will be held from July 5-7, at which 25,000 or so local attendees and international delegates will attend. The public is invited and no collection is taken, a statement released by the organization said.
Robert Henriks, the organization's U.S. spokesman, said the convention brings $150 million in economic impact to the Miami area and used about 30 hotels. The Greater Miami Convention and Visitors Bureau President Bill Talbert said the Jehovah's Witness convention was "priceless business."  
"It may be the largest convention package we have ever had in this destination, the largest, and, in many ways, the most important," Talbert said.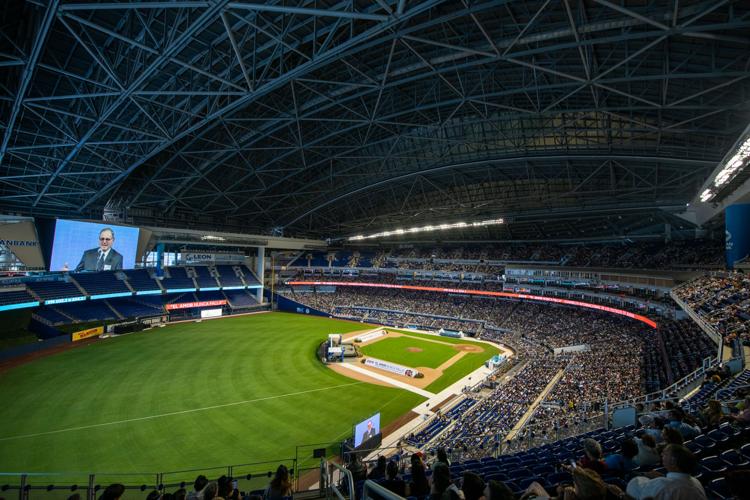 Highlights of the conventions include 69 videos, a two-part feature film on Josiah, a king of Judah, who was surrounded by bad influences, but became known for "his deeds of loyal love;" and a mass water baptism.
More than 200 people experienced a full-body immersion baptism in two pools on Saturday. 
"Making a personal dedication to God and symbolizing that through water baptism is the most important step in a Christian's life," said Hendriks, of their lifelong commitment.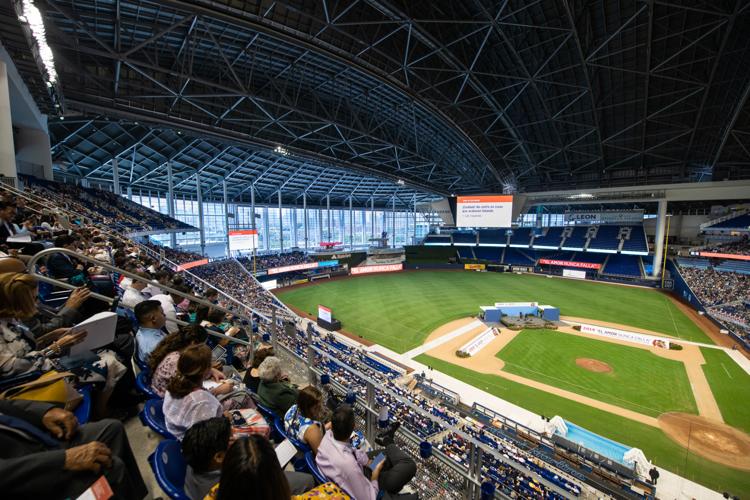 On Sunday evening, as the stage, videos screens, and equipment are dismantled and trucked away, thousands of volunteers will thoroughly clean the stadium.
Claude Delorme, Marlins executive vice president of Operations and Events, said he had worked with Jehovah's Witnesses when he was with the Montreal Expos, and that their events were unlike others held at their stadium.
"When people leave each night it will look like no one was in the building," said Delorme. "That's something that you can't replicate."
The stage and other unique needs of the convention were erected by more than 12,000 volunteers before the convention began on Friday.