"We are Africans, and we happen to be in America. We are not Americans. We are a people who formerly were Africans who were kidnapped and brought to America. Our forefathers weren't the Pilgrims. We didn't land on Plymouth Rock; the rock was landed on us."
This famous Malcolm X quote refers to the Middle Passage, the portion of a common triangular trade route between Europe, North and South America and Africa.  During the height of the slave trade, between the 16th and 18th centuries, an estimated 20-30 million African natives were kidnapped and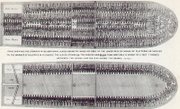 forced to travel to European forts on Africa's coasts while they waited in shackles to be boarded on a ship. Nearly half of those kidnapped succumbed to brutal deaths. Disease, starvation, suicide and murder were rampant occurrences on the voyage across the Atlantic that took anywhere from two to four months to complete — in deplorable conditions.
In South Florida, a ceremony that allows recognition and meditation on that journey is organized by Chairman of the Virginia Key Beach Trust, Gene Tinnie. The 24th annual Remembrance Ceremony of the Middle Passage will be held from 5:30 a.m. to 8 a.m. Sunday, June 21 at Historic Virginia Key Beach Park, 4020 Virginia Beach Dr., off the Rickenbacker Causeway.
"This year's ceremony befittingly coincides with the 150th anniversary observance of Juneteenth, the actual end of slavery as a legal institution in the U.S. on June 19, 1865; and the launching year of the International Decade for People of African Descent (2015-2024), declared by the UN General Assembly," said Tinnie. "Also [happening is] the 2nd Key West Africana Festival, June 18-213 and "The Door of No Return'to The Door of Return' Resiliency of African-Descended Peoples" visual art exhibition at Kroma Gallery in Miami's historic Coconut Grove.
Scholars and authors consider the history of the Middle Passage one of the largest forced movement of people.
"We remember the Middle Passage as what was quite possibly the largest forced migration in the history of the human race. Millions of African people, mothers, fathers, sisters, brothers, all carriers of culture, were subjected to a disruption or tear that fragmented the world, as they had known it," says Dr. Joanne Braxton, Frances L. and Edwin L. Cummings, professor and director of the Middle Passage Project at the College of William & Mary. "We must remember the Middle Passage because it would be inconsistent with our aesthetic and spiritual values and underpinnings to do otherwise. It is healing to re-tell and claim ownership over one's own historical narrative and to honor one's ancestors, to love those who were not loved. This rootedness is life-giving, sustaining. Through re-telling our stories and especially through sharing the essential liberation texts of our culture, we learn and reinforce the oft-stated truth that freedom and literacy are intertwined. "
Braxton adds in her essay entitled "On Making and Keeping Rituals of Remembrance,": "In order to get well again as a people, whether as people of a common heritage or many peoples honoring a particular heritage, we must open the doors of the most private chambers of the soul and dare to engage a fragmented but collective past."
James Baldwin in a 1965 article entitled "Unnamable Objects, Unspeakable Crimes,"  said that Black' dreams and frames of reference are owed to history and the unconscious influence it has over them.
"And it is with great pain and terror that one begins to realize this. In great pain and terror, one begins to assess the history, which has placed one where one is, and formed one's point of view," Baldwin wrote.
  We remember the Middle Passage to face that great pain and terror Baldwin speaks of that permeates American History in order to transcend it.
Held annually on the Sunday closest to the summer solstice, "this year's remembrance is actually on the first day of summer, and a fitting beginning of the celebration of Fathers Day," said Tinnie.