After Donald Trump exited the White House at 8 a.m. on Jan. 20, 2021, as preparations for the Biden-Harris inauguration continued apace, the redecorating at 1600 Pennsylvania Ave. began.
Biden revealed his Oval Office touch-up later in the day as he signed a pile of executive orders and other actions in his first hours as the nation's 46th president.
The most striking change is his choice of a deep blue rug, with the presidential seal in the middle, that was last used by President Bill Clinton. It's replaced the light-colored rug laid down by Trump. Biden also is using Clinton's deep gold draperies.
Busts of civil rights activists Martin Luther King Jr. and Rosa Parks are prominently displayed. Biden removed a bust of former British Prime Minister Winston Churchill that was on loan from the United Kingdom and favored by Trump.
A portrait of Andrew Jackson, the former U.S. president who signed legislation leading to the Trail of Tears, and whose populism reportedly inspired Trump, is gone as well. In its place: a portrait of Benjamin Franklin hanging over a bust of former President Harry Truman.
On the wall across from Biden's desk over the fireplace is a portrait collage of predecessors George Washington, Thomas Jefferson, Abraham Lincoln and Franklin D. Roosevelt, along with Alexander Hamilton, a founding father and former treasury secretary. Nearby on a bookshelf is a moon rock, an intentional pairing the Washington Post says represents Biden's respect for "science and truth" and the formidable achievements of America's earlier generations.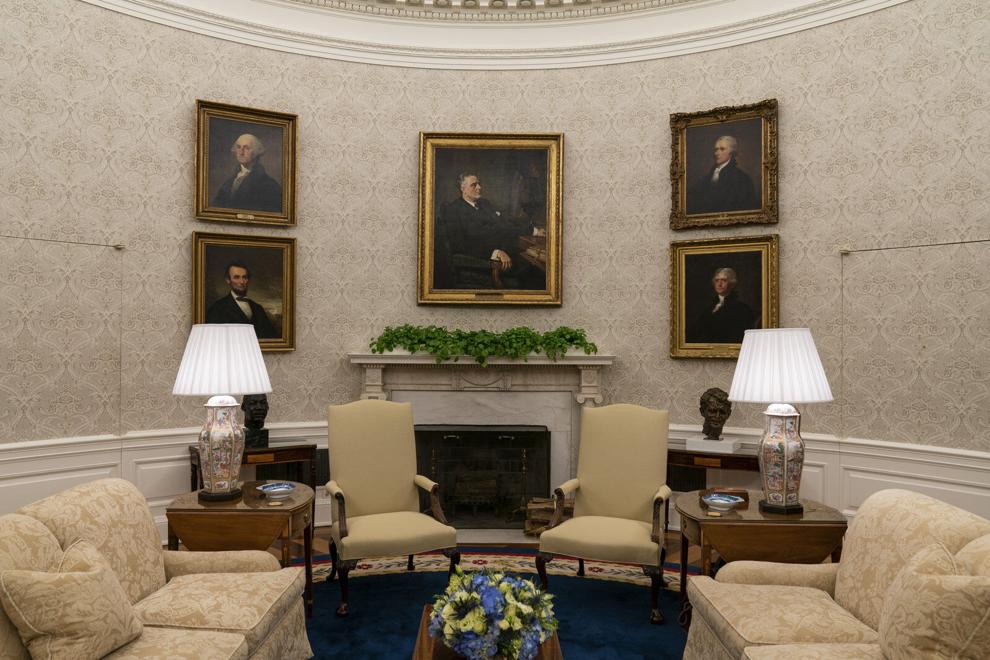 Biden's office told the Washington Post, which got a first look at the Oval Office prior to the rest of the world and the president's arrival Wednesday, that the pairing of Hamilton and Jefferson, who often disagreed with each other, was deliberate. The paintings represent "how differences of opinion, expressed within the guardrails of the Republic, are essential to democracy," Biden's office said.
Biden has also brought back "Avenue in the Rain," a highly symbolic oil painting from 1917 depicting a rainy Fifth Avenue in New York City lined with American flags. CNN notes the work occupied the office during the Obama and Clinton administrations, and through part of Trump's term.
The office also features busts of Eleanor Roosevelt and Robert F. Kennedy, in addition to a sculpture by Allan Houser of the Chiricahua Apache tribe of a rider on horseback.
The 1,300 pound, elaborately carved Resolute Desk is the most prominent piece used by Donald Trump and numerous predecessors that remains in the Oval Office. It arrived at the White House in November 1880 as a gift from Britain's Queen Victoria. It became one of the most recognizable pieces of American furniture during the administration of President John F. Kennedy, after the First Lady found it under cover in another part of the White House, realized its historic significance and had it placed in the Oval Office.