For many Black children, fear is a natural response to seeing police officers. Whether they've had a bad experience themselves, or have seen disturbing instances of police brutality in the news, it can be difficult for children to associate law enforcement with safety.
Art Detectives, an educational program based out of Pérez Art Museum Miami (PAMM), has made it a goal to dispel young people's fears of police and foster better relationships between the two groups. For the past four years, the program has used art in creating engaging activities that spark much-needed dialogue, proving that talking about these issues is one of the most important steps to take in moving forward.
"Young people today are having to witness and experience things that certainly, in my generation, I didn't even have a clue of. I think they have become jaded, and at some level, they have become a little numb," said Donna Ginn, co-founder of the program and a member of the greater Miami chapter of The Links, a public service volunteer organization that serves women, children and the elderly.
"Anything that any program does to heighten their awareness and shift their perception will allow them to engage in activities that keep them safe," she continued.
The idea and initial framework for Art Detectives was developed by Ginn and two other Links members, Regina Jollivette-Frazier and Toni Randolph. They were inspired by a call for "innovative programming" from Knight Foundation, which was the first to provide funding.
"We wanted a program that would introduce children to police officers so that when they saw them in their neighborhoods, they wouldn't be scared," Jollivette-Frazier said. "The Links got it rolling but it really is a partnership."
Current funding partners include PAMM, Knight Foundation, Wege Foundation, Football Unites, playwright Tarell Alvin McCraney and the Heckscher Foundation for Children.
According to the program founders, arts education was the perfect way to start a dialogue because it's fun and encourages participants to think outside the box, something necessary for children to let go of preconceived notions. Partnering with PAMM gave Art Detectives access to established programming and arts educators, who have made the initiative what it is today.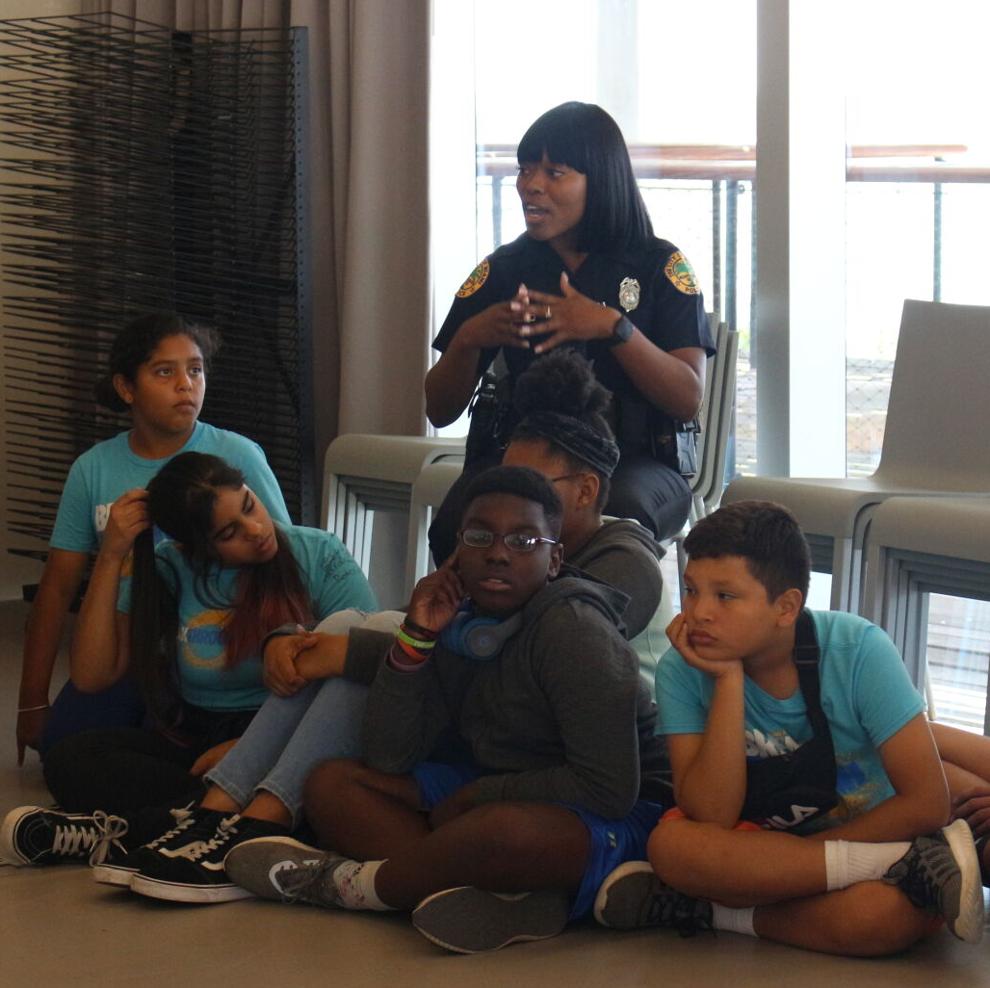 The program involves a series of shared encounters between Miami-Dade or City of Miami police officers and about 50 middle school students from Breakthrough Miami, a nonprofit organization that provides academic enrichment for 1,300 underserved county students. There are three sessions in each cohort, all involving facilitators from The Links and PAMM staff. The program takes place five times a year, with a different set of students chosen by Breakthrough Miami each time.
PAMM educators use "inquiry-based learning and a research-based methodology, with demonstrated positive impact on critical thinking skills," according to the program's overview.
In the first session, students and police officers get to know each other, create collages and discuss their expectations in a Breakthrough Miami classroom. The second session takes place at PAMM, where students and officers view exhibitions and engage in structured activities. In the final session, the group returns to the classroom to discuss what what's been learned. Sessions have been conducted via Zoom this year, due to COVID-19 protocols.
The program's results over the years have been invaluable said Ginn.
"There was an instance where one of the young people that participated saw one of the officers that participated in their community," she said. "They went up to that officer and hugged him. That is what we want to see."
But long-term results are unforeseeable, as Black communities nationwide continue to be traumatized by each instance of police brutality on the news, in their communities or by their own horrifying experiences. It can be hard for anyone not to think of George Floyd and Breonna Taylor, and, more recently, Daunte Wright and Ma'Khia Bryant.
Even as things remain uncertain, Art Detectives aims to humanize police to children, and ultimately humanize members of marginalized communities to the police. We have to start somewhere.