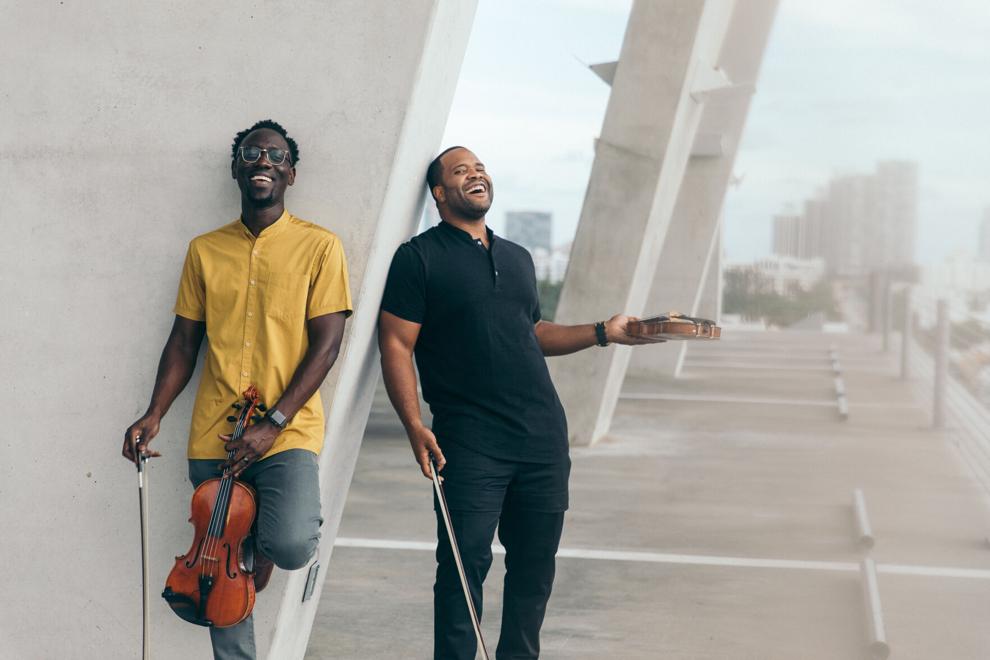 Kev Marcus and Wil Baptiste have come a long way from orchestra class at Dillard High School in Fort Lauderdale. This weekend, the two longtime friends – now professionally known as Black Violin, a classical-meets-hip-hop duo – is returning home to perform at the Broward Center for the Performing Arts for their "Give Thanks Holiday Tour."
"It's awesome to come back and have the whole family and everyone we know in town watch us perform," said Marcus. "It's not just our home theater. When we were students at Dillard High School, we performed a number of concerts at Broward Center, so for us it feels like home."
The act, with Marcus on the violin and Baptiste on the viola, will be performing hits from its newly released debut holiday album, "Give Thanks." The record follows the 2019 release of "Take the Stairs," which earned the musical artists a Grammy nomination last year for best contemporary instrumental album.
"We wanted to make a holiday album that feels good and that you can still play in July," Marcus described. "It's about the central point of this holiday season, which is always to be thankful."
The string aficionados came together on the first day of Marcus' sophomore year of high school. The violin player, now 39, befriended Baptiste, 40, who was a fresh-faced viola-playing freshman. They were a part of their school's orchestra, but never saw themselves just simply performing classical music.
At first glance, you may not see how traditional classical music and hip-hop hits interject, because the genres seem to be complete opposites – but the classically trained pair blend the two to create something new.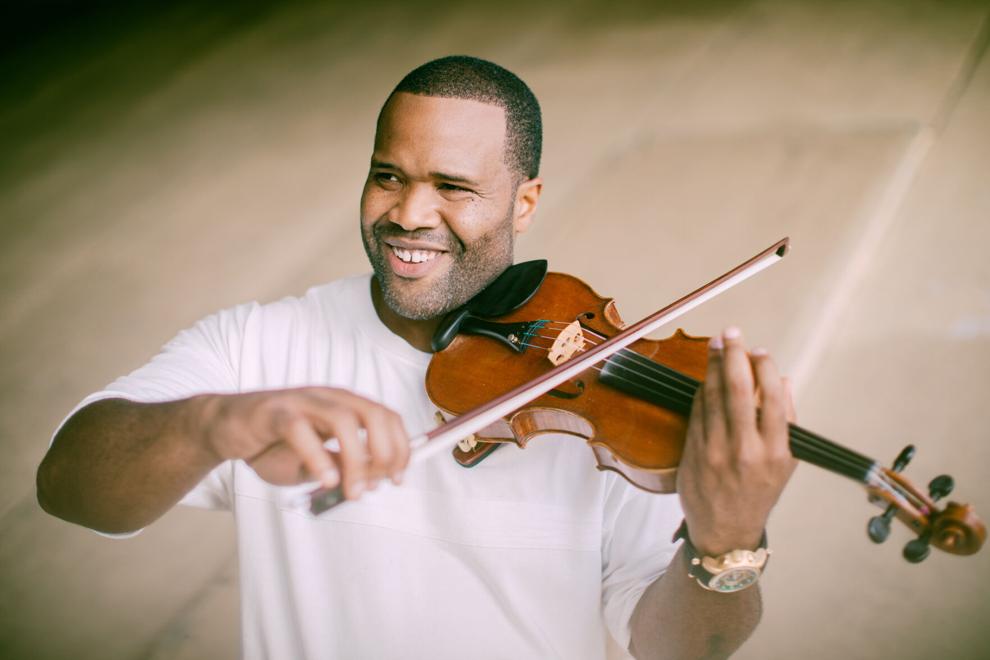 "It didn't feel like this crazy thing to us because we grew up listening to, like, Trick and Biggie and 'Pac, but we were (also) studying classical at a high level, so for us it kind of just happened," said Marcus.
The first time he recalls ever combining the genres was back in the '90s, when he programmed a custom ringtone into his Sony Ericsson mobile phone. Forgetting to turn off his ringer, an orchestrated version of Busta Rhymes' "Gimme Some More" blared out during class.
"At the time, we didn't even really think it was that crazy, but our classmates were all, 'How'd you do that?' And I'm just like, 'I just learned it from listening to it and I just played it,'" he said. "I think with all music, there's relationships between them. I find that we're able to find the intersection and just highlight it because it's there."
Upon graduation, Marcus attended Florida International University, where he began studying music on a full scholarship. Baptiste went on to attend Florida State University in Tallahassee, but eventually returned to Miami to finish his studies alongside his pal. Noticing that their abilities to utilize strings in combination with beats dropped jaws every time they played live, they ultimately decided to team up.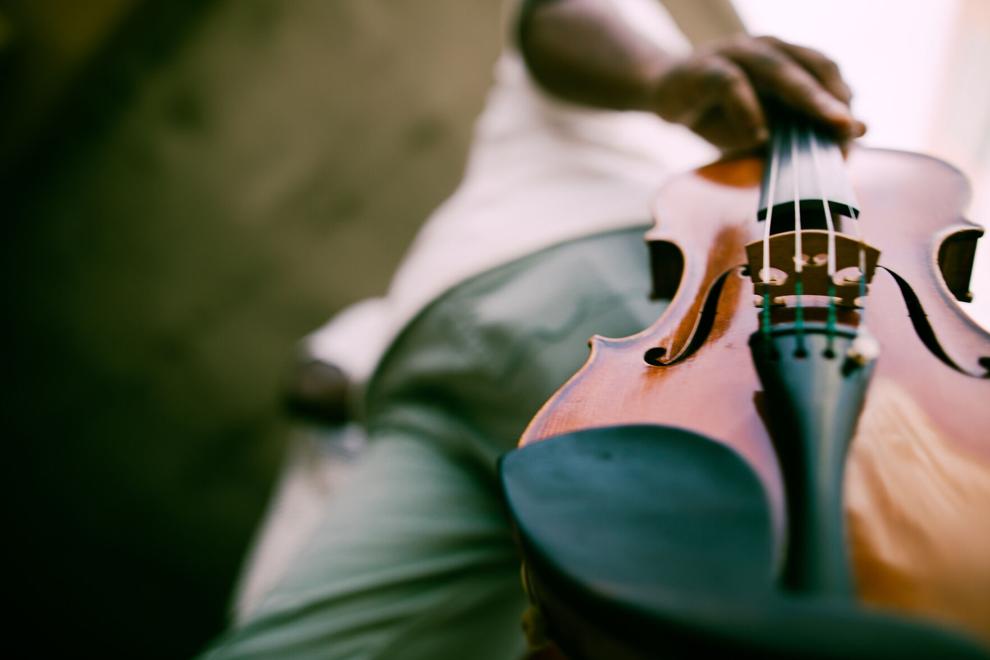 Looking to hit their big break, Marcus and Baptiste sent an audition tape to "Showtime at the Apollo" and were invited two years later to the legendary New York stage to compete against other contestants. Housing what is famed as being the toughest and most brutally honest audience in the world, Black Violin impressed the crowd and went on to be crowned 2005 Apollo champions.
Their talent didn't go unnoticed. They've since worked and toured with superstars ranging from the likes of Kanye West to Linkin Park. The group appeared alongside Alicia Keys at the 2004 Billboard Awards and in 2013, performed for former President Barack Obama at his second inauguration.
"Give Thanks," Black Violin's latest release, highlights the embodiment of the holiday season – being wholeheartedly grateful and giving back to others.
"I'm thankful for my family, of course," Marcus said. "I'm thankful for being able to have such a platform that we're able to hopefully educate, entertain and inspire people all around the world. And I do that for a living."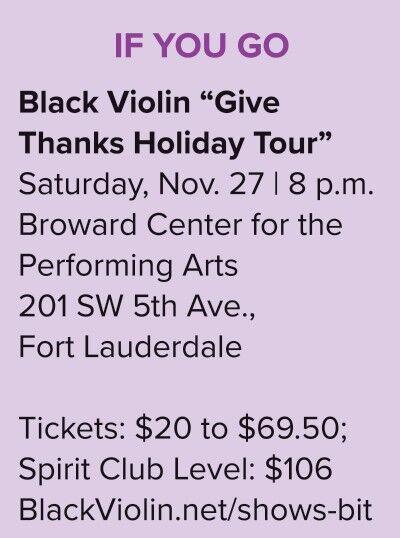 In 2019, the duo established the Black Violin Foundation, a nonprofit co-directed by their wives, Anne Sylvester (Marcus' wife) and Corryn Freeman (Baptiste's wife), dedicated to empowering youth by making quality music programs and tools more accessible. The organization provides everything from instruments to summer camps to private lessons.
"We feel like we're planting seeds everywhere we go and we've done this long enough where we've seen some of these seeds we plant grow into amazing musicians; amazing young men and women from all walks of life," said Marcus. "For us, it's important to try to give back."
Information about available grants made through the foundation can be found at its website at BlackViolinFoundation.org. One of them, the James Miles Musical Innovation Grant, is named after the orchestra director Marcus and Baptiste had in high school. Marcus recalls that Miles provided him with an instrument that he then paid him back for little by little. The director also took the young men to orchestra rehearsals and got them their first private teacher so that they could prepare for college.
"He was such an instrumental guide, not just as a teacher in school, but just kind of filled in a couple of gaps that allowed us to get where we are," Marcus said. 
With the foundation, he and Baptiste are now able to work toward doing the same: creating pathways for other young creatives, who – with the right help and support – may one day realize the same success and pay it forward themselves.