After a three-decades-long hiatus from pursuing art full time, veteran visual artist Charles Humes Jr. returns to the art scene with "Matters of the Inner City," a solo exhibition currently at the African Heritage Cultural Arts Center's (AHCAC) Amadlozi Gallery.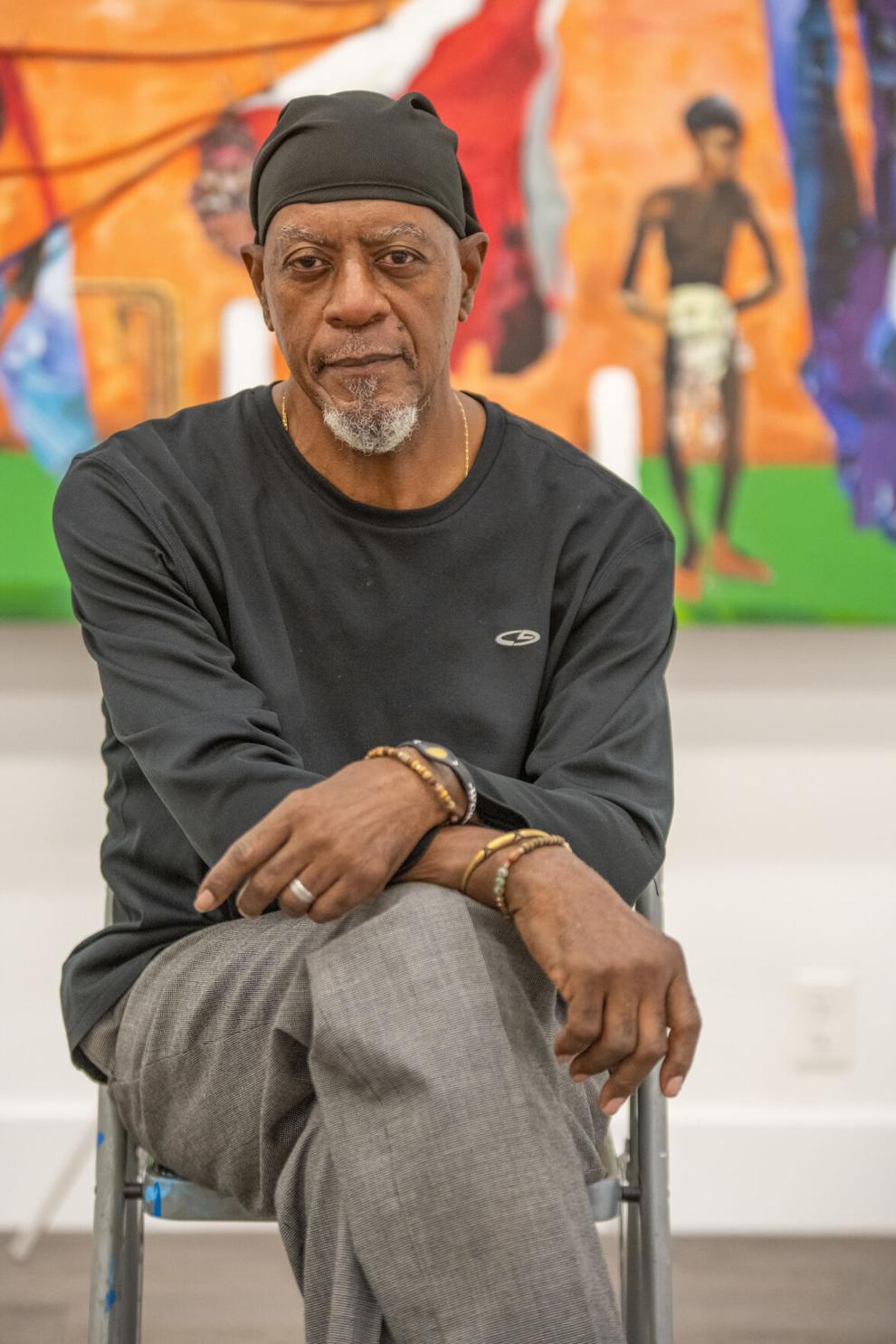 The 29-piece exhibition, on view now until mid-February, is Humes' contribution to the conversation around Black Lives Matter and racial justice, but with a focus on the inner city.
Humes and exhibition curator Donnamarie Baptiste kicked off the show with a private opening reception last month. A public reception, featuring light bites, music and an artist talk is planned for Jan. 22 at 3 p.m., with tickets priced at $10 on AHCACMiami.org. The exhibition is free to explore during the gallery's regular Monday-Friday hours.
"Around the time I started working on this, there was an outcry against police brutality," Humes said. "Black Lives Matter was the big topic, but I was also hearing the opposite argument of 'all lives matter.' I thought, 'What about the inner city? What about people who are impoverished and are struggling to make a living … they are essential too.'"
Fueled by a desire to create an honest portrayal of what goes on in the inner city and the issues Black men and women face, Humes applied for several grants to help bring the project to life. Winning Oolite Arts' $10,000 Creator Award in 2020, he began producing a series of mixed-media paintings that eventually expanded into 52 completed artworks – all created from the confinement of his home studio during the pandemic.
"When you work on something for two years, then all of a sudden it comes to fruition and you're going through all of the logistics of putting it up, you wonder 'Is this going to work?'" said Humes, as he gazed reflectively at one of his pieces mounted on the gallery's wall. "It was gratifying for me to get to that process to have it here. All of these [pieces] are relative, they're about people and places in the inner city."
The gallery display represents a full-circle moment for Humes, who says his first group showcase as a young artist was at AHCAC with South Florida's Kuumba Artist Association (KAA) in 1976.
Born in Miami, Humes was impacted by the racial tensions during the civil rights movement and began turning to the arts for self-expression, to create representation and respond to what was going on around him. After graduating from Florida State University, he returned to an art ecosystem void of any real opportunities and resources for artists like him.
"I was trying to find other artists of color and it was very difficult," he said, disclosing that he sought out Black arts workshops and cultural centers such as AHCAC for years. "There was a community of artists that met here, and without any sort of resource or funding they would try to produce and present artwork. [AHCAC] allowed them a home, and I was always a part of that. It's been a hallmark for education in the cultural arts since the beginning, back when it was called the Model City Cultural Arts Center."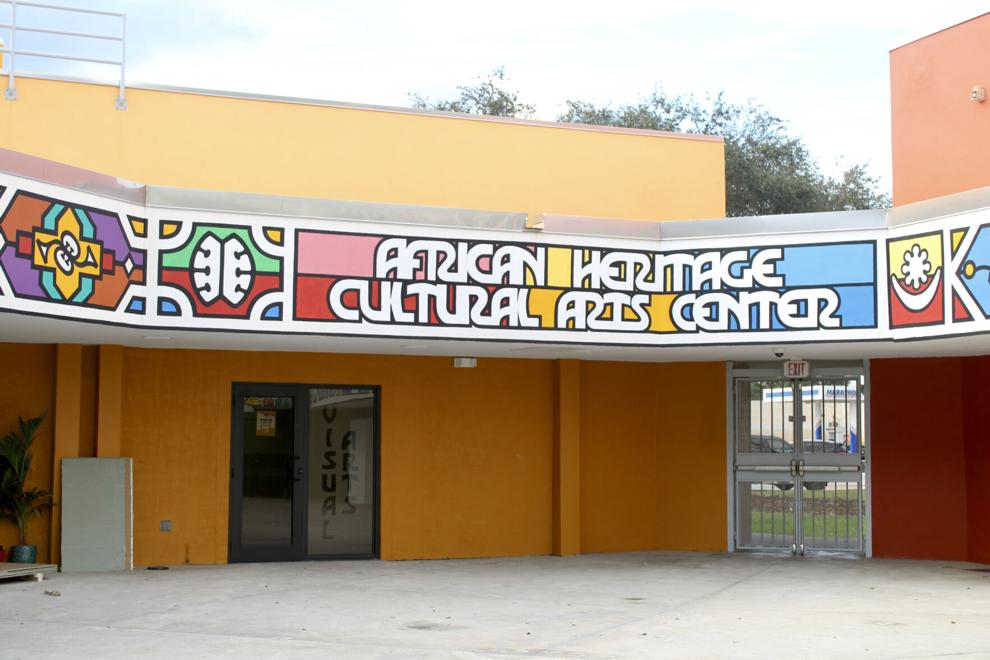 It's also the place Humes was employed as a part-time teacher and exhibition curator for nearly 10 years. He worked to maintain a studio at the Bakehouse Art Complex and to support his career as an artist.
"I struggled," he admitted. "There were solo works here and there but showings weren't enough to pay bills and keep a family fed."
Reality set in for Humes – at the time the father of two small children – as he had no choice but to apply his degree to a more lucrative trade to make ends meet: teaching.
His passion for art wasn't lost, though. Humes channeled his creative process into teaching his students art fundamentals and appreciation while creating artworks for exhibitions off the clock. Soon, splitting his time as a full-time educator and artist became impossible, forcing him to hang up on the dream but not before promising to return after retirement.

"So I became committed to what I did and I loved it," he said. "And as a result, there are countless artists out there that I've mentored. But still, I would have loved using those 30 to 35 years practicing my art, too."
Now, the AHCAC exhibition is helping the nationally acclaimed painter, muralist and printmaker fulfill a promise he made decades ago.
This time, Humes says, economics aren't his main concern. Instead, he wants to focus on portraying the human experience and capturing seemingly mundane tasks to form a cultural narrative.
The first artwork produced for the collection is an ode to Renaissance artist Leonardo da Vinci's "The Last Supper" made with old newspapers and magazines. Titled "A Homeless Supper," the 36 x 90-inch collage shows 13 displaced individuals sharing a meal, speaking to Miami's homelessness problem.
"Ever since I was a young man, I've been focused on trying to portray, with dignity, the problems that homeless people go through and the community around them," said Humes. "You know how they say 'It takes a village to raise a child?' Well, the inner city is the Black or person of color's village."
Each individual represents a relative of Humes, who modeled for him as he combined the tiny news clippings together with precision.
"The whole thing is the collage technique, which I call adornment and appliqué, nothing is painted," he said. "It was painstaking to do but it expresses a scene right in Liberty City, right here on 54th Street."
In "Drive-Bye," one of Humes' favorite pieces, he pulls from personal encounters as a Black man living in the U.S. for another thought-provoking collage that serves as social commentary on the horrifying experiences by victims of racial profiling and police violence. "There Has Always Been a Knee" evokes similar feelings as the piece pays homage to George Floyd.
A majority, if not all, of the pieces within the exhibition capture a symbol or image representative of neighborhoods like Liberty City, Overtown, Opa-locka and Coconut Grove, as well as iconic figures, locations and moments in Black Miami's history. Topics such as extreme poverty, trauma, crime, mental illness, dilapidated housing and gentrification are not ignored on Humes' canvases.
"When you look at my work, I would like anyone who views it to think of it as pages and ideas, thoughts and almost like a running and visual dialogue," he explained. "The duty of the visual artist is to let people stop and smell the roses. I don't want to sway someone else's idea or change their perspective and their response to what I've done."
Humes says he is especially grateful to see an insurgence of interest in Black art and artists telling stories that would have otherwise remained untold.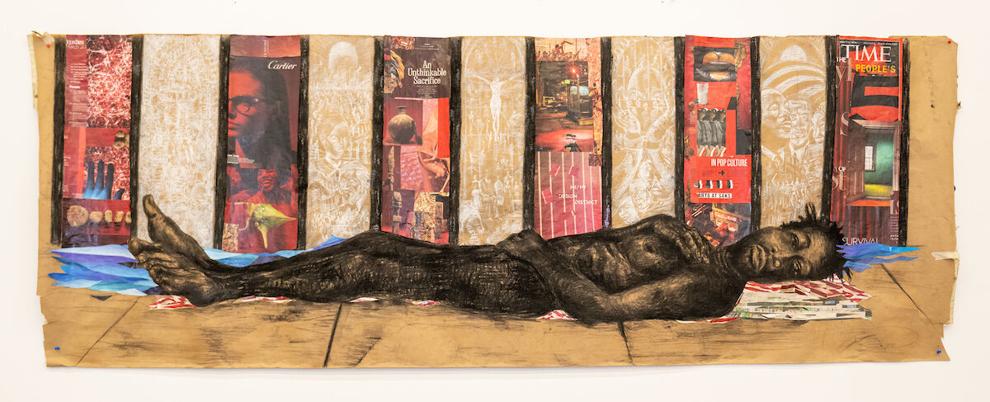 "The opportunities and the avenues for an artist now are much better than what it was when I started out," he said. "I had to do a lot of brainstorming and researching and sometimes it was frustrating not having someone to show you the way. There is now a large community of artists of color in Miami and things like Art Basel, Wynwood Walls, the Greater Miami Convention & Visitors Bureau, and programs going left and right."
He credits organizations like Oolite Arts for eliminating financial barriers and supporting artists like him and his filmmaker daughter, Faren, also a 2020 recipient who was previously featured in The Miami Times.
"They have that lane where they can pursue the arts, and if they want to, they can reflect on all of us old guys for advice," Humes added jokingly. "My biggest goal is to make an impact as a retired educator and visual artist."