For artist Nathan Delinois (aka Nate Dee), Miami Art Week is usually a frantic run from one place to another.
"I'd be totally booked for December months before, like in August," said Delinois. "At this point, I'm [usually] turning down everything that comes my way because there are only so many hours in the day. This year, it's really different."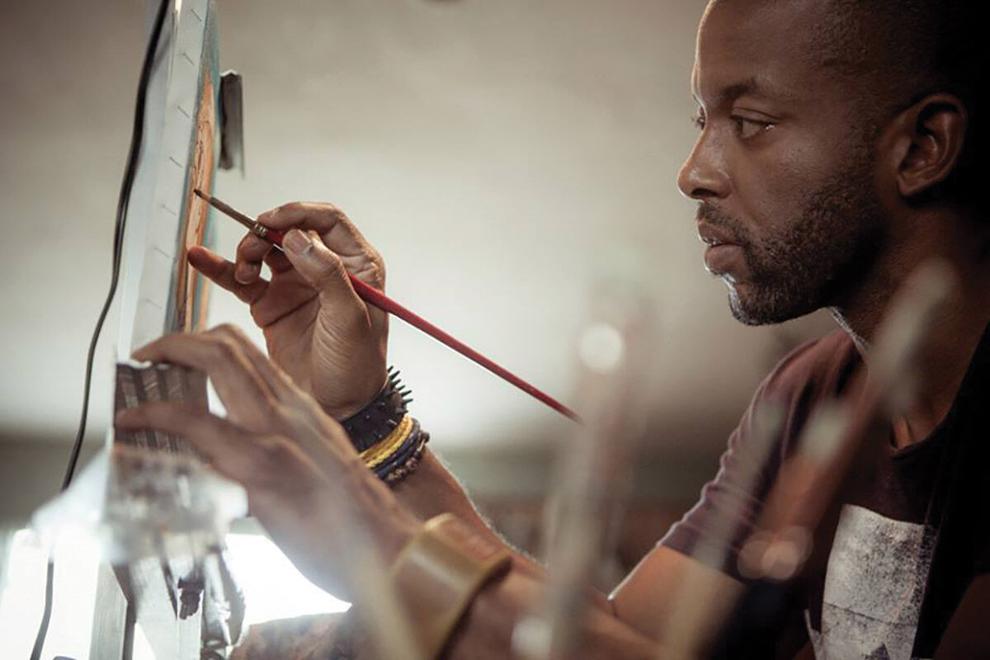 Delinois would have had his work on display at two of the satellite fairs – most likely Scope Miami Beach and Spectrum Miami, where he's previously exhibited – and would have also had corporate bookings to appear at some of Art Basel's high-end events, where he would be on-site doing live painting or outdoors creating murals.
This year, things are more sedate. The artist's studio works will be part of a group show at Miami Urban Contemporary Experience (MUCE) in Little Haiti. Delinois, who is a glass half full thinker, is looking at what's different about Art Week during the pandemic.
"Usually, I'm in so many places that I'll show up the day of the exhibition, but I'm going to spend a bit more time at MUCE," said Delinois, who added that when Art Week is full throttle, he doesn't get to enjoy it.
"I'm looking forward to having more time to see what's going on," he said.
Delinois' murals will also be part of Wynwood Mural Fest VX 2020, a hybrid/virtual art experience designed in response to COVID-19, according to its organizers. The multimedia artist said that December caps a busy year, despite some of his projects being sidelined because of the pandemic.
"I had a few bigger jobs out of town that were postponed or canceled," he said. "Some of them are in limbo, so we'll see what happens."
Delinois traveled earlier in the year to create a commissioned floor-to-ceiling mural for an apartment complex in Tuscaloosa, Alabama, where the residents are mostly University of Alabama students. He was also in Flint, Michigan, where he participated in the Flint Public Art Project, which was launched as part of a beautification project in the city's downtown area.
While all of his artwork is near and dear to his heart, he said, and each one very different, there was something a little unique that happened this past summer. For Delinois – whose work has always reflected issues of race and color – the world recognition of the Black Lives Matter movement after the death of George Floyd at the hands of Minneapolis police on May 25 didn't exactly change much about his art, but the forever undercurrent of his art as a means to give back to the community came to the forefront.
"I started volunteering my time more for certain projects and opportunities," he said.
One of those opportunities was a mural project with local artist Mojo titled "KNOW Justice KNOW Peace" in Brownsville, which the duo worked on in July.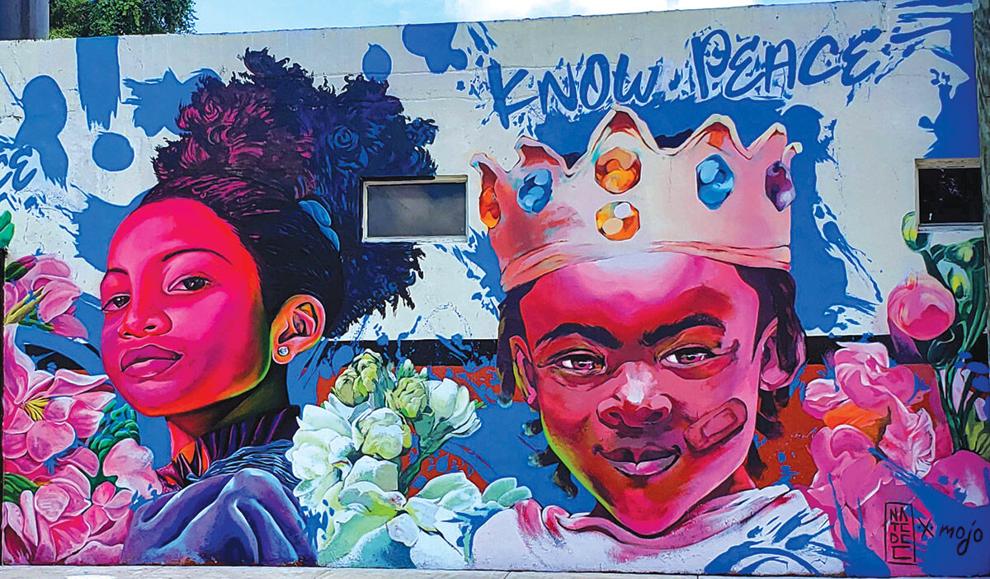 "I wanted it to be positive," said Delinois. "I didn't want to create imagery that was going to shock. All you had to do was turn on the television or go on social media to do that."
The title, "KNOW Justice KNOW Peace" rather than "No Justice, No Peace," was purposeful, too.
"What we're saying is that everything about people protesting and getting socially active, that's great, so where do we go from here? That's the idea of knowing justice and knowing peace," said Delinois. The mural depicts two children, a boy and a girl.
"The idea is that the [social statements] we're making now are for what will be in the future," he said.
Delinois didn't start his professional art career as a muralist. He was classically trained, mostly working in a studio creating art with paint on canvas.
"Animals come up in my work many times," he said.
He's known for painting portraits of people adorned with animal masks – "Mostly women, sometimes men," he said. His devotion to painting women 95% of the time stems from several influences, including growing up in a family with a lot of women, and a deeper issue. He likes to depict women of strength because he feels that it is an anomaly in the history of art.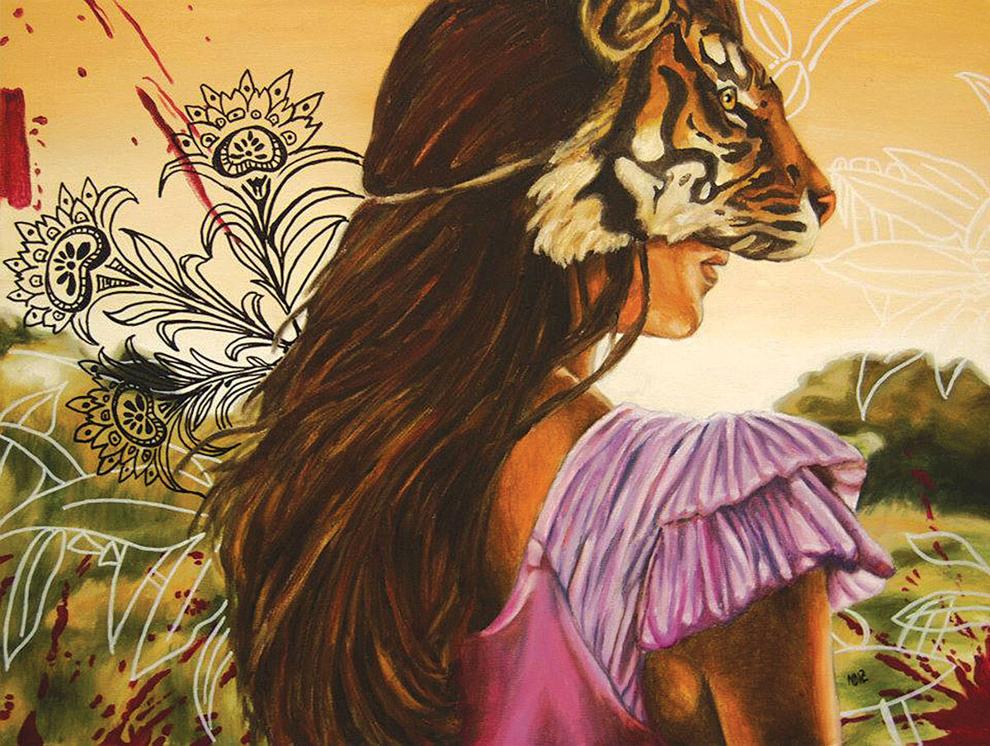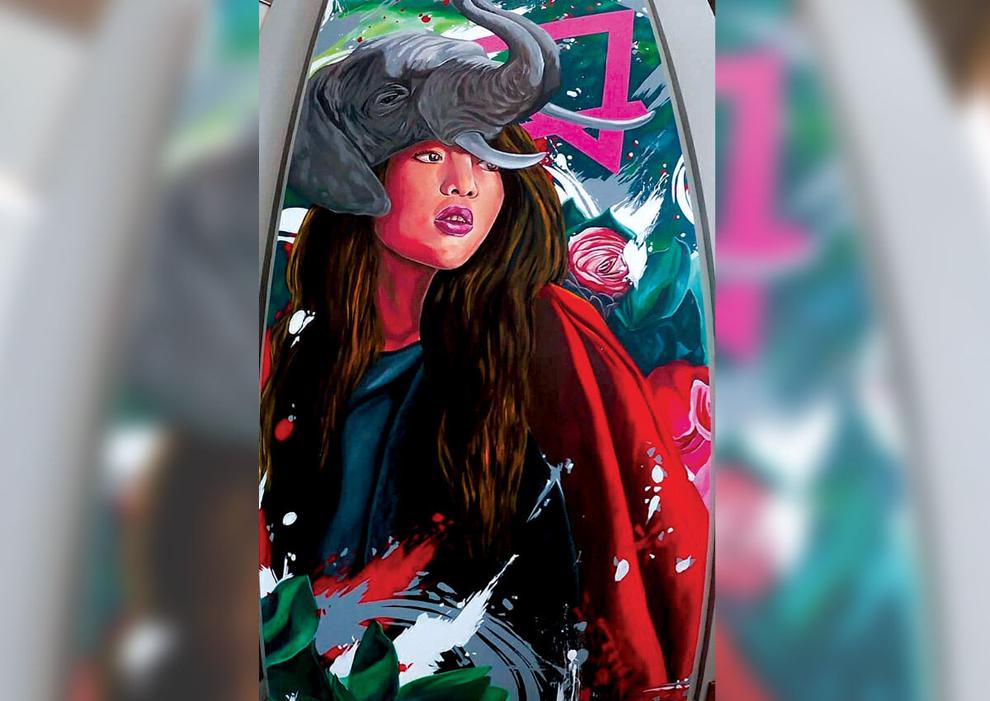 And why always a pairing of portraits with animals?
"Basically, the person is channeling the powers that the animal represents," said Delinois. "My mask series generally deals with the ideas and concepts of power. The animal mask the person is wearing is a way for them to experience that attribute."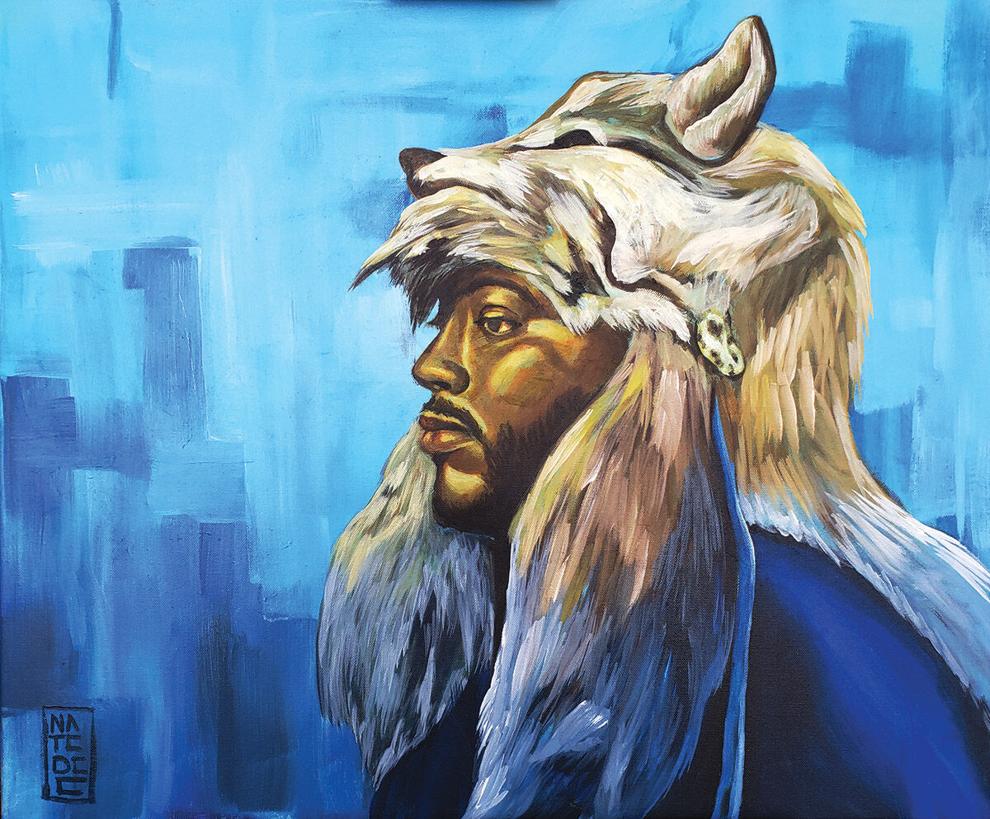 The MUCE group exhibition "Dispersed: A Mythological Journey Where Our Black Ancestors Come To Life," being held Dec. 3 – 6, will feature some of Delinois' mask works. He describes himself as being an artist for as long as he can remember.
"I've been doing art since I was a little kid – creating art in some way my whole life," he said.
Delinois was an undergraduate art major at Florida International University, graduating in 2003. He began a teaching career and said that for some reason, maybe a lack of time, he stopped doing his own work for about five years. That's when he went back to FIU to get his master's degree, finishing that in 2008 and then deciding it was time to make art his full-time profession. The mural painting came later.
"I got started in mural art through the popularity of it in Wynwood and Miami," he shared. "I saw that it was catching on, and what drew me to it was the idea of public art and engaging the public while creating art."
Delinois still does studio work, but the majority of his time is spent on murals, much of them commissioned.
"If you're looking at it from a business standpoint, 60 to 70 percent of my income is from the murals. I do work in state, out of state, out of the country," he said, and added in amazement that his work has taken him across the globe.
Whether it be his paintings or his large-scale murals, all of his work is done in bold colors. He credits his Caribbean roots as having influence in his work; the colors he uses are usually those found in Haitian art.
"My family is Haitian and, if you look at traditional Haitian art, it is especially vibrant," he said.
Whatever art Delinois is creating, it gives him joy, he said. In fact, he's now associated with an unexpected trademark – Instagram posts of him dancing with unbridled celebration in front of his outdoor murals when he completes them.
"It started during quarantine," he recalled.
In May, he painted a mural of Mary McLeod Bethune on an outdoor wall on the school A in Hollywood named for her, Bethune Elementary. On Instagram he wrote, "#mural is done! So let's dance!"
"Now, after I finish a mural, I dance in front of it."
That aligns with how he feels about creating a work that becomes part of a community.
"Public art reinvigorates," Delinois said. "It gives people a sense of ownership and attachment to their community. There are people that aren't exposed to art or they think art is not for them, but what public art does is make them realize that art is relevant to everyone and art is for everyone. Public art is a way to share that with everyone."