"I'm nervous," remarked one little girl as she followed her friends to the stage at the Betty T. Ferguson Recreational Complex.
For many students, this was their first time on stage at the Miami Gardens Youth and Music Festival. For others, they were back to again show off their skills and entertain hundreds of attendees at the second annual event.
More than 400 students participated in the four-hour-long music extravaganza Saturday, March 4, created to highlight the ways music engages students in school. Audience members were duly impressed by middle school drum line performances and the singing that accompanied elementary school students who played a tuneful song on mini keyboards. Whatever the instrument, these kids were out to impress.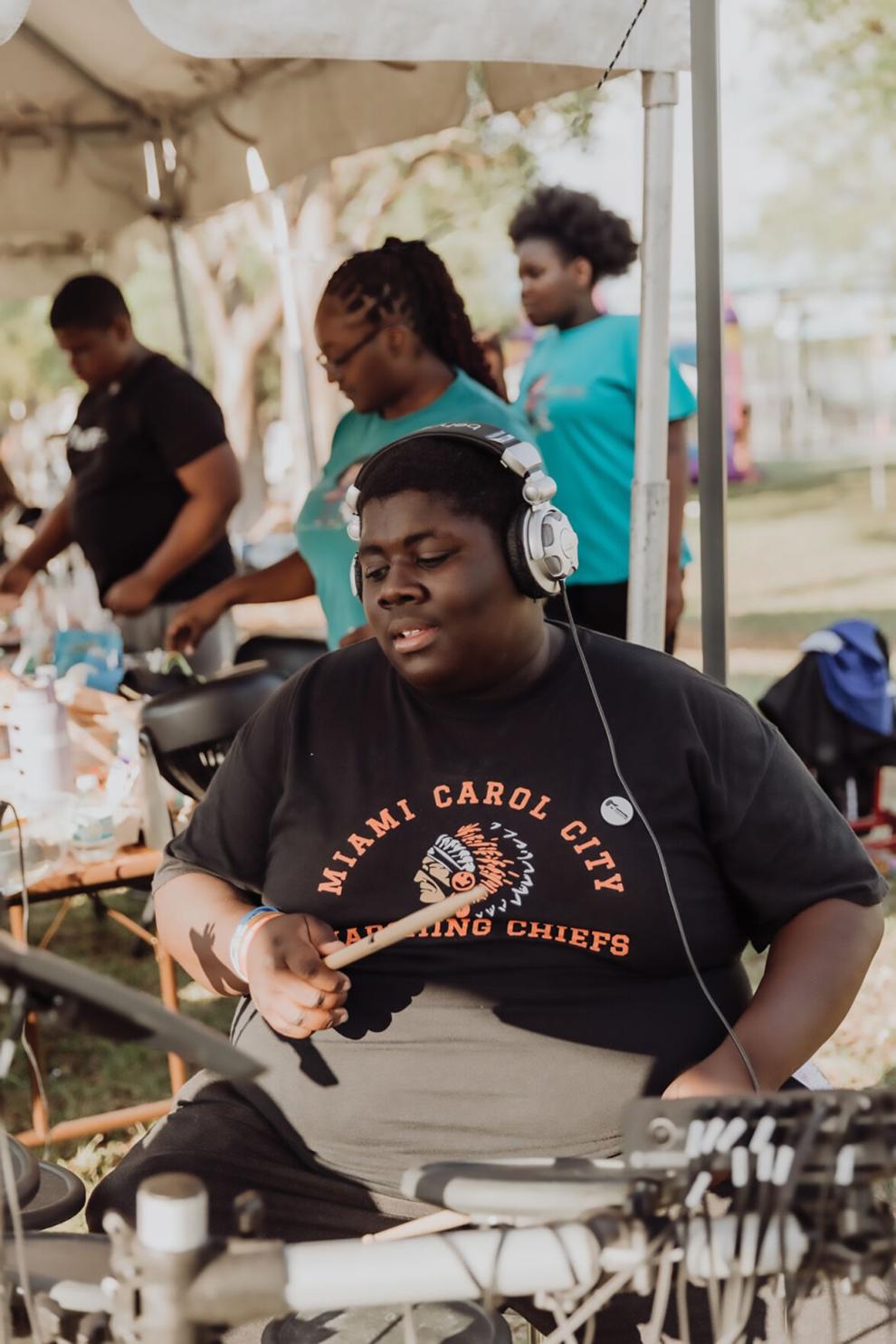 "Playing an instrument can sometimes rewrite a child's story. It keeps you out of trouble, it teaches you teamwork, it teaches you goal setting," said Julien.
Compared to last year, the number of students playing nearly doubled.
"We are up 100%," said tk. "That shows there is a desire for our young people to participate. They want to be a part of the teamwork and represent their school. You see community in this. Involvement is what changes a child's life so they can tap into talents they may not have known they have and allow them to do great things."
Music Access Miami is a multiyear initiative working to ensure that every child in Miami-Dade County thrives through access to consistent, high-quality music education. More than 4,000 students have benefitted from the initiative since its inception across a dozen Miami Gardens schools and nonprofit youth programs.
"I hope that students see the community and the teamwork. That they realize none of this could have happened with just one person doing one thing. I hope they are seeing the amount of people it takes to build something and that they take that with them not only in their schoolwork, but at home and in the community as well," said Kunya Rowley, director of music access, arts and culture at The Miami Foundation.
The 2023 lineup included elementary, middle and high school students from Miami Gardens and surrounding schools, and musicians from Young Musicians Unite, Miami Music Project, Achieve Miami, Guitars Over Guns, The Children's Voice Chorus, Girls Make Beats and Miami Carol City Senior High School. Special guests included artist and writer Arsimmer McCoy and Miami Gardens native and Broadway star Wilkie Ferguson III.
Back for the second year was Miami Carol City High School 10th grader Jay'len Tyson, who is not shy about his love for music. He plays drums, piano and sings, and says it's music that makes him who he is. Ever a cheerleader for joining the band, he is always helping recruit students – and from the looks of it at the event, he's known by just about everyone in the school music world.
"It's different when you are listening to music and then you are playing your own music," said Tyson. "When friends at school come to me, I say, 'Join the band. It's a different experience when you are making your own music.' We are a team. Between school, music and home they all come together. With school I try hard, and I feel as though I need to do better, but everything comes together as one."
Organizers have enjoyed such support from the community that residents of Miami Gardens should expect another extraordinary cross-section of Miami-Dade music talent to unite on stage again in 2024.