Last weekend's 22nd annual South Beach Wine & Food Festival (SOBEWFF) ended on a delicious high note for the more than a dozen featured Black chefs and thousands of festivalgoers.
"The exposure that my business has gotten has been tremendous," said Amaris Jones, chef and founder of Chick'N Jones. "There were people all over the world who came and tried my food. During the cookout on Saturday, I was getting Instagram DMs from people saying they were blown away. That's grassroots advertising."
Jones said her restaurant, located inside TimeOut Market in Miami Beach, saw a 10% increase in sales after her Fried Chicken and Cocktail Master Class at the event and anticipates more sales this week.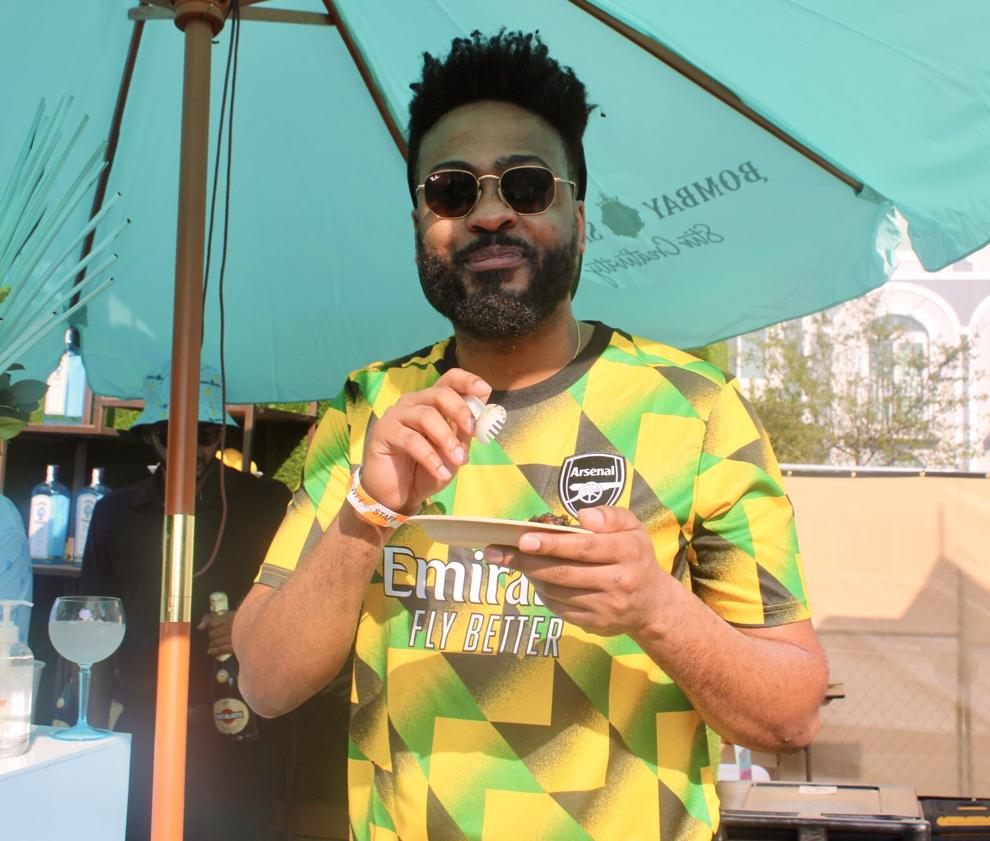 Returning to the festival for a third year, she was also featured at The Cookout, hosted by JJ Johnson and D-Nice, and the Overtown EatUp! event, which she hosted with Chef Marcus Samuelsson at Red Rooster.
"What I'm noticing is that there are now more women chefs who are inspired to just go for it," said Jones. "You really just can't take no for an answer. You have to own your power and demand respect in this industry. And when we do events like this, it just inspires the masses."
According to Miami Gardens Councilwoman Lisa Davis, whose consulting firm was hired by festival organizers to increase diversity, there were 65 chefs of color this year, with 20 featured chefs and restaurants local to South Florida.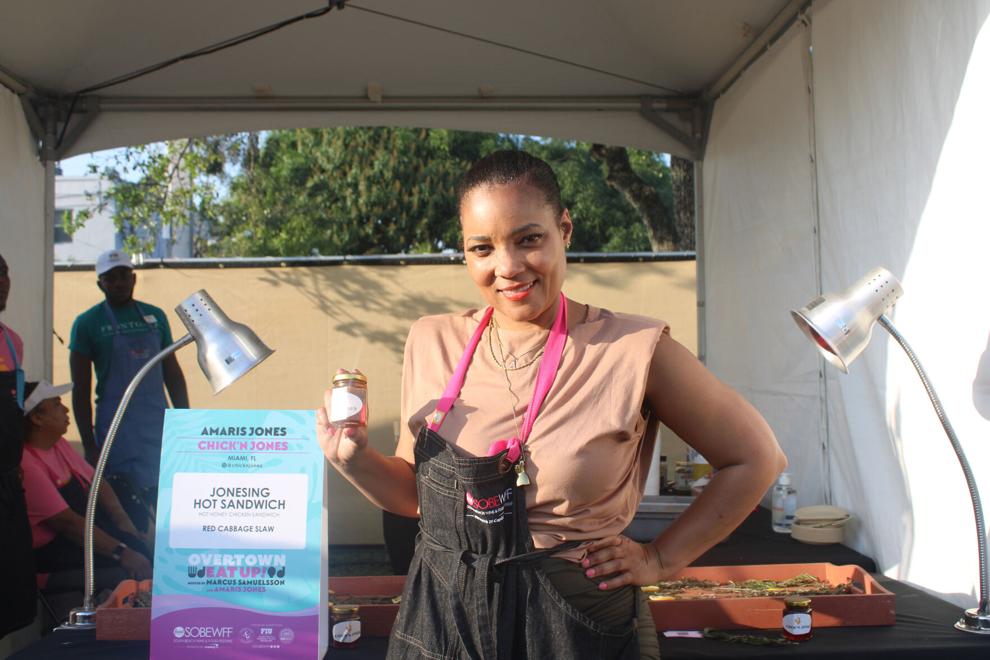 "This year, we had 25 Black chefs, and that's including the women, which we didn't have many of last year," said Davis. "Five of those Black chefs were on the (SOBEWFF) banners going down Collins Avenue and there were three Black chefs and one Native American chef on the billboards this year. Last year, there was no Black representation on the billboards."
At least 16 of those Black chefs were recommended and selected by Davis. They include Food Network's Kardea Brown; Revella Hadley of Black Swan Special Events; The Krazy Vegan's Reece Ellis; Bang N' Tacos' Maria Ealey; Tywanda DuPont of Ty's Hometown Cafe & Bistro; Mobile Soul Catering's Marcella Joseph; Kendra McIntosh of Cooking With Kendra; Hunter's Kelly Hunter; Rosalie Picard and Turkessa Wright of Chuchu Macarons; A Taste of Elegance's Maurice Randall; Lil Greenhouse Grill's Karim Bryant; Hugh "Irie" Sinclair; Derek "Teach" Turton of World Famous House of Mac; Jerald Washington of Aja's Catering; Deborah Williams of Chewy Suz Sweet Treats and Anthony Wilson.
"The opportunity to come back here is wonderful," said Joseph, a Johnson & Wales University graduate. "It was a great experience as one of the newer chefs and being surrounded by people who have been going at this for over 20 years."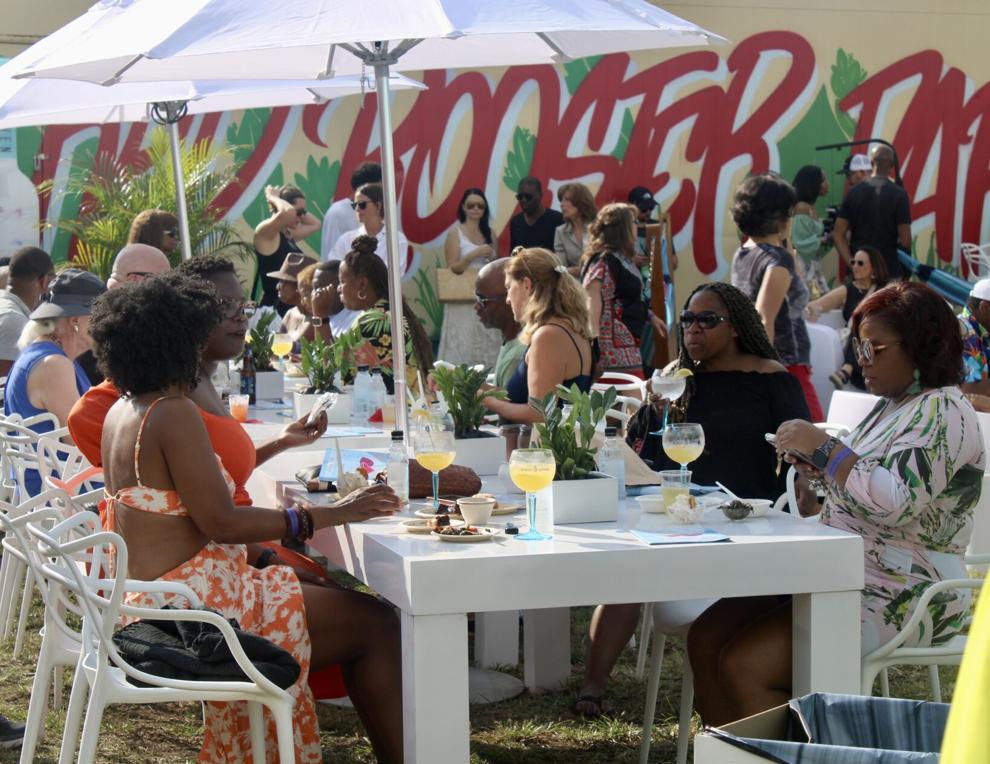 Joseph prepared a tempura-fried cauliflower dish with a savory bang bang sauce.
"It was a completely vegan dish and people were taken aback by the fact that it was actually a vegetable," she said, expressing a desire to bring more health-friendly food options to the festival in future years. "Vegan and vegetarian dishes are our bread and butter. I've been a vegetarian for 40 years and my parents are nutritionists so I wanted to represent that in my food."
Overtown Eatup!
New this year were two events, The Cookout and Overtown EatUp!, focused on promoting diversity, equity and inclusion. Tickets sold out almost immediately for both.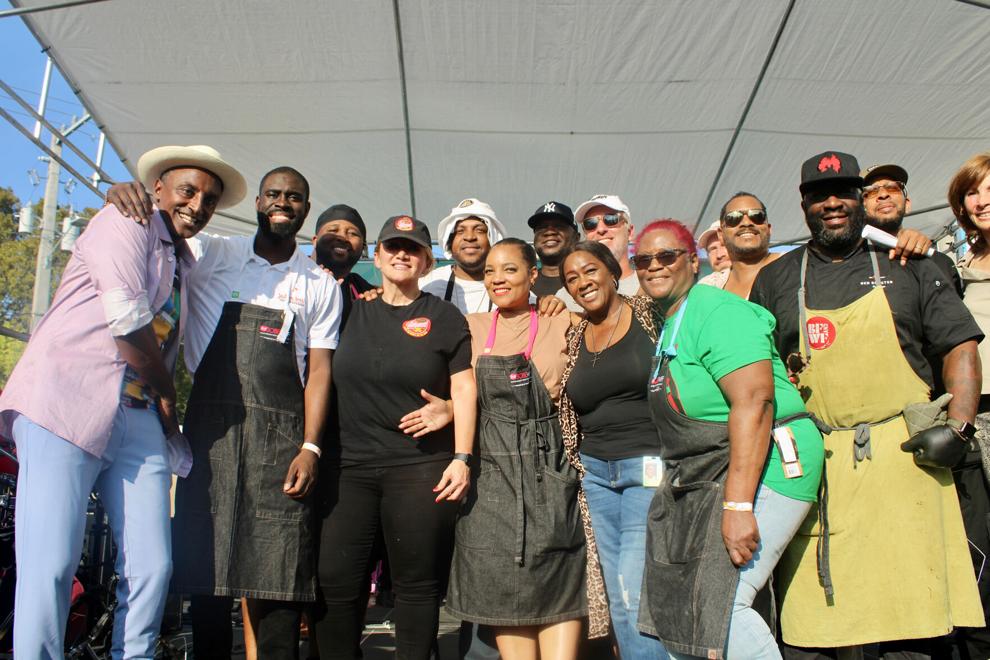 Many were delighted that the festival was not just limited to the beach but also extended to other parts of South Florida, including predominantly Black neighborhoods like Overtown and Hallandale Beach.
"We specifically chose this event because we didn't know about the other ones and we also wanted to come support Red Rooster," said Naomi Cobb, who attended Sunday's EatUp! event in Overtown with eight friends. "It was wonderful traveling back down here from Palm Beach with all of my friends. My grandma raised us here so this is like a second home."
Cobb said the push for diversity at the festival helps to spotlight local talent and provide a platform for those whose skills may have gone unnoticed.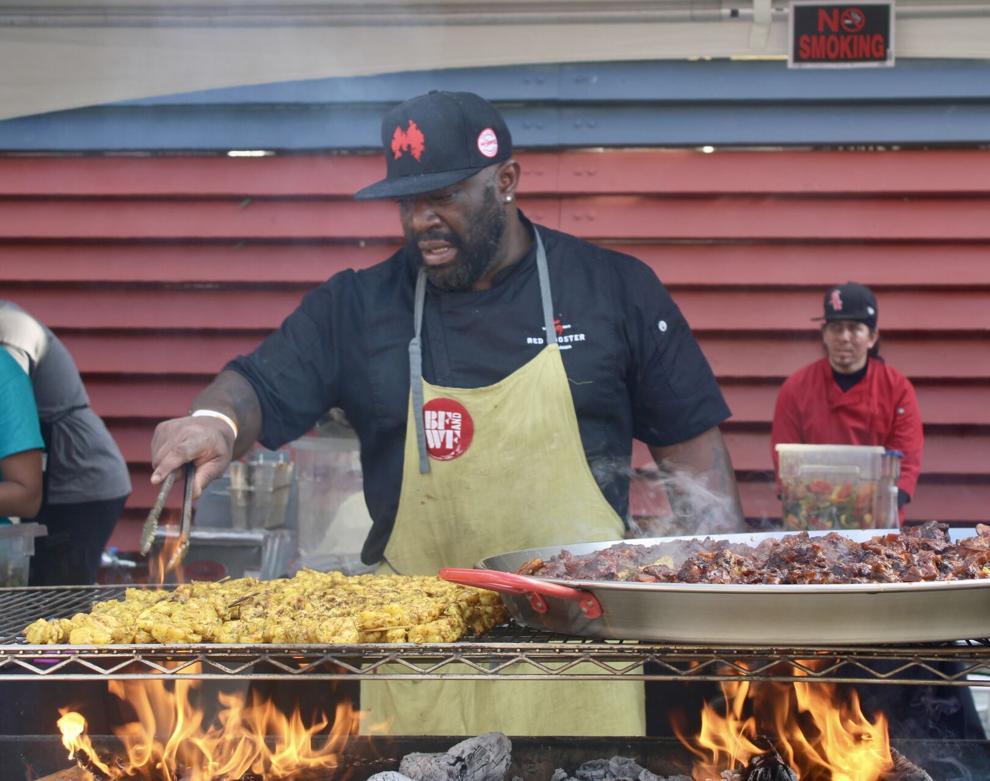 "There were always Black chefs in Miami Beach," she explained. "They may not have been able to live in or stay at a hotel but there were definitely Black chefs in the kitchen. I think this event is just an extension of our history, we have a blending of cultures, and it shows what already exists here."
Overtown EatUp! kicked off with the Black National Anthem sung by Mary Wells, with Deep Fried Funk and DJ Spinelli as additional entertainment. At least nine of the chefs there were Black.
"I've been a part of so many events where I may have been the only person of color there so it's great to see festivals like this where there is cultural diversity here, which I love," said Kenneth Gilbert, a 30-year culinary veteran and vice president of culinary operations for Grove Bay Hospitality Group. "I don't like to see representation reflected as only one person from a certain background because we're never going to break barriers when that happens."
Gilbert, along with other chefs on-site, prepare Samuelsson's grand jubilee dish for the festival, which included barbecue oxtail, hot honey fried chicken, grilled shrimp with black rice and vegetables.
"That was probably the best oxtail I've ever had and I'm Jamaican," said Lyndon Forte, a cast member of the Oprah Winfrey Network's "Ready to Love Miami" and bar manager. "Being Black in America is already tough and coming out of the neighborhoods some African Americans come from, it can be difficult to have your talents be seen."
"And starting a restaurant is extremely difficult," he continued, applauding chefs like Turton for running a successful business that also gives back to the community. "You're not even supposed to make a profit during that first year. That's how hard it is. Seeing them rise above those challenges and the fact that this event is happening in this neighborhood, it's motivating and incredible."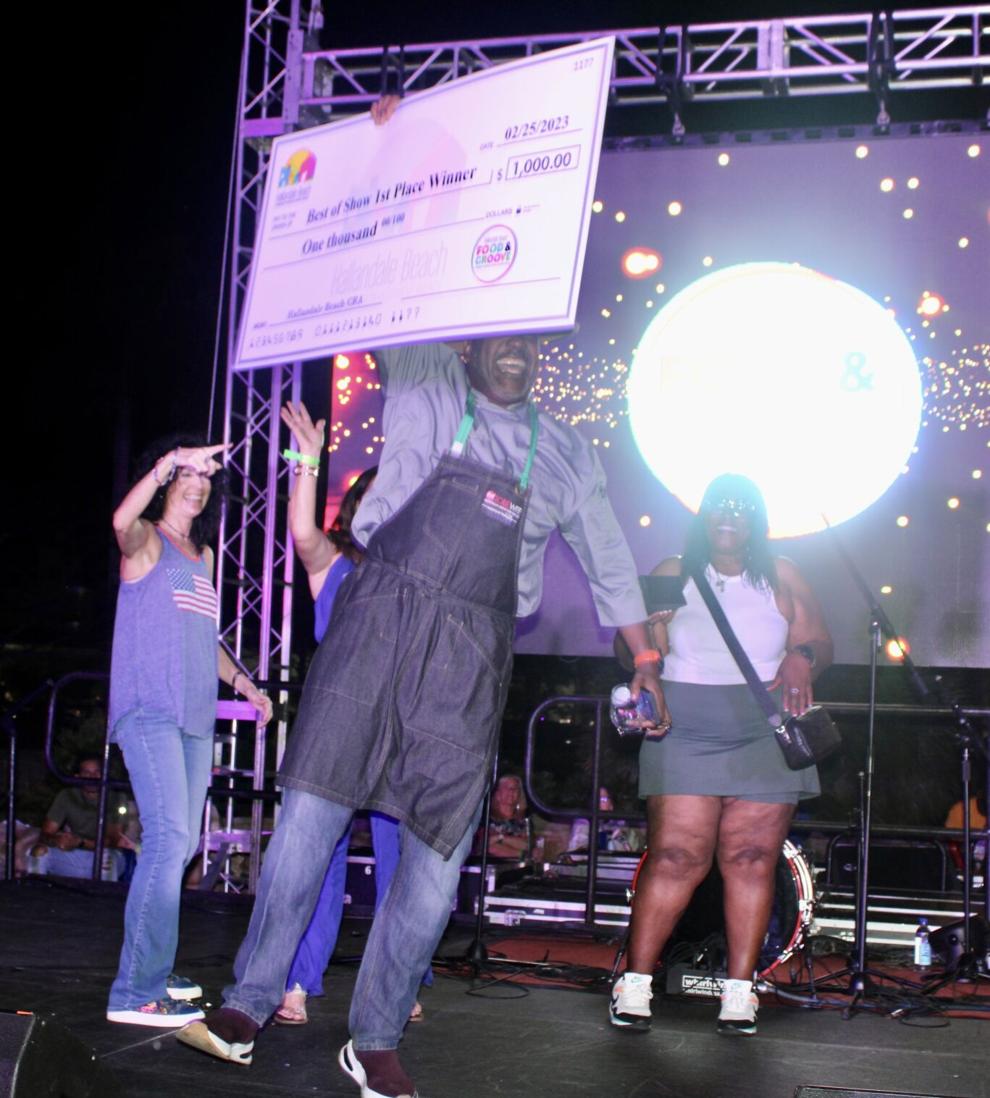 "I think it's great that chefs, especially chefs of color, have finally been getting acknowledged by different regions in the world and receiving recognition," said Gilbert.
Jones disclosed that proceeds from the event will go toward supporting children in Overtown who wish to pursue a career in the food service industry.
Black chefs hailed
Many of Davis' hand-selected chefs received high praise for their palate-pleasing dishes.
At the Hallandale Beach Food & Groove, chef "Irie" Sinclair won crowds over with his jerk pulled pork with tamarind plantain sauce and sofrito slaw, earning him the $1,000 "Best of Show" award presented to the chef with the best dish.
He presented a similar dish at the Bacardi Carnival on Sunday.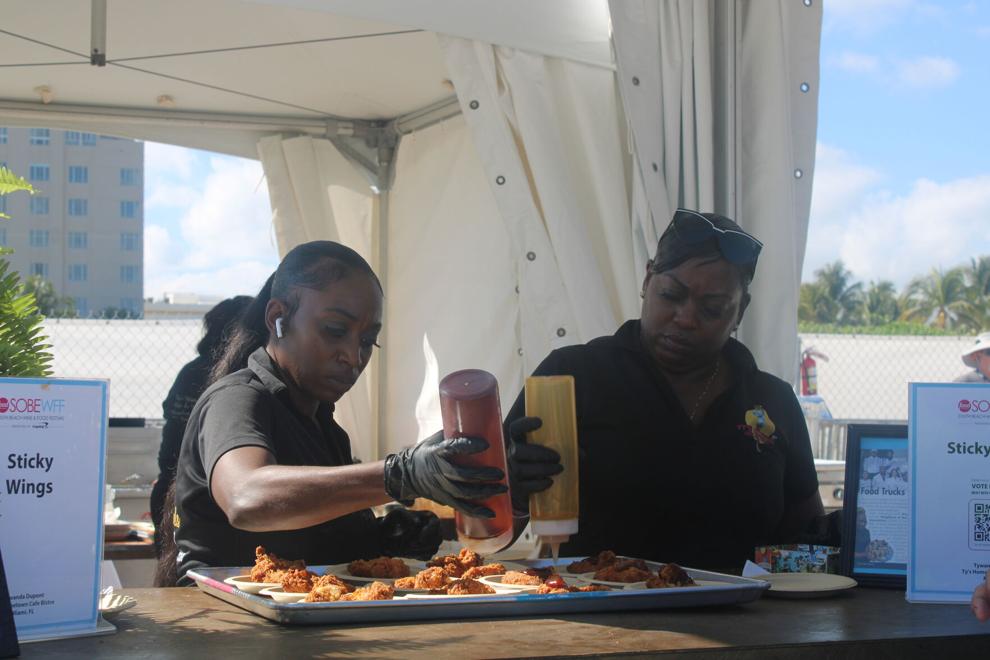 "It's emotional because it was unexpected," said Sinclair, a Jamaican chef with a private catering business. "I didn't come to the festival for this so it definitely caught me by surprise. People have been fighting for us Black, brown and Hispanic chefs to be in these spaces. And we just have to put our best foot forward because we never know what might happen."
Sinclair, who found out about the festival in 2017 when helping a friend and featured chef at the time, said he plans to use the award to hire more staff, support new marketing strategies and give himself a well-deserved day off.
Prior to this year, Sinclair was a featured chef for Taste Jamaica, a SOBEWFF event held for two consecutive years.
"I loved that we had a Black chef, Chef Irie, here. His dish was my favorite," said Adama Cham, who was invited by a friend to attend the festival for the first time. "Even though we had a variety of vendors here, I still feel we could've had a more colorful reflection of Miami."
"The feedback was amazing," said Randall, an Atlanta-based celebrity chef and SOBEWFF newcomer. "I had different companies offering me a partnership with them and they wanted me to try cooking with their different whiskies. There was even one lady who told me she flew in from Nassau, Bahamas, to come support me."
Randall, voted second for best dish at Goya Foods' Grand Tasting Village, prepared a tarragon chicken and satay, and Bahamian conch salad.
"Everyone that came told me 'this tastes good, I've never had this before,'" he added. "So now, I've exposed them to a culture and food that they weren't familiar with. I'm really thankful for everything Food Network and the South Beach Wine & Food Festival have brought to my business. I now have 1,000 more followers than I did before."
And according to Davis, DuPont – who began her career as a baker specializing in custom cupcakes – received various partnership opportunities to work with celebrity chefs.
Organizers are already looking ahead to SOBEWFF 2024, which will take place Feb. 22-25.
"I want to continue to bring in more women chefs and I also even want to bring in some from Africa," said Davis. "We have a lot of ideas that we want to implement but we just hope that people come out to support and help us sell out these events."