Devastated by the uptick in gun deaths in Miami, Anthony "King" Blackman is fighting to break the cycle to ensure a better future for all.
Two years ago, Blackman and eight other Circle of Brotherhood members who called themselves the Hunger 9 went without food for 21-and-a-half days to protest gun violence in Liberty City. Drinking only water during the three-week stand, the men slept outside in tents and were checked by medics every day, while they hosted workshops with students, elected officials and community members.
"When I was on the hunger strike, around day 10, I started to think about all the young people that were dying in our community from gun violence," said Blackman. "I said to myself that after this hunger strike is over, I'm going to make it a mission to go into these high schools and to speak to our young people, to let them know about any opportunities that may be available to them that they were not aware of."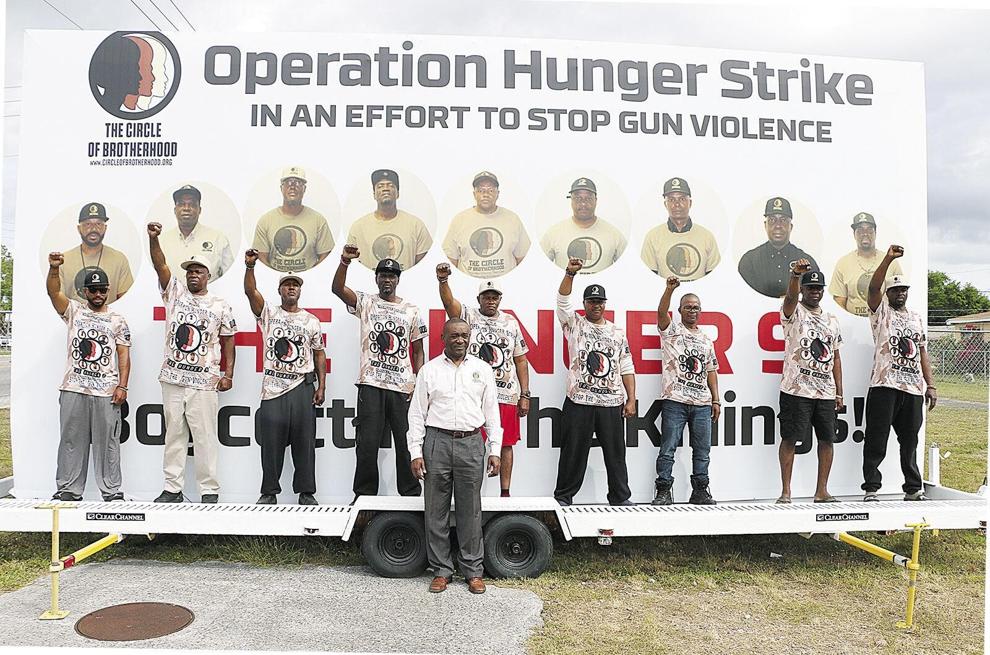 The movement to prevent gun violence is ongoing and slow-going. Gun deaths are still rampant locally, as Miami has most recently seen two consecutive weekends of shootings, starting with the Friday prior to Memorial Day. Just this week, police arrested three teenagers in connection with a shooting at a graduation party Sunday in Kendall that left three dead and five injured. Two people died from gunshot wounds after being found in a crashed vehicle in Brownsville Tuesday morning.
Following the revelation that he believes God gave him during the hunger strike, Blackman decided to share his personal story with youth in the community to get them to enroll in college as a means to prevent them from pursuing a life marked by gun violence.
Now going into his third year, Blackman has been promoting Miami Dade Technical Colleges' "Career in a Year" program. Offering professional pathways in the fields of health care, information technology, construction, culinary and others, the technical programs offered throughout Miami campuses provide marketable skills on a fast track and low-cost tuition, even for teens as young as 16 not enrolled in high school.
"I use my own personal story because I love my community and I want to let young people know about the opportunities that are available," said Blackman. "When you're from the community, it's also a different conversation."
In seventh grade, Blackman dropped out of school at age 12 and spent a majority of his childhood incarcerated. He pursued an education as an adult, starting at Lindsey Hopkins Technical College, and received a GED in 2004. He completed his entrepreneur certification at Miami Dade College in 2011 and went on to graduate with an audio engineering certification from the SAE Institute in Miami, as well as a construction training certification from D. A. Dorsey Technical College.
He later founded a record label, Blackman Music Group Inc. (BMGI), in 2018. He said he believes music, especially hip-hop, influences how people are affected by gun violence, and he hopes to use it as a tool to reach out to kids and make the change he wants to see in the community.
"Hip-hop is the language of our community, hip-hop is the language of our young people," said Blackman. "We have a strong belief that hip-hop is the way to communicate to young people. We tie hip-hop, along with our personal experiences, as well as point them to school as an option because a lot of them are not thinking about college."
After founding the record label, Blackman met Luis Diaz, an assistant superintendent of Miami-Dade Public Schools, and offered to speak about his experiences at high schools throughout the county. This led to a contract between BMGI and the school district aimed at increasing enrollment for Miami Dade Technical College campuses.
In 2019, Blackman began to tour Miami high schools and has since reached more than 1,000 students through social media, advertising and in-person presentations. Through his record label, he's produced two singles and music videos – "Career in a Year" and "Peacemaker" – which bring awareness to the programs as well as gun violence issues in the Black community. He plays these videos for students in their school auditoriums and talks about personal accountability and making decisions.
With COVID-19, visiting schools came to a halt. Now, Blackman said he's looking forward to touring high schools and speaking to students again. BMGI is partnering this year with two locations – D. A. Dorsey and Lindsey Hopkins, Blackman's alma maters. However, he is not limited to recruiting students who have graduated and are undecided about what they want to do. He also speaks to adults looking for a new career.
Most recently, canvassing has been added to his organization's efforts to reach out to other individuals in the community. Just last week, Blackman said a 60-year-old woman signed up for a patient care assistant program.
"All I'm saying is that it's never too late and this is adult education," he said.
There are no music programs as of yet. Blackman said he is working on creating a curriculum for the Hip-Hop Peace Hub, an organization he founded that trains young people in audio engineering, music and mixing while teaching personal development skills. He would like to get it into the schools.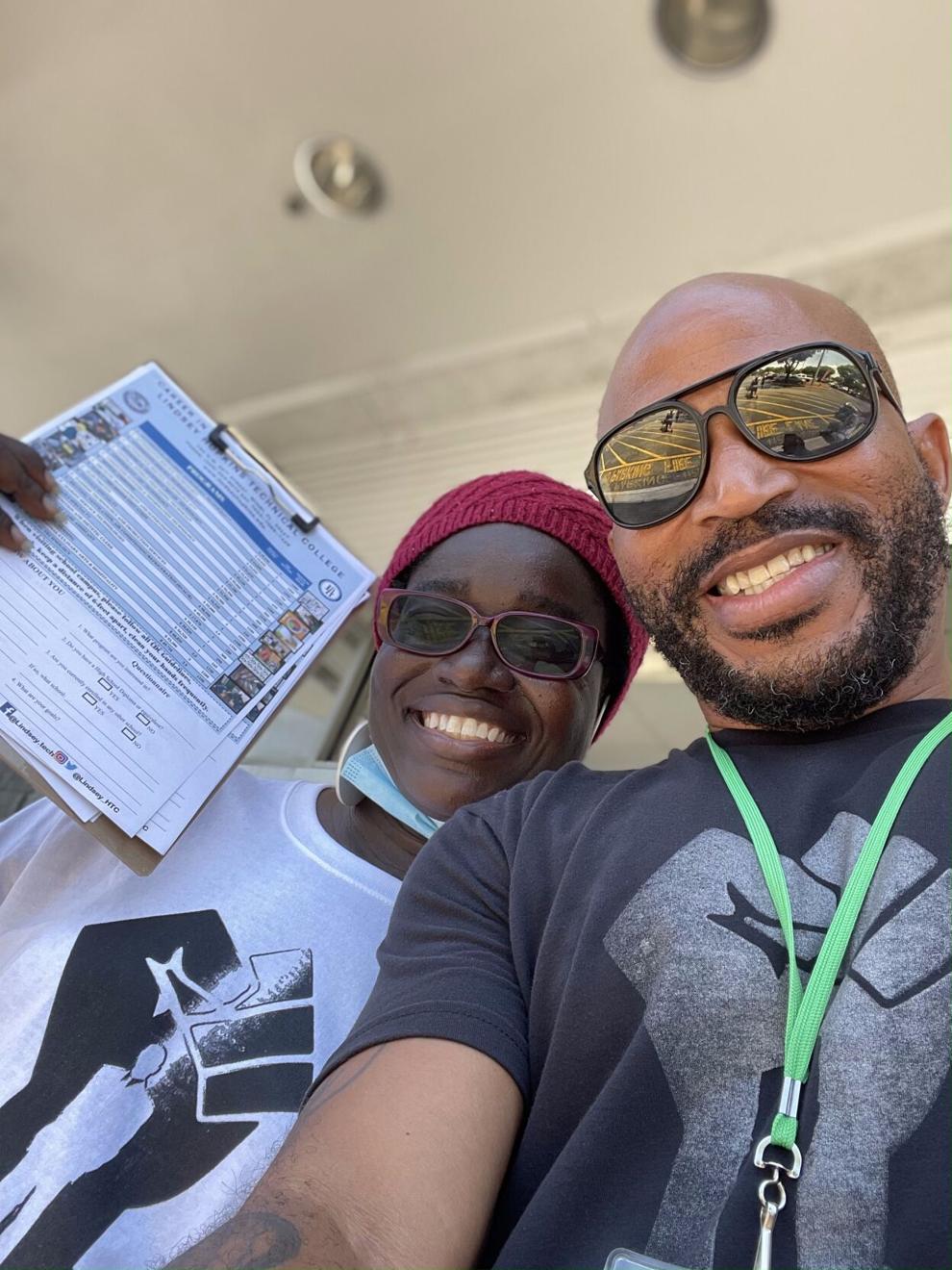 Annette Paul goes out to the community and knocks on doors in Overtown, Little Haiti, Liberty City and other neighborhoods to present information about the program to residents. The canvasser had gotten involved two months ago through a Circle of Brotherhood work readiness program. As soon as she heard kids as young as 16 could participate, she felt it was more than just education – it's pushing for self-development.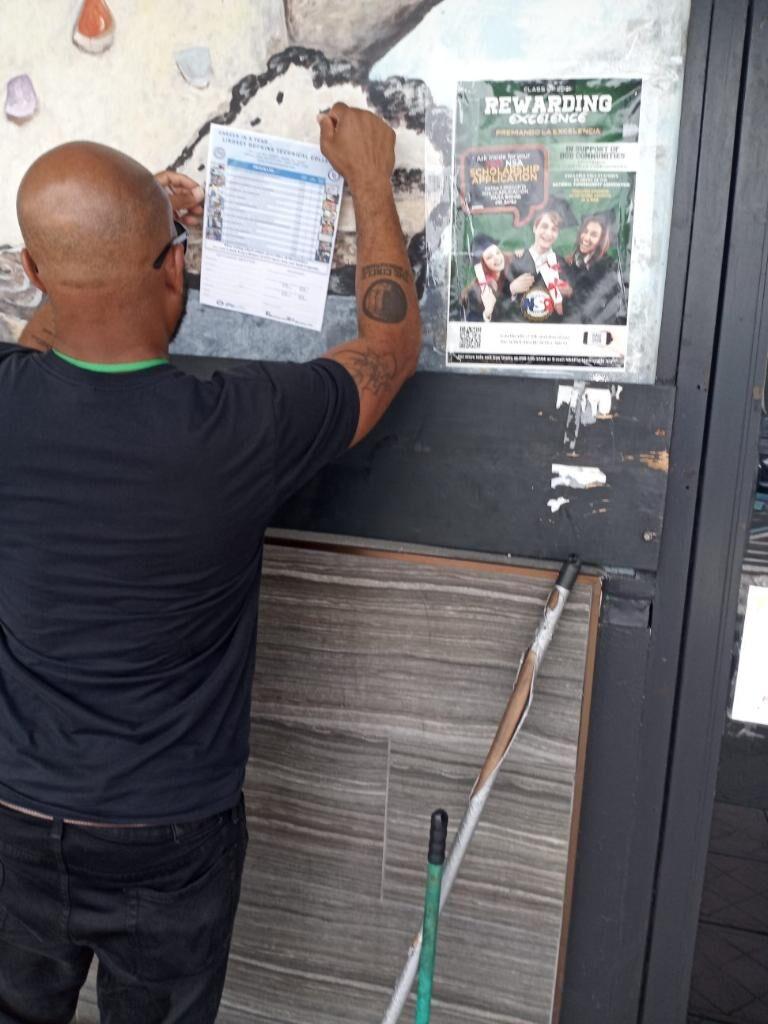 "Not everyone knows what's out there, especially for teenagers," she said. "In the community, you have teenagers thinking, 'Man, I can't afford to go to school.' So they find other ways to occupy their time and unfortunately, sometimes it's not always positive, especially the males in our community.
"For me, I felt like I was part of something with purpose. It's one thing where I'm trying to better myself, trying to get opportunities for myself, but then it was rewarding trying to extend it to someone else."
Two months ago, Shandreka Copeland-El graduated from D. A. Dorsey Technical College's medical assistant program. She was thrilled to find that the classroom had realistic, hands-on work, rather than just textbook lessons.
"They had dummies in the classroom, where we can actually go and administer the blood from the arms. We had real needles, real syringes. We had different types of medications that we would use when we go out in the medical field. So it made everyone feel exactly how they would feel if they were in a clinic or a hospital," she said.
When Copeland-El completed the 1,300-hour program, she received seven certifications. Upon graduating she took a Registered Medical Assistant (RMA) exam which certifies her with the state. She said she was intimidated by the test, but stayed focused on key points she remembered from class.
The recent graduate is currently seeking employment, putting in applications at different clinics and hospitals, and is positive she'll get an interview and work her way to a dream job. College was always in her plans, especially the medical field, because she said she likes to take care of people. However, it was a challenge to enroll when she first applied due to financial aid issues. When she applied at D. A. Dorsey, she was accepted with no difficulties.
"It's not a long two-, three-year program," said Copeland-El. "I think everyone that comes to the school has an opportunity to pursue their goals and their careers, when they pursue their employment and whatever field they go into."