Tarell Alvin McCraney's critically acclaimed television series, "David Makes Man," returned for a second season on the Oprah Winfrey Network on Tuesday.
The explosive premiere introduced viewers to an older yet more fragile David Young, itching to crawl back into his 14-year-old shell, as things spin widely out of control following resurfacing insecurities and the hospitalization of his brother, Jonathan Greg, played by Arlen Escarpeta.
Season two brings a 30-year-old David – played by "The Wire" and "Snowfall" actor Kwame Patterson – living in a post-pandemic world. This new David, a businessman faced with a career-making opportunity, is the antithesis of the one fans were left with last season.
In season one, teenage David blossomed from a shy young man living in the Homestead Village housing projects to a fierce community advocate. The finale showed a bold version of David who faced fear head-on to overcome his problems, taking on drug lords and speaking up for himself.
It was a satisfying note on which to end, as the series had followed the teenager's inner struggles as he tried to evade the sinister influences of his drug-infested community, pursue an education as one of few Black students at his magnet middle school and assume his role as man of the house while his mother, Gloria, struggled to make ends meet.
With the 15-year time jump, viewers are reintroduced to David, someone who now seemingly has it all figured out with a successful job, luxurious apartment and the woman of his dreams, at least from the outside looking in.
In reality, he is still fighting to suppress the same trauma he experienced during his childhood. He's accomplished everything his younger self set out to do but still lacks peace.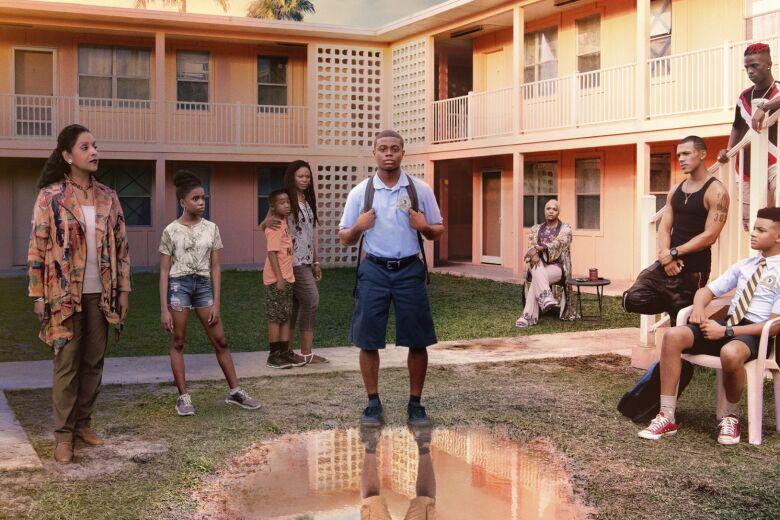 "We have all changed, it's you that's the same," Gloria tells older David during a hospital scene in season two's first episode. "Go find you some calm."
Gloria, played by Alana Arenas, too had a traumatic childhood that she tried to repress with drugs, leading to an addiction that forced David to assume more responsibilities than a child should.
A 15-years-sober Gloria forces this season's David to realize that she no longer needs him to look out for her. Her comment sends him spiraling, as he is compelled to reckon with the past and face his demons to truly come to terms with what it means to be a Black man.
"David Makes Man" is a coming-of-age story based on McCraney's upbringing in South Florida.
The Oscar-winning playwright behind Berry Jenkins' "Moonlight," a 2016 on-screen adaption of his "In Moonlight Black Boys Look Blue" autobiographical screenplay, is also the chair of playwriting at the Yale School of Drama in Connecticut.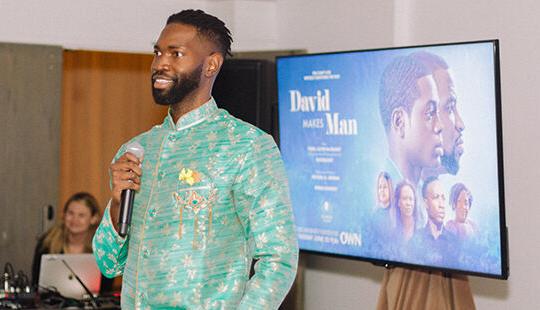 McCraney grew up in Liberty City and Homestead with his mother, who fought a crack addiction before dying of AIDS-related complications in 2002. He grew up without a father figure after his dad left early on in his childhood.
The closest thing he had to a father was Blue, his mother's boyfriend and a local drug dealer, who taught him how to ride a bike and swim before becoming a victim of gun violence.
Young McCraney channeled his artistic talents at magnet programs at Charles Drew Elementary, Mays Middle and South Miami High schools, and later moved on to New World School of the Arts High School.
He used his difficult childhood – marked by being bullied and called a f----t, to create LGBTQ+ representation in literature, theater and on the screen.
McCraney's work, now widely recognized, elicits dialogue on Blackness, boyhood, poverty, drug addiction and identity.
His hit TV series on OWN is no different.
"We're bringing these conversations into the house," said McCraney, explaining why he chose to tell David's story through a 10-part series instead of a film. "We want families to have the necessary conversations and seek a mental health specialist to start healing from trauma."
While filming season two during the height of the civil unrest that erupted across America after the killing of George Floyd, McCraney made sure to extend mental health resources to his cast and other staff to cope with the heavy topics addressed in the show, combined with their day-to-day reality.
He shared that he put a lot of thought into which network would best house the show, ultimately choosing OWN over Netflix. In past interviews, he said the intention was to engage a Black audience, a decision that cost him ratings in the first season.
Still, he stands by the decision, and his effort to create a safe space where Black communities can address both internal and external conflict.
The series shares many themes with and reflects the cinematic approach of "Moonlight."
The main characters in both are navigating the world in a fatherless home with a drug-addicted mother while struck by poverty, as McCraney himself did.
"As a survivor of trauma, like myself, we really wanted to talk about how [David] can then function and survive and make it to a place of what looks like success for him, but still be that same 15-year-old kid reliving that trauma consistently," he said.
McCraney shares executive producer billing with five others on the show, including prominent Hollywood figures Dee Harris-Lawrence, Michael B. Jordan and Oprah Winfrey, all first drawn to the show because of its groundbreaking nature.
"David Makes Man" is one of a kind for many reasons, in part because it's a story of manhood that depicts the life of a Black boy.
Though filmed in Orlando, Fla., it's set in Miami and references issues prevalent in its Black communities that are often hidden under a shiny tourism veneer. Affordable housing, eviction, colorism, hurricanes, education inequality and substance abuse were addressed in the first season.
The show provides a glimpse of Miami culture through colloquialisms used among residents, food, music from local artists and a strong Caribbean heritage presence.
One of its notable elements is the use of magical realism as a vivid portrayal of David's imaginations. The hallucinations, daydreams and alternate realities bring his frustrations to life and draw a connection to Black spirituality.
"It's not like we're doing anything brand new, it's just that you've never seen it from Black people," McCraney revealed to a group of friends and community influencers invited to a VIP screening event for the season two premiere in Miami last Thursday. "We saw Ally McBeal's imagination shown all the time."
Season two will continue to take the audience on an emotional journey of self-reflection as David navigates adulthood. His coping mechanisms for trauma, as portrayed in both seasons, will be conveyed to speak to mental health and healing approaches in the Black community.
"When we pitched the show in the first place, we always said that we wanted to talk about this very specific thing, which is how trauma and surviving that trauma can calcify, stultify and concretize a person in that very place," said McCraney.
Adult David, who has seemingly developed obsessive-compulsive disorder, uses self-soothing mannerisms including foot tapping, dulled apartment interiors and initiating a daily routine to combat the chaos that is his life.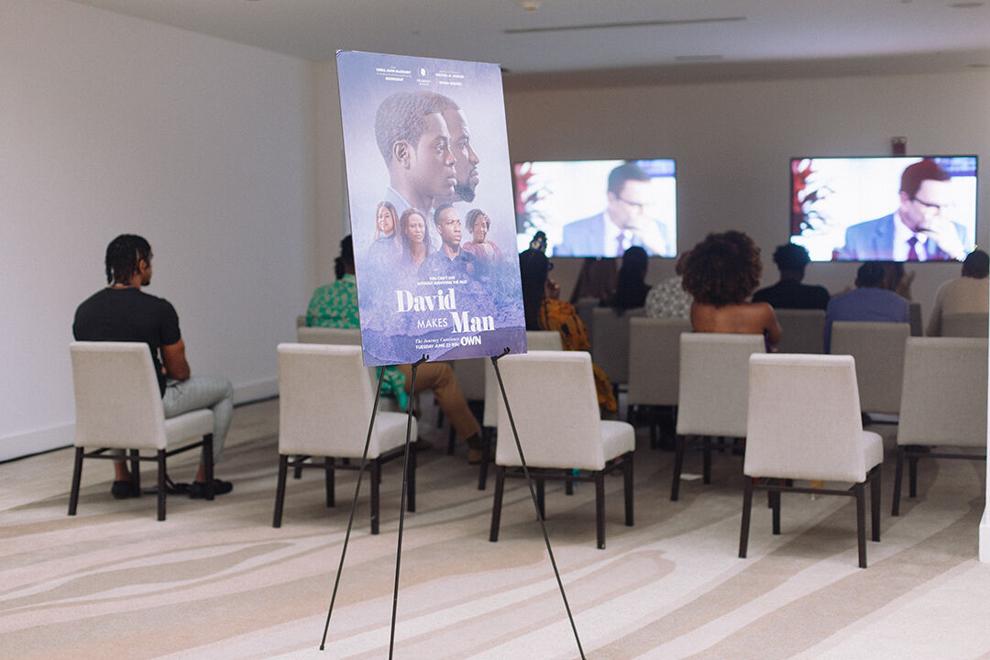 "The ability to control just this much in your life makes some of that chaos calm down," said McCraney. "So when you were raised in so much chaos like David, you start developing a list of things that bring you ease. Thinking 'maybe if I do this, I'll feel better.' He needs this routine ... This first episode shows him crashing when everything doesn't go as planned."
"There is a form of care that comes with this work, it's not just displaying trauma, trauma, trauma [and] not coming back from it," said Loni Johnson, a visual artist, activist and friend of McCraney's. "There is a community built within the work."
"I feel like this is very much for the community that it comes from," said Sheila Marie, wellness influencer and founder of the Curvy, Curly, Conscious movement, after the screening of the season two premiere.
"You'll be pleasantly surprised that a lot of things from season one are carried over into [David's] adulthood," said Lucien Adderley, a writer on the show. "There are a lot of callbacks, you'll get some dancing and a lot of things to keep you tuned in."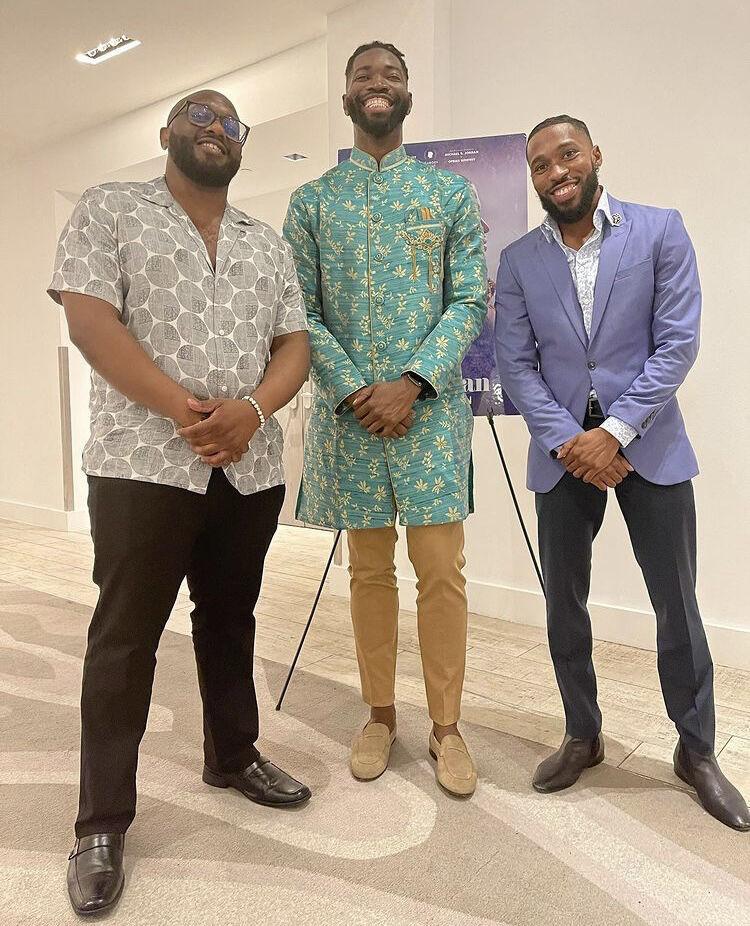 Richard "Byrd" Wilson, another show writer, is looking forward to reactions to the next episode, titled "Hurston," which he co-wrote with Adderley.
"We got to address things and questions people may have lingering from season one," said Wilson. "People can expect to get more of the original characters that we love, but also meet these new faces and fantastic people and watch them interact with the kids."
"In episode two, we get a chance to really break down David's experience at Hurston Prep and see how he deals with racism and microaggression," said Adderley. "There's a lot of things that come out of this episode in terms of conversations and things we see in our own lives."
Both Adderley and Wilson extracted experiences from their personal lives to write the episode.
"We made sure that Akili McDowell [the actor who plays younger David] and Patterson got to know each other and gave each other support in understanding the character of David," said Adderley. "Tarell also helped bridge that gap to help them understand what happened in those in-between years."
"I know a lot about story making and knew nothing about making a television series," McCraney added. "I could not have done any of this without the tutelage of Dee. She has taught me so much."
Ten new recurring characters have joined the cast for season two. They include Escarpeta as David's brother, Jonathan Greg; Brittany S. Hall as Nicole, David's love interest; Bobbi Baker as Robin; Erica Lutrell as adult Marissa; Brandi Huzzie as Trisha; Zsané Jhé as adult Shella; Rodney Gardiner as Miami politician Corey Roberts; Janmarco Santiago as Elan; and Tony Plana as Joe Padilla. Trinity Cidel, daughter of Norland Middle School magnet drama teacher and "Moonlight" star Tanisha Cidel, plays David's niece, Trenise.
Other issues discussed in this season are gentrification and politics, as David decides whether to take on a redevelopment project that would displace residents of the housing projects he lived in as a child.
"David Makes Man" airs Tuesdays at 9 p.m. on OWN.