At 17, Isabella, who is a minor, found herself detained at the Miami-Dade County Juvenile Detention Center. Isabella, a senior enrolled in a Miami-Dade County public school, never thought her stay at the detention center would motivate her to explore her creative side as well as give hope for a brighter future.
That's because during her time at the facility, she was able to be part of a new, interactive youth development experience, where juvenile detainees work with local muralists to design, prepare and paint on the walls of the center.
Hope Murals JDC is being used as a vehicle to cultivate self-efficacy, confidence and goal-setting skills in teenagers. The program was launched earlier this year by German DuBois, a nationally known artist who serves as its executive director.
Isabella, who always had an interest in visual arts and coloring, but never took art classes past elementary school, was excited to be part of the program, she explained. "I was looking forward to it," Isabella said. "It takes your mind off of a lot of things and it is distracting in very positive ways."
The aim of the program is to use murals, graffiti and urban visual arts to instill self-awareness, self-reflection and self-efficacy into the teenagers who reside in the facility, explained DuBois. Five teenagers at a time are selected to be part of the four week mural creation program. The group is paired up with a local muralist, who will help mentor the group and usher in their vision from the developmental stages into completion.
Isabella and her program-mates worked with muralist, Nicole Salgar, to create a mural titled, "In Bloom." The mural depicts a woman with a serene, calm countenance. She has long black hair, with a wreath of green leaves covering her eyes, while flower petals flow from her open palm. The woman stands in front of a mountain range while a storm forms behind her. Her torso is painted with a translucent blue, with different roots and branches coming forth from the bottom to the top of her torso. In the torso, a lighter blue is used to create a light effect close to the heart of the woman, where her soul resides.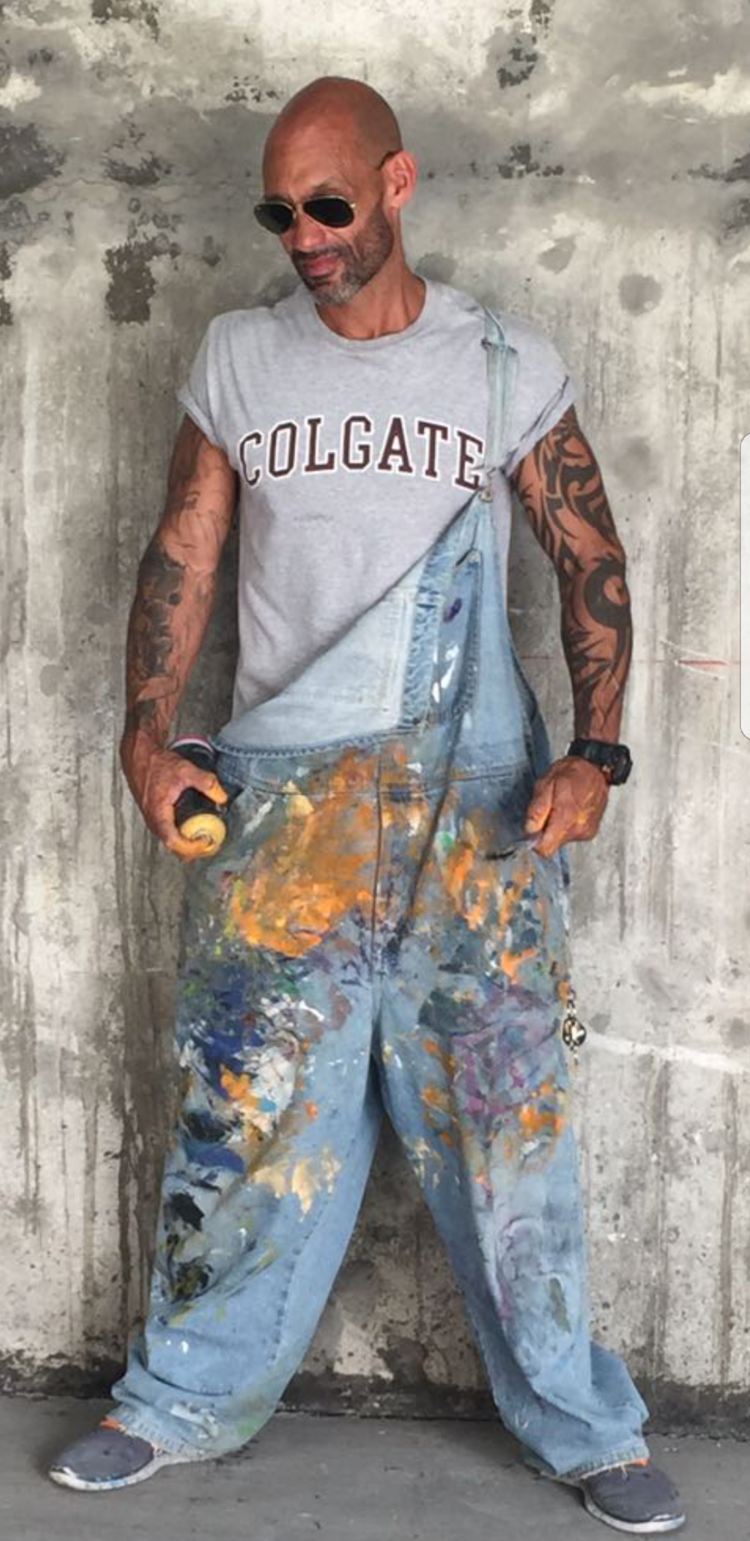 The murals are "the vehicle to engage [the teenagers] into this beautiful art process," DuBois said. "But during the process, what we are really doing is teaching them the importance of setting a goal, creating a plan to achieve that goal, and then going ahead in executing the goal."
The process begins with a presentation about the history of murals and their transition from an undesired, criminal act of vandalism to art that can be appreciated, both for its aesthetic beauty and social themes and messages conveyed within.
A group discussion and brainstorming session follow the presentation. The rapport built among the participants and the instructors felt genuine and comfortable, explained Isabella.
"It was very exciting for us to put all of our ideas into the mural design and make something beautiful out of it, just through one conversation," she said. "We would all be excited even when the instructors were not there."
In the group discussion, the teenagers are challenged to think critically about the range of topics and themes they would like to see materialized in their mural. The themes range from public events in the media or in their community, to issues that have contemporary and historical significance for the participants. The goal of the discussion is to foster self-awareness and self-reflection among the participants, as well as values such as perseverance, accountability and hope for the future. Other values such as respecting other teenager's opinions and world-views, as well as having civil conversation about issues such as equality, liberty and the cause and effect of actions are explored in the group discussions.
"In Bloom" is meant to symbolize the dichotomy between positive and negative experiences that the teenagers have endured in their short life. The theme of hope for a better tomorrow is symbolized by the images of the different kinds of flowers. Though the woman cannot see what is in front or behind her, she taps into light within her to fuel her forward. The mural represents the struggle of assessing different situations that cannot always be controlled, but by using self-reflection and tapping into the "roots" and the individual light within, people become better equipped to handle the often chaotic, external forces, DuBois explained.
For Isabella, seeing the finished piece gave her a sense of completion, motivating her to see what is possible when a goal is pursued until its conclusion. "What impacted me the most was finishing the mural itself," she said. "Wow, if I can do something as big as this, imagine what else I can do in life."
DuBois believes in the inherent power art has to create interpersonal change, especially when shared with children that have made mistakes in the past. He designed the program to be a hands-on, interactive experience, that caters to the children's creativity and need to stay engaged in positive activities while in the detention center. DuBois uses the "power of art to empower young people to develop the skill of self-efficacy," he explained.
Teamwork, communication, goal setting, perseverance and accountability are components of self-efficacy, which mural painting allows the teenagers to begin to develop in a fun and interactive fashion.
Many of the teens are eager to finish the mural they started, said Cpt. Samuel Thelon, assistant superintendent of the facility. "I see how their eyes light up," he said, "they are constantly asking if we are going to do it again." The possibility of being part of the program is motivating the teenagers to behave properly and control their impulses, he explained. Fights have decreased since the Hope Murals experience began at the facility, as well as boosting morale for the teens and staff, Thelon explained. "[Hope Murals] is making my job easier," he said jokingly.
Isabella has been released from the center since participating in the mural experience, but she credits the program for changing the way she saw herself and her future.
"Before Hope Murals, I was not thinking about college and I was very negative with myself," she said. "When they came around, they spoke a lot about moving forward, having hope, not just with painting but with college and your future, your self and your family."
Isabella is currently taking different college entrance exams and exploring different options when it comes to higher learning. She wants to be involved in the medical field.
"Hope Murals has helped me be where I want to be," she said.