Can one find paradise during a pandemic? While some will say it's impossible, the island of Key West begs to differ.
A nearly three-hour drive from Miami-Dade, Key West, located in Monroe County, is the southernmost part of the United States and is known for its famous key lime pie; pastel, conch-style architecture; water sports; nightlife; eccentric characters; and free-roaming roosters (yes, they're a thing).
The island chain known as the Florida Keys has a $2.4 billion tourism industry which has been hammered by the coronavirus lockdown that began in March. After more than two months the Keys officially reopened to visitors, but bookings are light. The domestic cruise industry, which routinely brought thousands of people to the area daily, is sidelined until 2021.
So how does a tourism-based economy and the workers who depend on it survive? Everyone has to follow health guidelines and pivot.
The Ocean Key Resort & Spa, an oceanfront property located in the heart of Key West and a one-minute walk from popular Mallory Square, is a prime example of early adaption and the hotel's readiness to provide safety to guests. To ready for its June 1 reopening, Ocean Key increased its employee training and use of Personal Protective Equipment (PPE) based on staff roles and responsibilities.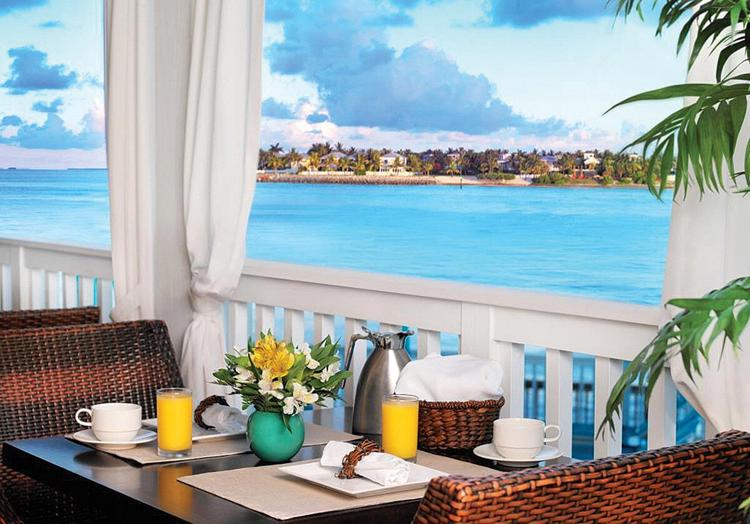 The hotel installed touchless hand sanitizer dispensers at all entrances and contact areas, and implemented strict housekeeping guidelines, with daily service provided only upon request. Social distancing decals are posted throughout the property, along with signage reminding people to wear masks. Ocean Key limits the amount of people in its Madda Fella Boutique and closed the Madda Fella Rum Bar, located in the lobby, to practice safe social distancing guidelines.
"Everything we do has been, and will be, affected by the virus," said Bill Foster, the hotel's regional director of marketing. "We have implemented many cleaning procedures this year, and will continue them in 2021. To be sure, the most visible changes will be in our public spaces, restaurants and bars. Social distancing will be built in to all new events and products."
Foster added, "Key West is one of the very top destinations in the U.S. … the reason people visit again and again is the town's personality and diversity. The islands' longtime mantra is 'one human family,' [and that's] more important than ever these days."
Rose Chambliss, a bartender at Lagerheads Beach Bar & Watersports, just a few minutes' walk from Ocean Key, lived through and witnessed the lockdown.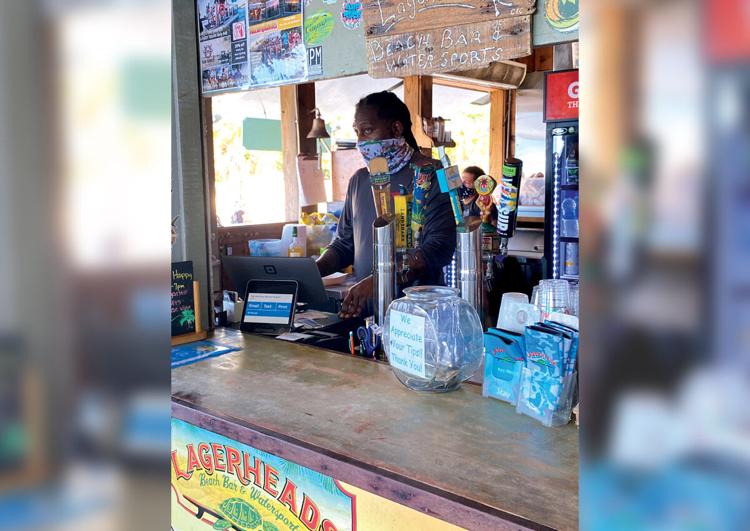 "A lot of businesses have suffered, but we've been blessed. During lockdown just the locals were able to come to the beach as long as they were able to practice social distancing," she said. "This year has been completely different than any we've ever seen. Our high season is Valentine's Day to Mother's Day. It was completely different in September. It's usually the lowest part of the month, [instead] it was a blessing in disguise. It brought us more business."
When asked how receptive beachgoers have been to the new rules, Chambliss had a ready – and firm – answer.
"If you don't abide by our mask rules, we just refuse to serve you," she said. "Ninety percent of people comply, they come here and want to relax."
Porter Village is further down Duval street, a shopping area that offers everything from art and jewelry to henna tattoos and home accessories. Bree Newsone has worked in the area as a hair braider for the past two months. Prior to Porter Village, she worked at Mallory Square.
"I had customers every day before coronavirus," said Newsone. "Duval Street looked deserted, creepy, because they were working on the roads during the lockdown. It's still not as busy as it was before."
At Newsone's sidewalk stall are mannequin heads displaying two braid styles, French braids and a hair wrap. She described the hair wrap technique as taking different colored thread and wrapping it around a small braid that's made in the hair, with alternated colors. The thread is wrapped around the length of a customer's hair or by adding extensions, with the cost starting at $40 – $50, depending on how many braids are done.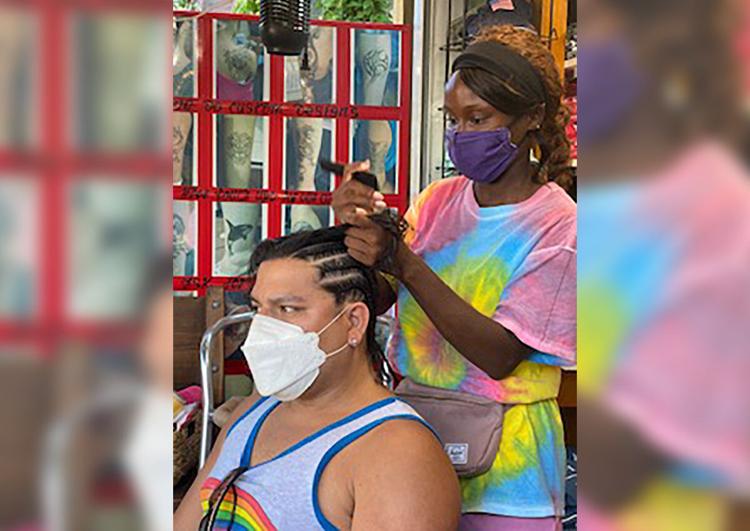 The mannequin display caught the attention of visitor Marco Perez, who stopped and asked Newsone if she could braid his hair. Perez, visiting from South Beach, works on Ocean Drive and has been impacted by COVID-19 professionally and personally.
"My father passed away from COVID-19 three weeks ago in Peru," he said. "My coming to Key West is a release; I am still in shock. My mom had it too, but she is OK, thank God. I started working at a sunglass shop in May and we had to close for three months. In the beginning no one knew anything, nobody was prepared."
How is business going for Newsone?
"Now we close at 10 p.m.; before we stayed open 'til the wee hours of the morning, because people were always here," she said.
Newsone charged Marco $50 for his cornrow hairstyle. She had just one other customer the remainder of the day.
You can't visit Key West and not sample the food, especially the seafood. Conch fritters, shrimp, Maine lobster roll, you name it, it's all served up at The Conch Shack. Dave Coram, a native New Yorker, has worked at the restaurant since it opened in 2009, and has lived in Key West for 21 years.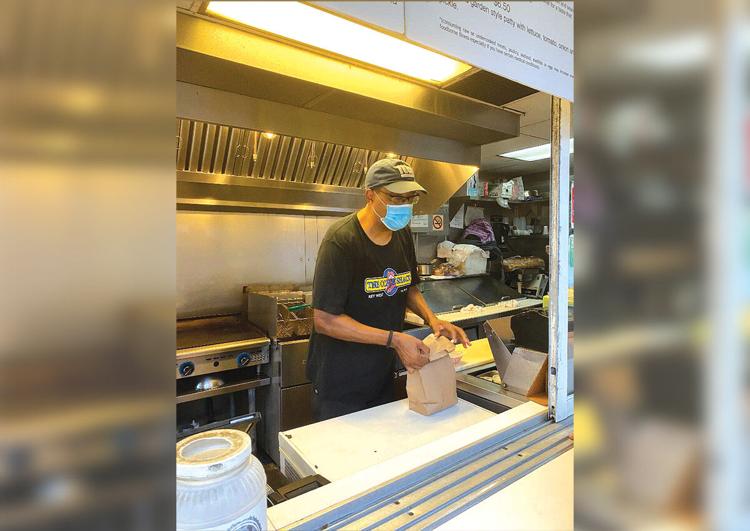 "Once we reopened and there was the wear-the-mask-policy, some people didn't like it," he said. "We're happy to be open. Usually after the sunset celebrations at Mallory Square we would get the large crowds, now not so much. We would get a lot of cruise ship business. During season we'd get at least two ships twice a day, but now you're lucky if you get two in a week."
He shared he's never seen so many shuttered restaurants.
"Once people's PPP ran out, it was like now what? Maybe by spring, things will get back to normal with a vaccine."