My travels to Miami have been the typical "touristy" kinds of trips where I visit the places we all see on the Travel Channel. Those trips usually involve visiting a museum of some kind and eating at restaurants with menu items made solely for Instagram. This trip down to SoFlo is a bit different. Although it was for my birthday, neither I nor my boyfriend were concerned with over-planning. We just wanted a change of scenery and to get away from Tampa for a spell.
The one thing we did plan were our restaurant visits. I feel that eating at local restaurants really teaches visitors a city's culture. If you come to Tampa, its culinary influences range from ethnic foods to trendier options. Miami's culinary influences are heavily Caribbean. Take a walk around Little Haiti or Little Havana and you're in an entirely different world. This year, Robert and I are slowly getting away from the "pretty" restaurants and making the effort to explore the Black-owned food scenes of any city we're in. We did it earlier a few months ago in New Orleans, where the Black-owned food scene is well-documented.
The Black-owned food scene in Miami isn't known to anyone who isn't from that area of Florida. Yes, I knew about Liberty City, Overtown and Miami Gardens but I had no idea they'd have some gems. I enjoy watching all the food shows that highlight various restaurants and cuisines, but I don't recall the last time I saw any Miami Black-owned restaurants on those shows.
Our first stop right off I-95 was the popular Liberty City restaurant, iKrave. We shared the oxtail and grits meal and I was blown away. I've eaten oxtails and grits separately but eating them together is an entirely different (and life-changing) experience. The oxtails fell right off the bone plus mixing the grits with the greasy flavors of the oxtails is a magical experience. I had zero shame in scraping the plate.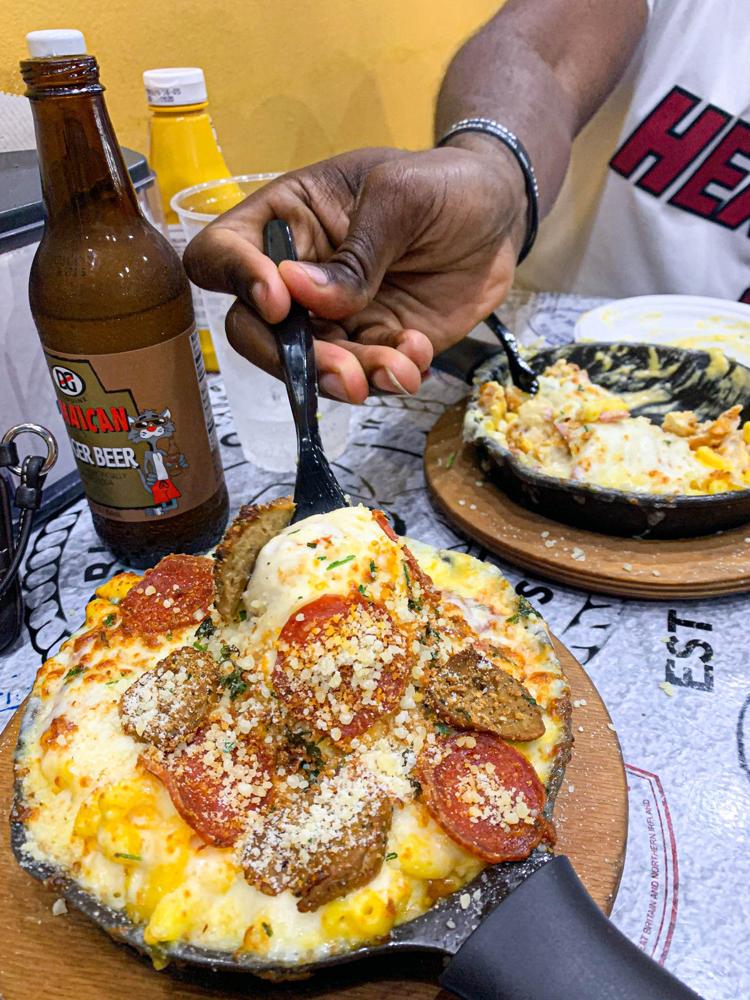 After we arrived at our Airbnb 10 minutes away and relaxed for a while, we went to dinner at World Famous House of Mac in Wynwood. Ever since Robert sent me an IGTV video of the owner making the pizza mac, my excitement shot through the roof. It was a challenge choosing which entrée I wanted because the descriptions of each menu offering alone had me salivating. I settled for the pizza mac (of course) and chicken cordon bleu mac. It's insane how cheesy they were. Considering the restaurant was packed when we came, we got our food pretty quickly. The waitress served our macs in tiny cast-iron skillets and we went to town. I can tell they really pay attention to detail and I thoroughly enjoy the fact they don't skimp on the cheese. The stretch alone will make someone return on a weekly basis.
A highlight of eating at World Famous House of Mac is running into owner Derrick Turton. I admit I was a little star-struck and shy to speak to him. Of course, I fan-girled and told him how much I enjoyed his interview. We chatted for a couple minutes; he's a really laid-back and cool person.
The next morning, we drove over to Overtown for breakfast. The only experience I've ever had involving Overtown is from the show, "First 48." There's plenty of occurrences over the years where I go down a rabbit hole looking up the background of the historically Black neighborhood. Our destination at the moment is Jackson Soul Food. There were people in there getting their usual morning breakfast so I can tell how much of a neighborhood staple it is. We watched a few minutes of "The Price is Right" while we waited for our food. When I order breakfast, it's not uncommon for it to be in the sweet and savory family. This time I decided to go with something different by ordering their grilled salmon with a side of grits.
As soon as the fork touched the salmon, the fish fell apart; it was just as much fresh as it was flaky. A bowl of savory grits is enough for me to feel the love and comfort of my grandma's house when she'd make fish and grits for me and my cousins.
Dinner that night required some driving in rush hour traffic to Miami Gardens to visit rapper Trick Daddy's latest venture, Sunday's Eatery. I imagined the rapper being in the kitchen banging on pots and hollering at the top of his lungs, but I highly doubt that's ever the case. My order was the fried chicken dinner with collard greens and corn as sides. Everything tasted just like a regular Sunday dinner we all had growing up. The ambience gave off "family reunion" vibes due to the sounds of Anita Baker and Maze featuring Frankie Beverly blasting from the speakers. It really started feeling like a reunion after we got there when a line began to form. What I appreciate is the fact he put his restaurant in the neighborhood in which he grew up.
Our trip couldn't end without any dessert. Robert hardly ever has a sweet tooth, so it was interesting for him to ask about any Black-owned dessert spots. A few minutes later, I stumbled across a news story about Ice Cream Heaven, which opened recently for business. The ice cream shop is located near Sunday's Eatery so it's the perfect option for dessert after any meal. We walked in and the first thing I notice is how whimsical the décor is with bright lights and bold colors everywhere (if I was a child, I'd love it).
Ice Cream Heaven's expansive menu from sandwiches to milkshakes to fried Oreos left me drooling. I settled on a small scoop of praline ice cream as a nod to my New Orleans trip. The pralines didn't overwhelm the ice cream and it tasted just like the ones I got all over the Crescent City. Honestly, if I was alone, I'd lose my mind and go for something over the top like one of the ice cream sandwiches.
Miami is a such a melting pot of various cultures that it makes it so much easier to explore different foods. What makes the Miami Black-owned food scene special is it feels so rooted in "family." I left each establishment feeling like I'd just left a relative's house. Although I'm an outsider, it didn't matter if they knew me on a personal level or not, I truly felt like I belonged.
Alexandria Jones, who lives in Tampa writes the thefrugalistalife.com blog.