Julian Marley's presence is just like his music. He is tranquil yet vibrant and engaging.
He sat on the couch in his band house, located in a professional plaza in Cutler Bay. His back held straight and his medium-sized, not-so-neat but not-too-shabby locks hung from his head. One of the locks sat close to his left eye, but he never moved it during the interview.
Marley, who considers himself a humanitarian, is also a musician and entrepreneur. He is the ninth of the 11 claimed children of the legendary reggae singer Bob Marley.
Every day he is compared to his father.
"Even yesterday in the supermarket, 'Oh, you look just like just like your father,'" said Julian Marley."I said, 'OK, did you see my brother?"
Growing up, he never focused on the fact that he was the son of the reggae legend. As a child, he would not give it a thought until other people brought it up, he said.
With music being part of him biologically, it was only natural for him to become a singer. The genes were passed down to his other siblings as well.
He remembers "jamming out" and freestyling as a youngster with his brothers.
"We used to have times when I would play the bass, and my brother would play the drum, and we would be there for hours," Julian said. "You were growing. You were so enthused by music that you cannot sit still."
Julian released his first album in 1996. In 1999, he contributed to Lauryn Hill's Grammy-winning icon album, "The Miseducation of Lauryn Hill." Julian himself was nominated for a Grammy in 2009 for his album "Awake." He is best known for the song, "Boom Draw," from that album. His enthusiasm to play music has never changed. He has toured the globe for the last decade. In January, he released his first album in 10 years. Next week, Julian and four of his brothers, Damian, Ziggy, Stephen and Ky-Mani will be jamming together on stage Saturday, April 20 in Miami for the Kaya Fest, a few weeks ahead of his own tour.
Kaya was the name of one of Bob Marley's songs and albums. The word, "Kaya" means herb, according to Julian. Stephen started the festival to bring awareness to the Rastafarians' favorite herb: Marijuana. So it only makes sense that the festival would be on 420, which has been dubbed the international day of cannabis celebrations.
"It is all about the benefits of Kaya, the herb, through the music and through education," said Julian. The overall theme of the festival is Education Before Recreation. "There will be symposiums and different types of things where you can be really educated... ."
In the same tradition as his father, Julian is a devout Rastafarian whose music is inspired by life and spirituality.
Julian also known as "Ju Ju" calls Kendall his home. Between there, and trips to Jamaica and the United Kingdom, is where he found the inspiration for his January release, album, "As I am."
He is an instrumentalist who said his music usually starts at home with an acoustic guitar.
"I get a melody and the sort of key arrangements that we like," he said.
Most of the songs on his album feature live instruments. There are different blends of those instruments and genres on his albums. It is a soul-soother. The album features songs such as "Are You the One," which is a classic, one-drop reggae song. It is a hit, one that sounds similar to his father's vinyl records. The track should really be classified as a musical healer. There are also inspirational tracks such as "Straighter Roads," and a remake of "What's New Pussycat," featuring Beenie Man.
Julian crafted the album as a peaceful escape for people amid this fast- paced world and its social issues.
"Happiness is the biggest influence because we all want to be happy so, to put yourself into a happier spot – spiritually and physically," he said, adding that he believes music has the power to bring it all together.
He plans to embark on U.S. and European tour to perform the tracks from the album on May 8.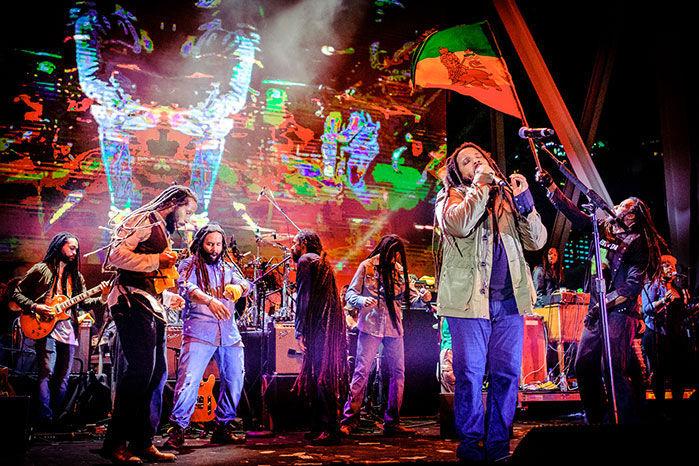 Too humble to admit that he is reggae royalty, Julian smiles from the side of his mouth when he talks about his love for playing recreational soccer. He also likes spending time with family, and the singer dedicates his time to help underprivileged children and families throughout the world through a charitable organization that he founded with his brothers called Ghetto Youths Foundation.
He runs a medical/recreational marijuana business, JuJu Royal. JuJu Royal is a brand of cannabis-derivative-infused products and a newly released CBD Extra Virgin Olive Oil.
Julian will be unveiling the oil in Fort Lauderdale at The Taste the Islands Experience, April 26 to April 28.
He looks forward to reuniting with his brothers on stage at the Bayfront Park Amphitheater. Even though the brothers these days are too busy to freestyle, he said it is more fun than it is work.
"You get to enjoy it more and watch the show, too. Even though, you are on stage," said Julian. "If my brother is singing, I got to be on the tambourine over here, or I might be on the guitar – depends on what vibe you're feeling, so it's always fun."
Also performing on stage at the Kaya Fest will be Busta Rhymes, Davido, Sean Paul, Kes the Band, Chi Ching Ching, Protoje, Pitbull, Walshy Fire (of Major Lazer), Third World, Koffee, Farruko, Jo Mersa Marley, Skip Marley, Yohan Marley, Mystic Marley, DJ Shacia Päyne, Daniel Bambatta and many more. A portion of proceeds from Kaya Fest will go to support the Ghetto Youths Foundation. For more information, visit kayafestivals.com.