A traveling exhibit slated for Friday proves that art can be an experience.
Art, Beats and Lyrics returns to Miami, Dec. 14. It will bring its fusion of art and hip-hop, offering a one-of-a-kind cultural experience.
"We bring that wow factor, get them exposed to artists they have never seen," said Jabari Graham, the creator of Art, Beats and Lyrics.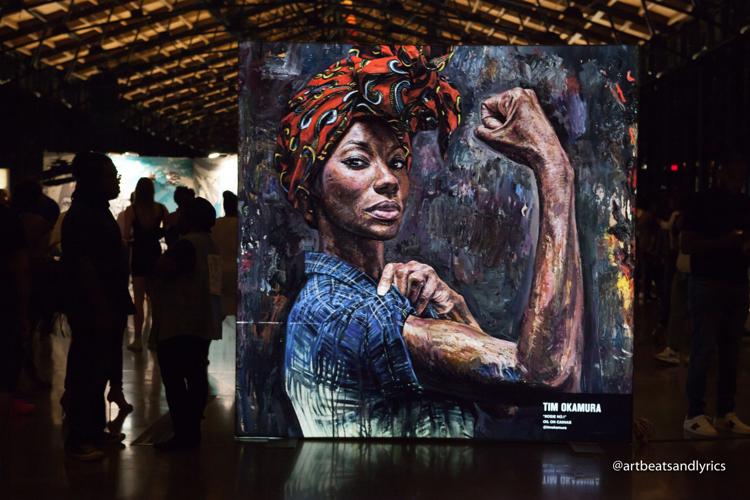 Art, Beats and Lyrics is not the average art show. Guests will not be just perusing in dark clothes, sipping wine with hors d'oeuvres in hand. Instead, Art, Beats and Lyrics is a product of the digital age with bigger guts.
The exhibit syncs the worlds of tech and fine art and adds whiskey for an extra spark.
Starting in Atlanta in 2007 as annual art and music show, Art, Beats and Lyrics has now been able to embark on a 10-city tour through a partnership with Jack Daniels Tennessee Honey. Attendees will get to enjoy complimentary cocktails and recipes courtesy of the whiskey giant.
The exhibit will feature tech-centric visual art from Tim Okamura, Yung Yemi, local notable, Nathan "Miami Nate" Delinois, and the show's very own curator, Dubelyoo.
"We take images and make them larger than life with lights and music," said Graham. "They're going to be hit with a lot of lights, a lot of images, lots of energy."
The Miami exhibit will center around 40 to 50 installations that focus on and celebrate women of color.
One of the highlights of the exhibit is Okamura's version of Rosie the Riveter.
Rosie the Riveter is a symbol of American feminism that represents the mobilization of women to the workforce during World War II. Her image is still used to emblemize feminism and women's strength today.
The original image shows a white woman dressed in blue overalls showing off her biceps and wearing a red polka dot headscarf to tie up her hair.
On the other hand, Okamura's 8-foot-by-8-foot installation features a chocolate-toned woman wearing an African print head wrap and plaid overalls. What is most striking in Okamura's version are the distinct features of the woman's face.
"It is important that people see images that look like them," said Dubelyoo, adding that 50 percent of the attendees of the exhibit have been women. "They then feel more connected to it."
Along with the captivation of the visual art, guests will enjoy the sounds of DJ Wally Sparks – well-known for his mixes of top hip-hop anthems – and a headlining performance by female hip-hop artist, Rapsody.
The Jack Daniel's Tennessee Honey Art, Beats & Lyrics will be 8 p.m. to midnight, Dec. 14 at Soho Studios, 2136 NW First St. in Miami. Visit www.jackhoneyabl.com to RSVP.