Encourage giggles of delight with this light and fluffy bunny cake charmingly decorated with chocolate chips, shredded coconut and candy eggs.
Find more creative holiday recipes at Culinary.net. 
HOPPY EASTER CAKE
Servings: 10-12
INGREDIENTS
For cake:
Nonstick cooking spray
2 whole eggs plus 4 egg whites at room temperature
3/4 cup cream of coconut
1/2 cup crushed pineapple, drained
2 teaspoons coconut extract
1 teaspoon vanilla extract
2 1/4 cups flour
1 cup sugar
2 teaspoons baking powder
1/2 teaspoon salt
12 tablespoons unsalted butter at room temperature
5 thin pretzel sticks
For frosting:
3 cups powdered sugar
2 sticks unsalted butter, softened
3 tablespoons milk
1 teaspoon vanilla extract
1/2 teaspoon coconut extract
For decorations:
1 10-ounce bag sweetened shredded coconut
8 drops green food coloring
2 large round chocolate candy melts
6 chocolate chips
Mini candy-coated chocolate eggs
PREPARATION
Heat oven to 325º F; line muffin pan with four cupcake liners and inside of spray oven-safe glass bowl with nonstick cooking spray.
In large bowl, whisk eggs, egg whites, cream of coconut, pineapple, coconut extract and vanilla extract until combined.
In food processor, pulse flour, sugar, baking powder and salt until combined; add 6 tablespoons butter and pulse until combined. Add remaining butter and pulse until coarse meal forms.
Transfer coarse meal mixture to large mixing bowl; add half of egg mixture and beat 1-2 minutes. Add remaining egg mixture and beat until combined.
Fill each muffin cup 2/3 full and bake 18-20 minutes, or until done; set aside to cool completely.
Pour remaining batter into prepared oven-safe bowl and bake 1 hour, 40 minutes, or until done; cool completely.
To make frosting, in large bowl add powdered sugar and butter; beat until fluffy. Add milk, vanilla extract and coconut extract; beat until creamy.
Turn bowl upside down on cake stand until cake removes from bowl; if cake needs leveled, turn cake over and trim to flatten. Frost cake.
Remove wrappers from cupcakes; press pretzel stick into base of two cupcakes and anchor to bottom rim of bowl cake to create bunny feet; frost feet.
Take third cupcake and cut muffin top off, then cut muffin top in half. Using pretzel sticks, anchor each muffin top half at bottom of full cupcake to form toes; frost toes.
Attach final cupcake with remaining pretzel stick to butt area of cake to make tail; frost tail.
Apply 1 1/2 cups shredded coconut all over cake; press chocolate candy melts into bottoms of bunny feet to resemble foot pads and add chocolate chips to resemble pads for toes.
Place remaining coconut in plastic bag and add green food coloring; toss together in bag until coconut is colored. Spread around base of cake for grass, then place chocolate eggs in grass.
5 ways to celebrate Easter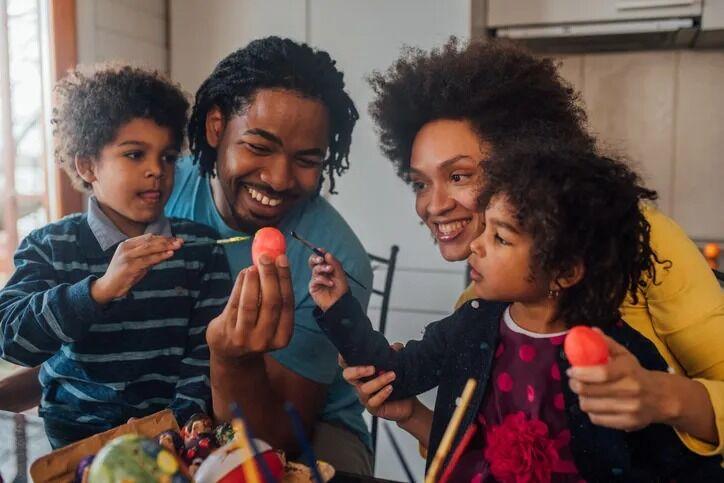 Adding extra "egg-citement" to the Easter holiday can come easy. Gather up the kids – and let your own inner kid shine through – with games and activities everyone can enjoy.
Go on the hunt. The time-honored tradition of hiding plastic eggs full of candy and goodies for kiddos to "hunt" brings plenty of smiles and giddiness. No backyard? Head to a local park instead.
Bake desserts together. Assign age-appropriate tasks to kids in the kitchen when whipping up holiday treats. Little ones can gather and organize ingredients; older kids can commandeer the measuring cup, tablespoon and teaspoon prep work to show off their math skills.
Decorate eggs. Whether you prefer to use real one or plastic, eggs are a canvas for creativity that don't begin and end with dyes. Use paint, markers, glue, glitter, fabric and ribbons to form mini masterpieces.
Enjoy the outdoors. Weather allowing, head outside for kid-friendly classic games like tag, hide-and-seek, hopscotch and double Dutch. The best part: These beloved games are meant for all ages, meaning everyone in the family can get in on the fun.
Pass down family stories and traditions. Holidays often bring together far-flung loved ones. Seize the opportunity to explore your lore while all the generations are gathered 'round – from studying the family tree to sharing secret recipes. It's one way to ensure that your history and traditions won't be lost.
Find more Easter-themed fun to share with loved ones at eLivingToday.com.