Welcome to Chefs Share, our brand-new column that's just made its debut in Miami Times sister publication Biscayne Times, and which we'll be sharing with you on occasion. Here you'll find recipes from a wide variety of local eateries straight from the source, with local chefs providing readers with tried-and-true favorite from their menus.
Don't worry if you're not very good in the kitchen. You don't have to be: These approachable dishes will feature easy-to-find ingredients and easy-to-follow steps, so all skill levels can join in on the fun.
November's recipe comes from the dynamic duo behind Copper Door Bed & Breakfast in Overtown. After temporarily shutting down their B&B earlier this year due to COVID-19, Akino West and Jamila Ross have stayed busy with their Rosie's pop-up located on-site.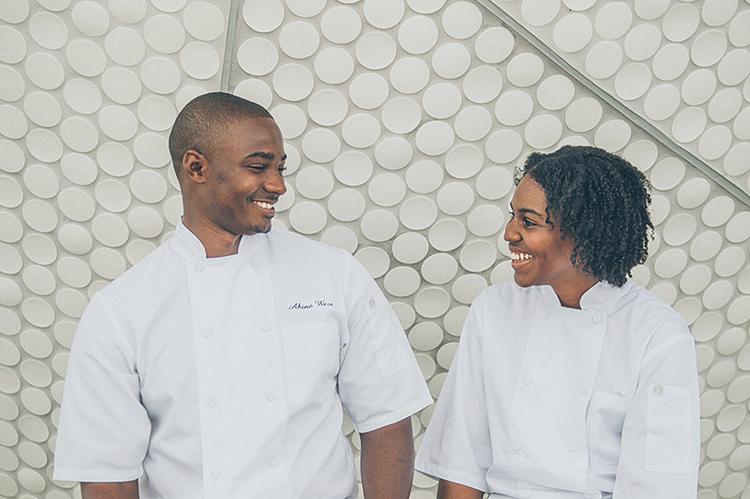 Rosie's has gained a loyal following for its flavorful all-day breakfast menu of sweet and savory delights. Chocolate guava croissants … vanilla spiced waffles … soft scramble toast … It's hard not to order them all. Late risers will also find more lunch-appropriate fare, like fried chicken sandwiches and fish and grits, to greet them.
Because Rosie's breakfast offerings are its claim to fame, it only makes sense that the recipe they've shared is all about starting your day on the right foot. Here, the power couple tells readers the secret to one of the latest additions on their menu.
Lemon Ricotta Pancakes
Breakfast foods evoke vivid food memories, which is part of the reason we love creating them for our guests. This pancake recipe is foolproof, great for kids and beginner cooks alike, and full of flavor. The ricotta and lemon create lightness and a melt-in-your mouth texture. We love serving these stacked with macerated berries and toasted pistachios on top.
Serves 12.
INGREDIENTS
· 2 cups strawberries, quartered
· 7 tablespoons + 1/4 cup white sugar, separated
· 3-4 tablespoons lemon zest + zest from an entire second lemon, separated
· 1/2 cup + 2 tablespoons lemon juice, separated
· 3 cups all-purpose flour
· 4 teaspoons baking powder
· 1/2 teaspoon baking soda
· 1 teaspoon salt
· 2 cups milk
· 2 cups ricotta (low-fat or whole)
· 6 large eggs
· 2 teaspoons vanilla extract
· 2 tablespoons butter, melted
PREPARATION
To make the fruit topping, toss sliced strawberries with 1/4 cup sugar, zest from an entire lemon and 2 tablespoons lemon juice. Set the mixture aside and let it sit at room temperature for 15-30 minutes, while you're making the pancakes.
In a large bowl, combine flour, remaining sugar, baking powder, baking soda and salt by whisking together. Create a well and set aside.
In a separate bowl whisk together milk, ricotta, eggs and vanilla.
Add butter and remaining lemon zest and juice to the milk mixture; whisk until just combined. It's supposed to be a little lumpy, so no worries if it is.
Add wet ingredients to dry ingredients and gently fold, being careful not to over-mix. Allow batter to rest for 5 minutes in refrigerator.
Lightly grease a griddle or cast-iron pan with nonstick spray and allow to come up to medium-high heat. Spoon in about 1/4 cup of batter. Allow to cook until edges are golden brown and pancake is bubbled, then flip.
By now a thin syrup will have developed in the bowl with the strawberries. Gently toss the fruit to coat, sprinkle over cooked pancakes and serve.