Nearing his mother's 70th birthday, "Hey Tuskegee!" author Robert E. Constant wanted to present her with a special gift.
The illustrator for the book, James Zeger, painted an image of Constant's mother alongside her grandchildren. The result was not only a heartfelt gift, it became the cover illustration for Constant's newest title, "Hello Grandma!"
"I thought to myself, wow, this is the perfect cover for a children's book!" Constant said. "And then I thought, what would I write about? The idea immediately came to me. Why don't I write about my kids traveling back and forth to see their grandmother in the Bahamas?"
The New York native has been traveling to the Bahamas since he was six weeks old. He later moved from the Big Apple to Miami Gardens, where he spent his youth and returned to earn his master's in sports administration from St. Thomas University. He now resides in New Jersey and is the associate director of leadership gifts at Princeton University, raising money for scholarships, buildings and more.
"Hello Grandma!" follows his children's visit to Nassau, Bahamas, to see their grandmother. Siblings Saniyah and Robbie immerse themselves in their family's Bahamian customs and culture along the way, while realizing that keeping in touch online could never compare to saying, "Hello Grandma!" in person.
The book received third place in the early readers category of this year's Feathered Quill Book Awards.
"I can now call myself an award-winning author and I'm thrilled because that was one of my goals. I've been recognized for my writing," Constant said.
Having completed the book after a trip to the Bahamas in 2019, it was released December of that year. He had an event planned at a Barnes & Noble in New Jersey, until the pandemic began to cause shutdowns throughout the country just three months after the book's release.
"I never really got a chance to share (it) as much as I wanted to," said Constant. "I didn't get a chance to go to the schools like I did with my previous book. I didn't have multiple book signings at stores. The mere fact that we won (an award) for this book, it just meant a lot because I feel like this book got the short end of the stick – it really killed my spirit in some ways."
But Constant is finding joy in sharing his new story when and where he can, and was delighted to experience a full circle moment last month – he did a reading of "Hello Grandma!" at his alma mater, Norwood Elementary School in Miami Gardens.
The book offers a wonderful opportunity for children to experience another culture through its pages, without having to travel.
"From an illustration perspective, James takes you to the Bahamas with the beautiful colors that he used," said Constant. "[He illustrates] exactly what the water looks like in the Bahamas, which has some of the most beautiful water in the world, and I wanted to be very intentional in making sure that you could see how beautiful it is just from the book."
He views "Hello Grandma!" as a learning opportunity for children. In the book, Saniyah and Robbie eat Bahamian delicacies like conch, view the vibrant junkanoo street parade, and marvel at clownfish and stingray swimming in the ocean.
"These are kids who live in the United States, so they know what it's like to live here. When they go to the Bahamas they quickly understand that this is not the United States. It may be a half hour from Miami, but this is not Miami. The language is different, the body language is different, the food is different, the culture is different, the music is different, you know. They have to learn that they've got to adjust," Constant said.
"Hello Grandma!" is written from the perspective of his daughter. His son was the narrator of his first book, "Hey Tuskegee!," which was published three years ago and is the first officially licensed children's book about the famed university. It follows Robbie and Saniyah on a trip to their parents' college alma mater for homecoming.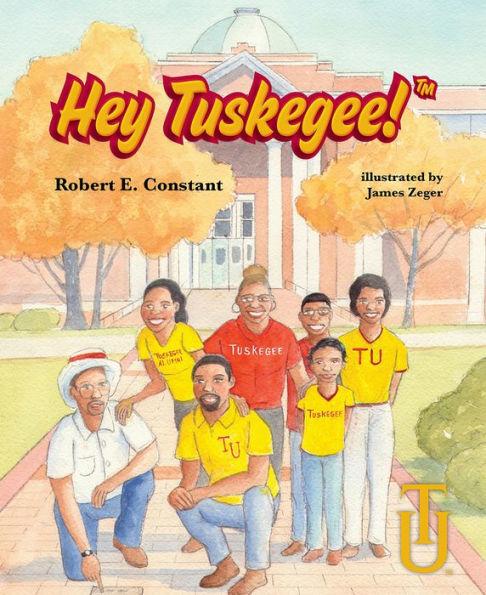 Having received his bachelor's degree from the university, Constant was inspired to set his first book there, highlighting school founders Booker T. Washington and George Washington Carver, and the airmen who trained in the city of Tuskegee.
"That was my first-ever book and I thought we would just sell maybe 500 books, I don't know. But then all of a sudden, alumni were like, 'I love this book and I've been taking the book to schools.' People, alumni are using it at recruiting events, so when Tuskegee's at a high school, like a college fair day, they will take the book," he said.
One of Constant's family members was an important figure in the university's history – his great grand-aunt, a Bahamian tennis player who won two tennis tournaments on campus in the 1930s. She took a photo alongside Dr. Frederick D. Patterson, the third president of Tuskegee.
Constant decided to become an author after taking a trip to the bookstore and discovering a children's book about the University of Virginia, which was his workplace at the time. Years later while working at Rutgers University in New Jersey, he found a children's book on that institution. Reading the books to his son, he came to the realization that there was no children's book about Tuskegee, so he made the leap and created one himself.
It took years, said Constant. He hesitated, doubted himself. He would speak to people he knew about the idea. Their responses?
"You're not a writer. What do you know about writing? You're a fundraiser."
Constant spent weekends writing and when he was satisfied with his work, reached out to the publisher of the two university children's books that inspired him – Mascot Books. It's now the publisher behind his own.
Since the release of his books, Constant has been touring schools and doing book readings. During that time, he's observed that children are always surprised to see that he, someone that looks like them, is an author. He aims to empower students to take on a role like his in their own futures.
"Representation matters," he said. "Being able to inspire them by saying 'Yes, I wrote this book.' I can go through a whole presentation, and that would be the first question – 'You wrote this book? Are you sure you wrote this book because I've never met anybody that kind of looks like you that has written a book.' I want kids to feel like, 'I see people who look like me, and this is normal. I can do this.'"
"Hello Grandma!" is available at BarnesAndNoble.com and Amazon.com.