The pristine whiteness of the Flawless Icon Med Spa location in Miami looks like the lobby of a high-end apartment building.
Behind the reception desk are helpful people with friendly really-white smiles, starting with owner Melanie Fields.
Fields has taken Flawless Icon that, when she started, specialized in laser hair removal, to a medical spa that specializes in next-generation skin treatments using natural ingredients and high technology.
Flawless Icon has grown, too, from a 2,000-square-foot building to a 5,000-square-foot location, plus two franchise locations, one of which is in Africa. To grow the business, Fields joined forces with a silent business partner, attorney Jean Paul. He gives her business advice, some of which he learned as an entrepreneur.
"Working with Melanie and Flawless Icon has been a great journey so far," he said. "I've experienced the highs and lows of running several businesses, so I've been able to coach from my past experiences. Together, we have made Flawless Icon – not just a med spa – but a lifestyle. We are proud of that."
When Fields started Flawless Icon in 2014, the business was focused on laser hair removal. At the time, people of color had few options for laser hair removal. Most med spas, she said, would tell people with melanin that they were unsure if they could get them the desired results. Some clients were exposed to severe burns.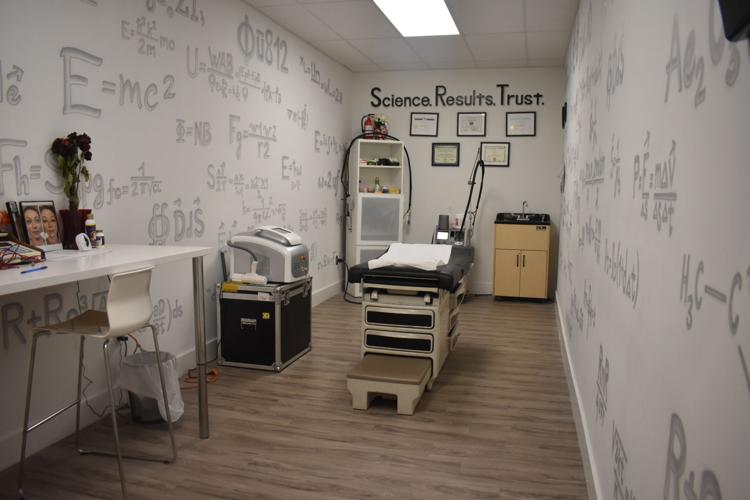 Fields had discovered technology that gives effective, sustainable results, she said. She was so sure she had a viable laser hair removal solution for people of color, she marketed Flawless on social media as such. The company's Instagram name from then until now is lasermepleasemiami.
The services menu has grown as Fields has contracted with other image professionals to offer a relative smorgasbord of services.
The 32-year-old Miami-raised licensed esthetician and laser specialist said she offers clients the latest enhancements at its new location at 222 NE 79 St., in Miami. Enhancements, she says, clients can have without surgery. Dr. George Herrera administers medical treatments at Flawless Icon.
Don't be surprised if you see a celebrity or two in the lobby. Social media is peppered with celebrities singing the praises of Flawless Icon.
The med spa offers Botox and other fillers, fat removal, massages, teeth whitening, facials, keloid and alopecia correction and other injectables.
The radio frequency facial, which is what I had, uses impulse to rejuvenate the skin. The treatment reminded me of getting an ultrasound procedure done. It involved a gel, a wand attached to a machine and an esthetician to guide it. While my skin is young, there are some signs of aging especially around the top of my eyelids. I do have some scarring from tweezing and waxing. After the treatment, my face was smooth and glowing. Some really fine lines around my eyes had faded.
"This is the next generation of facials," said Fields.
To treat the scarring, I was sent home with Flawless Skin Max capsules, dubbed as natural and loaded with glutathione, an antioxidant which, over time, should lighten the scarred areas. I also treated some facial hair, though complete removal will take seven more visits, once a month each, Fields said. I will let you know my final results.
Fields said beauty starts from within, so the location includes a Gentera Center for Regenerative Medicine, which administers IV Drip Therapy on Saturday mornings. If you have watched the Showtime series "Billions," you would have seen nurses bringing IVs to Wall Street traders at their offices to keep them supercharged or help them recover from too late a night of debauchery. Fields says IV therapy allows 100 percent absorption.
Soon to come will be a juice bar to support Fields' philosophy of taking care of inside the body to maintain a beautiful outside.
Flawless Icon offers education about services, so if you don't know what you need, Fields and her staff can guide you. The place can be fast-paced. Treatments were quickly administered. The spa exudes energy, so if you are coming for a zen, relaxing, getaway day, this is not the place.
For the client on the go, Flawless Icon, gets you in and out.