This Halloween, one Miami resident will be donning a costume for a cause. But handyman Maurice Luten's adopted persona is one he carries with him year-round, to serve the youth of his community.
The 74-year-old's custom-made cobalt blue suit and flowing cape – adorned with gold trim and a shiny gold CH across his chest – is what he wears as his alter ego, Captain Health. A superhero of a different kind, Luten teaches adults and children cabinet construction, bicycle repair, plumbing, electrical work, auto repair and more at his Youth/Adult Skills Center, located in the heart of Liberty City at 6530 NW 18th Ave., to lead them in the right direction.
Coining the slogan, "hammers and nails not guns and jails," he primarily empowers young men by providing them with lessons on tools and construction, which he says helps keep them stay focused and stay out of trouble.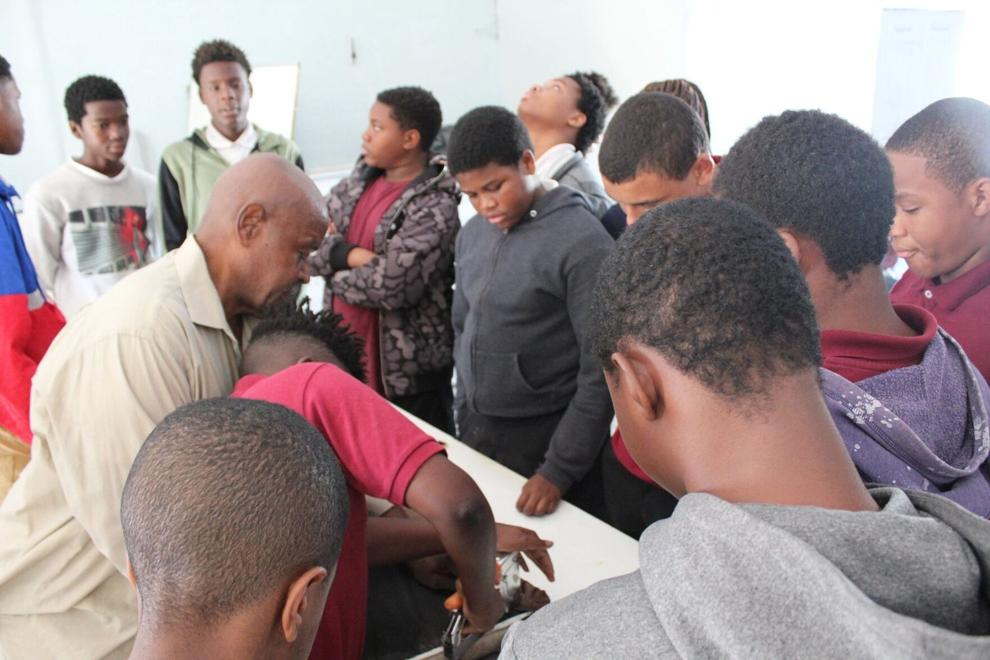 "It occupies the mind to keep [kids] from being bored," said Luten. "They spend time not being bored when they are creating. You can be an artist or a plumber, and you're able to make money with it, so therefore the kids say, 'This is what I'd like to be,' rather than the 90% that want to be a football or basketball player. And everybody's not going to make it there, nor is everybody going to be able to go to college."
Luten began teaching classes in 1996 in Opa-locka after he realized local schools were offering fewer and fewer vocational programs like auto shop or engineering. Programs like these are oriented toward providing training for specific industries, which impacts a student's career of choice or provides a pathway to those who may not pursue a college education. Over a span of 25 years, he says many of his students have started their own construction companies.
"That's what I want to lead to, to teach them the skills so that they can become entrepreneurs and start their own business and hire people that look like them," Luten said.
He also holds similar classes twice a week at the Phoenix Academy of Excellence, a tuition-free public charter school for students in grades 6-8. The school leases the top floor of Westview Baptist Church in Opa-locka for its classrooms. The relationship between the handyman and the academy began in 2018, when he was called in by the activities director to participate in a career day.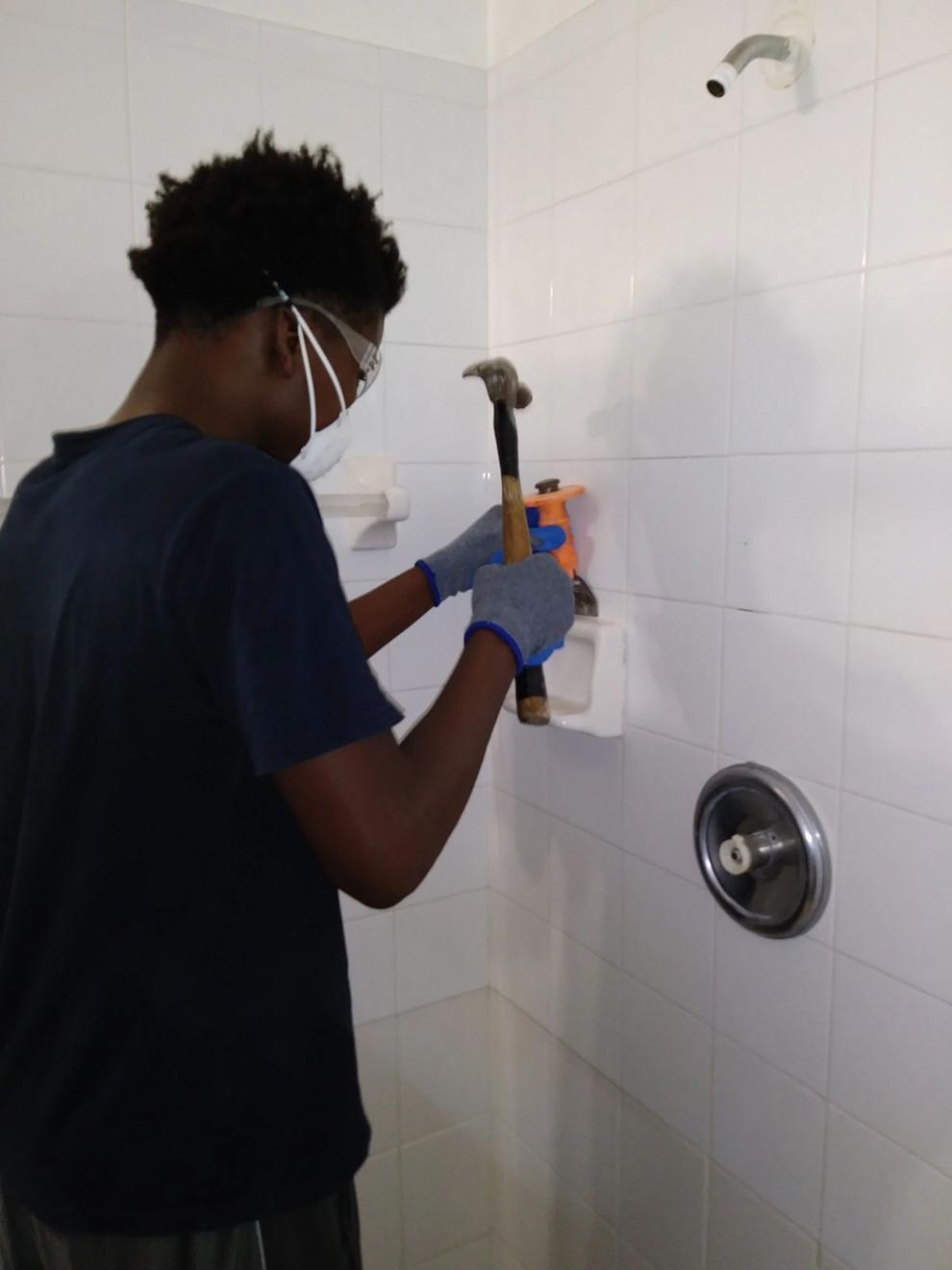 "He came with boards, I remember," said Latoya Robinson, principal of the school. "The kids had hands-on opportunities to help him make a cabinet. From that, I was like this is a no-brainer. This is what kids need, especially boys. For the last 10 years, I've worked with at-risk populations and I was always trying to find out what else could we bring into this school to captivate them and continue to keep their attention?"
After taking the students on field trips to Luten's Skills Center, it was decided that Luten would partner up with Phoenix Academy this year to give students a trade skill that can help them be successful in the future.
Julio Pagan, an eighth grader at the school and an aspiring real estate agent, recalls the first time Captain Health walked into his classroom to introduce himself.
"He made a good impression," said Pagan. "I like the way he came in and told us everything that he does and what he wants to do with us. It's cool."
The boy's attention was drawn when Luten mentioned he would be showing the class how to paint cars and fix homes.
"All I know is that I want to be somebody that makes good money and actually inspires other people to do the same thing," Pagan said.
Hannibal Thompson, another eighth grader, was also motivated when he first met Captain Health. For now, the teen said there's a Wendy's restaurant near his home where he'd like to work, but he's excited for what Luten has in store.
"I liked him," said Thompson. "To be completely honest, I thought I was going to make money."
"You've been taught that money is everything. It's nice to have but you want to be able to, whatever your service is, to be dedicated to giving that service," Luten told the student during their interview with The Miami Times.
On Nov. 1, Luten plans to embark on a 300-mile, 30-day bike ride around Miami-Dade County as a way to bring attention to his outreach efforts and raise funds for a larger building, preferably 3,000 square feet or more, where he can relocate his Skills Center.
"I want a building, either buy it, lease it or I'm going to build it. It depends on what the public will donate," he said. "The crime that we have here, we're the ones who can change it. We think we're powerless, but we can change it. I'm doing it for us – this is not about me – this is about helping our kids. We'll show them that we really care about them."
Luten will hop on a custom three-speed cruiser and depart from the Opa-locka charter school where he teaches. He'll first head to Miami Beach, then travel to Florida City, over to Redland, up I-75 on county line roads and then back across MacArthur Causeway to Miami Beach, before reaching his starting point on NW 135th St.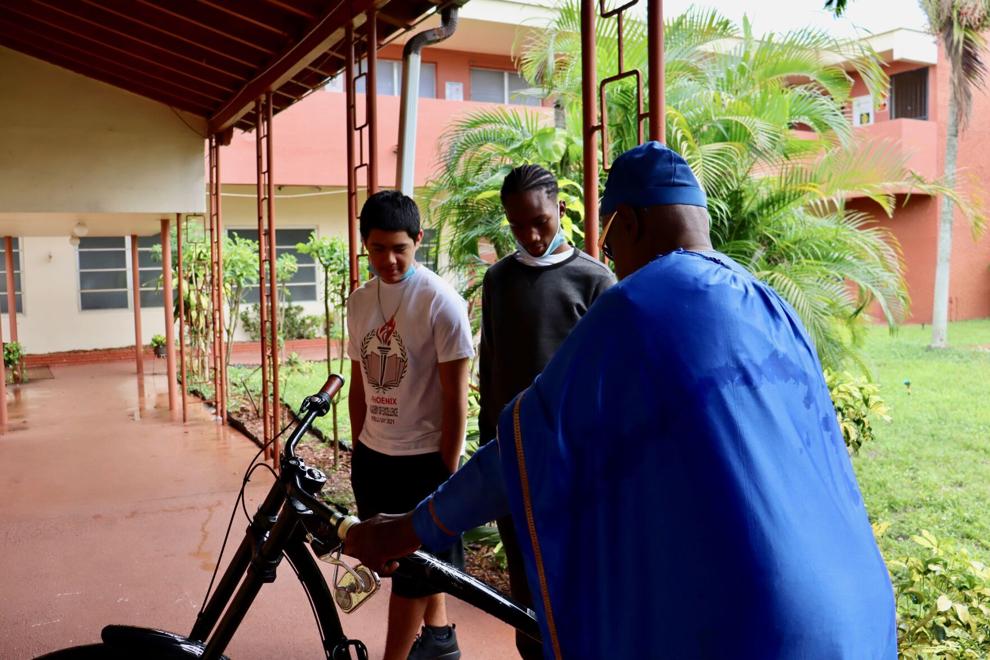 "I've been riding my bike every morning from 4:30 till about 7:30. I'm riding from Liberty City to Miami Gardens and then I ride back," Luten said. "I figure [the entire ride will] take me until the end of November at about 15 miles a day."
Luten was living in San Diego in 1987 when he suffered a stroke. He ended up shutting down his auto body shop in an effort to alleviate his day-to-day stress and started to eat healthier – a choice that led him to become a vegan for 34 years. As a result, he says he lost 75 pounds in three months, a shocking transformation that inspired him to share his habits and knowledge with kids in California schools to start looking at what they put in their bodies at a young age.
"The students wouldn't look at me at all," Luten recalled. "They could care less about eating healthy because I used to say 'Say no to junk food,' and so I said I'm going to get your attention and I put on a costume and it worked. The kids would draw pictures and all kinds of things."
Captain Health introduces kids to eating wheat and drinking spirulina, a natural blue-green algae food supplement purported to offer nutritional benefits; Luten says he's been drinking it for more than three decades. He takes his children to healthy restaurants and says veggie burgers are an instant favorite, which many of them have never tried.
"I incorporate nutrition with my program. If you eat healthy, you'll be wealthy," he said.
The Michigan native moved to Miami in 1992, after touring around the country in his motorhome – which he named the "Health Express" and which he often manned in costume – and colder climes had lost their appeal.
In addition to running the Skills Center, Luten continues to repair homes under his maintenance business, Maurice & Son, Inc. His plans for the new center he hopes to secure include a 10-year program that will enable him to mentor students from age 10 into their 20s, to support their progress and well-being over time.
Luten's fundraiser can be found at GoFundMe.com; search "Biking to save our youth!!"