It's not everyday an NBA Hall of Famer makes an appearance in Liberty City.
Senior citizens who attended the Simply Games at Charles Hadley Park on Thursday, March 5, were surprised when Earvin "Magic" Johnson appeared. All who were able jumped out of their seats and expressed joy.
Johnson is famous for his charismatic smile, philanthropy, business savvy and point guard skill that led the Los Angeles Lakers to five championship titles. The chairman and CEO of Magic Johnson Enterprises welcomed seniors with warm hugs and led the occasion's prayer.
"We gonna bow our heads first, here we go," said Johnson. "Oh gracious Father, thank you for allowing us all to live to see another day. Thank you for everybody that is here today."
Simply Healthcare, a Florida licensed HMO, sponsored the event that provided extended recreational opportunity for participants who come to Charles Hadley Park on a regular basis. More than 150 members of the aging community played games and competed for prizes.
Some activities included cornhole and a tricycle race. Seniors exercised their minds during rounds of dominoes while a speed-walking race allowed them to show off motor skills.
Johnson participated in a free-throw competition and ventured throughout the park to greet guests. He offered advice on what it means to live a healthy life and emphasized that keeping an active mind can contribute to improving physical health.
"I think the main thing is to first start off with being active in some way," said Johnson who is an ambassador for Simply Healthcare.
"We're seeing all these seniors here active today and they're having fun. Having a healthy and positive attitude about life and eating right is another step, but do what you can do to stay active. Whether that's walking or whether that's on a treadmill or bike."
Josephine Lazier has lived in the Wynwood area just south of the park for more than 50 years. The 87-year-old said she attended the Simply Games with specific plans to enter the speed-walking competition, but was excited to see Johnson.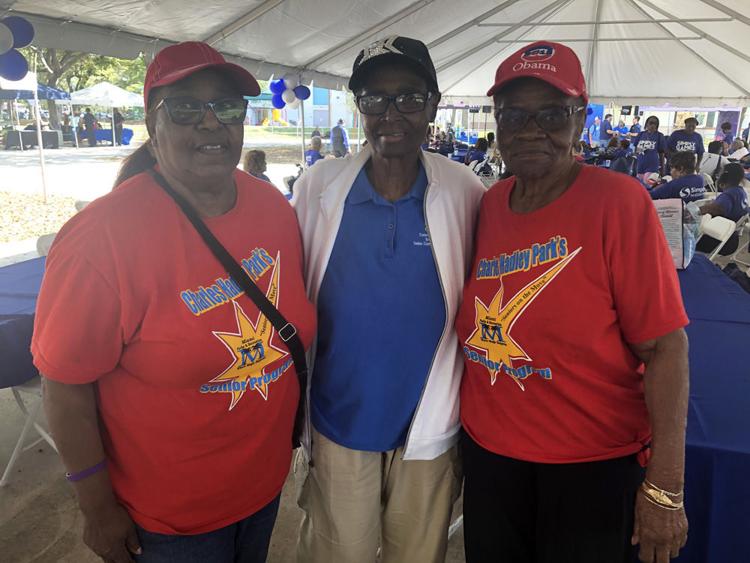 "I just like to be a part of everything that goes on at the Charles Hadley park," Lazier told The Miami Times.
Carlos Fernandez, regional vice president of sales and marketing for Simply Healthcare indicated the biggest takeaway from the event was for seniors to visit their primary care doctor and stay healthy in each other's company.
"I wish more cities had senior centers," said Fernandez. "They serve as a place where they can congregate, just tell stories and enjoy the social aspect that they may not get at home."
Johnson's final sentiments expressed the importance of surrounding one's self with positive people.
"That goes with your health as well," said Johnson. "Even if you're not doing what we're doing here today, just sit and relax with other good friends. Get outside in the park to take advantage of this great weather."