A local nurse has created a space for children to find hope after the loss of a loved one.
Yolande McCray worked with Julia Bennett at the same hospital for so many years that they became friends instead of just coworkers. But one day in 2011, their bond was broken when Bennett was shot and killed. Bennett left behind three children, ages 2, 13 and 15 years old. McCray chose to mentor Julia's children. She pitched in for prom and graduation and even intimate talks. However, McCray realized no matter what she did, she could not fill the void that consumed the children after their mother's death.
"The depression was still there," said McCray. "There really was a huge sense of loss and hopelessness."
McCray realized Julia's children needed grief therapy. She consulted with her own therapist, Anse Daniel, and decided to take on the task. Watching her friend's children go through the different stages of grief without the full support of other relatives inspired McCray to create her own resource to help children. She founded, Julia's Kids, a nonprofit that helps children ages 5 to 18 find an effective way to cope with loss. The organization supports children who face separation because someone in their life died, became incarcerated or was dealing with some form of addiction.
On Friday, May 31, seven teenagers, from 11 to 15 years old, were escorted to the Julia's Kids' headquarters in Miami Gardens. It is a small office located on the second floor of a commercial building near State Road 7. Each teen sat in a room decorated with bright colors and words like faith, God, love and win. The teens were there for what McCray called a group chat and ice-cream social.
The teens did not appear social or chatty. They mumbled their "hellos" as they entered the room. McCray hoped the cold dessert would break the ice.
McCray shared her excitement. Letting them know that there was ice cream with different toppings in the next room, she said "This should be fun."
McCray picked the age group because they have been the hardest set of communicators. She was confident, however, that they would feed off of their peers and things would perk up.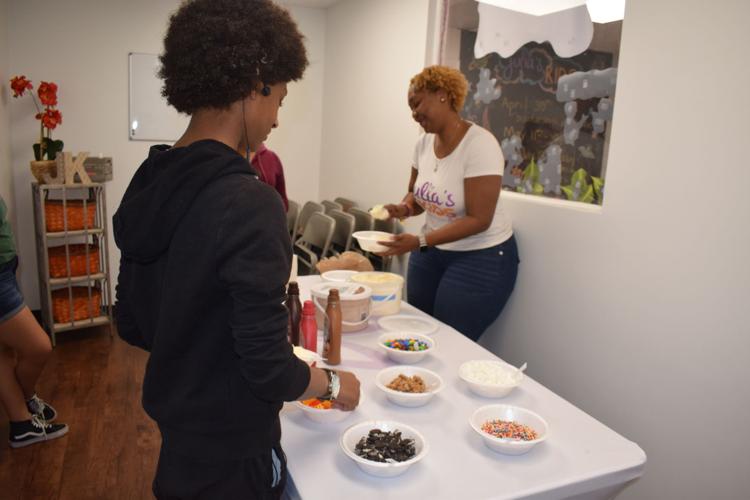 A bit later, she got the two boys and five girls to select a flavor of ice cream and introduce themselves. The caretakers were asked to leave as Daniel conducted the two-hour group therapy.
McCray started meeting with families who experienced loss and found that Black families do not see grief counseling as a priority.
"The surviving parent sees it as: 'I have to go back to work. I have to pick up the pieces,'" said McCray. "So getting therapy is not on the radar."
However, the consequences can be detrimental for children who do not grieve effectively or at all.
Daniel, a psychotherapist, said most times people tend to shield mourners from their grief or normalize death.
"That does them a disservice," said Daniel. "If we don't deal with it, we bury it. Then when it starts to come out, it comes out in an unhealthy way."
Side effects of grief include depression and suicide, Daniel added. Signs that cause alarm for therapy intervention include negative behavior, crying spells, angry outbursts, lack of appetite, sleeping frequently, overeating, anxiety, anger and seclusion.
Just like the ice-cream chat, McCray tries to find creative and impactful ways to prompt the coping process. Julia's Kids offers evidence-based forms of therapy such as art, music and pet therapy.
Children can express their thoughts and feelings through painting and drawing, but the ultimate goal is to initiate conversations as was the goal for Friday's chat. During music therapy, the children were asked to tap into how particular songs make them feel, so that could form a guide on how to control their mood or emotions. There is traditional group counseling with journaling, but she also fits in exercise and yoga.
Research shows that exercise is also an effective treatment for depression. It improves brain function and releases feel-good chemicals in the body called endorphins, according to a 2013 report by the Harvard Medical School. Yoga has its own added benefits, said McCray.
"There are certain positions that are geared toward grief, " she said. The yoga instructor uses scented oils like lemon and peppermint that illicit good memories.
Near the end of the group chat on Friday, the teens wrote some notes on sheets of papers that they leave for Daniel. She gifts them sphere balls, which will help them control their breathing.
Daniel said she built a rapport with the teens, to build trust enough to share memories of their loved ones.
The five major stages of grief are denial, anger, bargaining, depression and acceptance. It can be tough for anyone to deal with any one of them alone, said Daniel.
"The thing about grief is it has a begin date but not an end date," she said. "One more thing about it is that it looks different for everyone."
In addition to healing services, Julia's Kids offers a scholarship each year to a graduating high school senior. McCray keeps the organization afloat with the help of donors. She has to cover the cost of the therapy, exercise sessions, office space, tools and other items. She is working on getting a program in Miami-Dade and Broward counties schools so that she can teach educators how to handle grief. It is all a sacrifice for McCray who is also the biological mother to three kids. Her heart still also belongs to Julia's Kids.
For information on Julia's Kids, or to volunteer or donate, visit www.juliaskids.org.