Super Bowl LIV in Miami may be over, but it leaves behind its legacy in one Miami community.
NFL Commissioner Roger Goodell; Chairman of the Gwen Cherry Foundation H.T. Smith and Dolphins players Isaiah Ford and Bobby McCain were among those present in Liberty City Thursday to celebrate the unveiling of Gwen Cherry Park's new athletic field.
"Everyday at Gwen Cherry Park, we are in the business of building strong children," Smith said. "And in return, it builds strong families and builds a stronger community."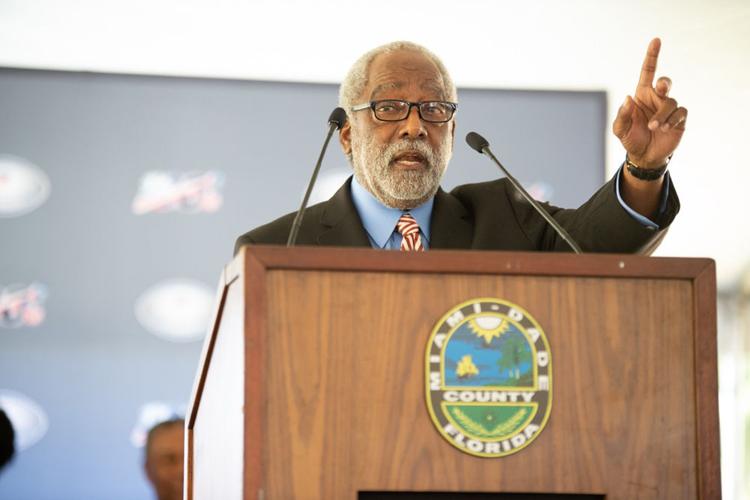 Gwen Cherry Park was one of two Miami-Dade parks that received funds from the Super Bowl Legacy Grant Program. The grant stems from the NFL and NFL Foundation's initiative to improve the surrounding communities of the Super Bowl host city. Goulds Park, located at 11350 SW 216 St., in South Miami-Dade, was the other grant recipient.
"Our big issue for us is we want you to remember us when we're gone and have a legacy from the Super Bowl that will remind you of the importance of the community and the young people in the community," Goodell said.
The park's upgrades include a new synthetic field to accommodate football, soccer and lacrosse, in addition to new walkways, bleacher pads, a vinyl-coated perimeter access control fence and a new scoreboard. These amenities were made possible by nearly $1.7 million in funding from Miami-Dade County and the NFL Foundation.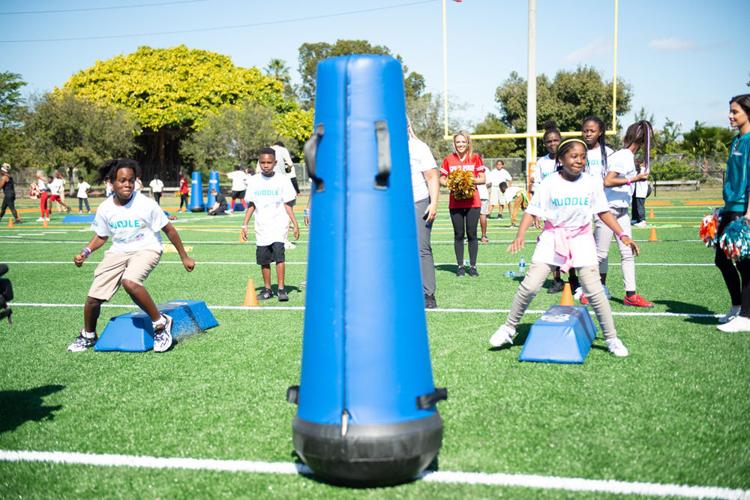 "This is a transformative project for the community," Miami-Dade Parks Director Maria Nardi said. "Gwen Cherry Park has one of the most utilized fields in our parks system, and the new amenities at this park will provide a beautiful, sustainable place that generations of athletes can enjoy."
Smith mentioned that Gwen Cherry Park has built champions over the years. Tommy Streeter; Mark Walton; Anthony Gaitor; Antonio Brown; and T.Y. Hilton, are some NFL players who he said used the park.
Miami Super Bowl Committee Chairman Rodney Barreto said when Miami hosted the Super Bowl in 1995, the NFL granted the city $1 million to build the 27,000-square-foot NFL Youth Education Town (YET) Center at Gwen Cherry Park.
In 1997, Smith established The Gwen Cherry Park Foundation Inc. to raise money for the NFL YET Center and work with community partners on park programming and facilities maintenance.
With the leadership of Smith and other community leaders, an additional $2.6 million was raised from local businesses, firms and organizations. The NFL YET Center was constructed by Hall of Fame Miami Dolphins player Dwight Stephenson and was dedicated on Dec. 16,1996 and donated to Miami-Dade County.
When Miami hosted the Super Bowl in 2010, another $1 million from the NFL Legacy Grant Program was given to Gwen Cherry Park for a 5,000-square foot annex to the center, that included, two classrooms, media rooms and offices.
The programming at the NFL YET Center is provided by Communities in Schools of Miami, the Boys and Girls Clubs of Miami-Dade and Miami-Dade County Parks, Recreation and Open Spaces.