The entire state of Florida confirmed that the best high school football programs are concentrated in Miami-Dade and Broward counties. A record seven high school football teams went to the Florida High School Athletic Association football championships and all seven returned home winners, which included the urban core's Booker T. Washington, Miami Northwestern and Miami Central High schools.
In past years, this feat could not have happened especially for schools in Miami-Dade County's inner cities because the teams all had to "beat up" on each other to make it to the coveted state championship game, said Miami-Dade County Public Schools Vice Chair Steve Gallon.
That all changed about a year ago after Gallon called for the reclassification of athletic programs in the entire school district. The school board unanimously approved the measure at its Dec. 14, 2018 meeting.
A few days later, when the Florida High School Athletic Association released its 2019-2020 reclassification, it shook up the competition's classifications around the state. The most notable changes were in Miami-Dade – widely considered one of the most hotly contested areas for high school football.
Miami Northwestern, Miami Central and Carol City senior high schools, among others, were broken up as a result of the reclassification. These three schools competed in the same division, allowing only one of them to compete for the state titles.
The new reclassifications saw Miami Northwestern and Carol City high schools move to division 5A and 4A, respectively, which allowed them to compete for their respective divisional state tile and not have to eliminate each other. The change also allowed the county teams at least three chances of moving on beyond the district level.  
"Many were quietly comfortable with the system that not only allowed, but perpetuated 'competitive cannibalism' among mainly Black, inner-city schools. They were cool with our students losing out on the opportunities to compete and win state football championships – opportunities that should have been afforded to them based on the FHSAA's own rules," Gallon said. "They were cool with our kids beating the 'hell' of out each other at their own expense and loss, and for the gain of schools in central and northern Florida."
District 2 SCHOOLS
Booker T. Washington, Miami Northwestern and Miami Central now have a staggering total of 19 state championship titles between them. They relocated in District 2, which is represented by School Board Member Dorothy Bendross-Mindingall and she was there at all her schools' games cheering them on.
"I'm a graduate of Miami Northwestern so I've seen a few games. These games made me stay on my knees a little longer. The community is proud, they're happy, they're elated and they have shown the world that District 2 schools – which are pretty much in the urban core – have the support of the parents, stakeholders, teachers and, of course, each other. The camaraderie the togetherness I've never seen before," said Bendross-Mindingall. "We are very proud of them."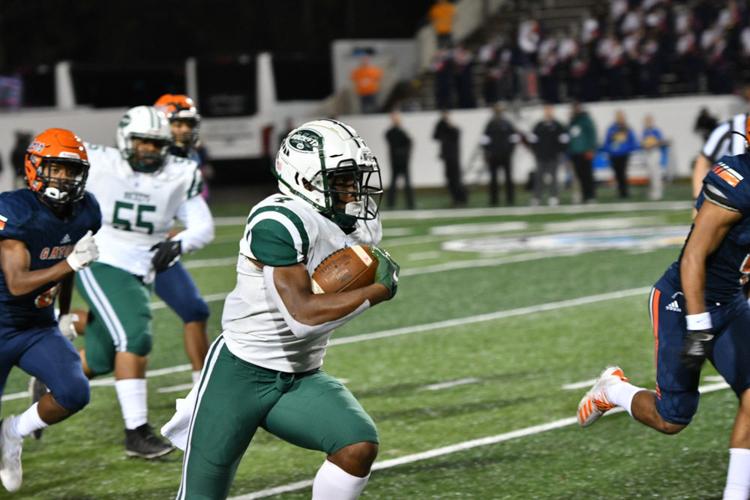 Social media echoed Bendross-Mindingall's sentiments about camaraderie. Hundreds of congratulatory posts from past alumni from all the urban core schools were posted to social media. Sworn rivals put their football feuds to the side to recognize the significance of the state championship wins. The hashtags #EverybodyEatsB and #EverybodyAte, a reference from the movie "Paid in Full," was posted numerous times.
And with the Bulls win, there you have it!
2019 FHSAA Reclassication
Miami Sweep#EverybodyAte

— Dr. Steve Gallon III (@docstevegallon) December 14, 2019
"Everybody Eats B! Steve Gallon III #SALUTE #DADECOUNTYFOOTBALL," said Torian E. Bean on Facebook.
President of Inner City Alumni for Responsible Education (ICARE) and a diehard Central Rockets alumni William "DC" Clark took the time to congratulate the Bulls on their win on social media: "Congrats to the NW Bulls who defeated Jones High 34-17. Good Stuff and another win for the 305."
"Dade county showed out!!!! …. Great job to all the schools." said Valencia Gunder, CEO of the Smile Trust on Facebook.
"Congratulations to all of the South Florida Teams who brought home State Championship Titles!!!! #DadeCounty #305," said Miami Carol City Alumni Association in a post on Dec. 14.
Many of the top college football recruits come from Miami-Dade County. According to 2019 NFL team rosters, there were 41 NFL players to start this season who are from Miami or Fort Lauderdale.
RECORD BROKEN
A new record was set. Five schools from Miami-Dade and Broward were able to win state championships this past weekend in Daytona Beach. Two more teams brought home the title the weekend before in Tallahassee. The seven combined titles have now shattered the previous mark of five, set during the 2013 season.
Among the record-breaking schools was Miami Northwestern, who's no stranger to winning at the highest levels in Florida Sports. Head Football Coach Max Edwards said it was a proud moment and it showed that his team has a lot of talent, including a great coaching staff.
"Anytime you can win a state title game that's big but this was really big for Miami Northwestern due to the fact that this is the first time in history that anyone has won three state championships back to back. So that was awesome and exciting for myself as a coach but it was also awesome for the kids to be a part of history," said Edwards. "We do have to beat up on each so our games are more significant to us down here, so when we get the opportunity to show that we can play with anyone in the state, it's a blessing and it's exciting. The reclassification gives us an opportunity to show the state where the best football is being played."
Edwards said that even though schools in Miami-Dade are rivals, there was a lot of support given to each other from different schools and communities. Booker T. Washington Head Coach Ben Hanks agreed. He said these state wins were important because it brought the community together and he's hoping this support of the football teams leads to more support of the school's academic endeavors.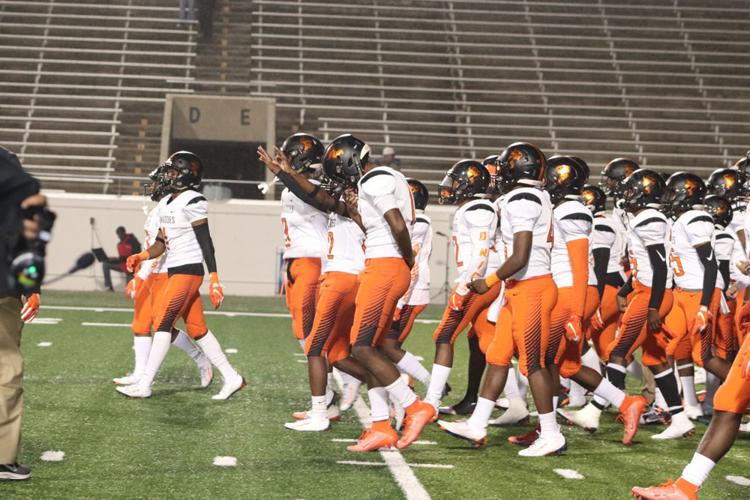 "The significance of the win was big for the communities and all the inner-city schools as a whole and it does a lot for kids in the schools with their self pride. The part I don't want to forget or leave out is I want our academics, I want our grades, I want our kids' character to match our play on the field. That's what I think we have to do as an inner-city program and use this platform to build – to be able to help our kids holistically," said Hanks. "For me, it was a great victory but at the same time I want to bring awareness to our academic piece and make our kids a more complete student athlete."
Hanks said his group of students had never won a state title before and neither had he as a head coach, however he has been with the Booker T. Washington team since 2003 and coached in some capacity for all six of their state title wins.
Coach Roland Smith, who leads the Miami Central football program, is no stranger to winning and now has won six state titles as a head coach – the most of any football coach in Miami-Dade County – and eight state titles in total as coach. Smith humbly shares the wins with his coaching staff, but he's happy to have made history.
"I was very elated to win a state championship. It eluded for the past three years. I felt my coaching staff and the kids did a tremendous job of buying in and doing what they needed to do to stay focused throughout the course of the playoffs to get the job done. At that time, I thought we were playing the best football in the state of Florida and it showed in our state championship game for us to put up 62 points," said Smith, the Rockets head football coach whose team also broke the rushing record with 498 yards.
Although Miami Central High School was not affected by the reclassification of schools, Smith said it was good to see other schools get a chance to win a state title.
"The reclassification didn't affect me because we're still under 6A, but it affected two of my classification mates – Miami Northwestern and Carol City – who was in our same district," said Smith. "It gives a lot of teams a chance to go to state because when we stayed in that old classification – it was based on enrollment – we were just beating up on each other. We had three or four teams in our district that could possibly win state any given year."
Many of South Florida's High school teams will now have the opportunity to compete for a state title and win any given year. For Gallon and so many others, the goal was always bigger than just football wins.
"I had vision and a plan in December 2018. With the support of the board, the schools, coaches, community and players, we brought home record wins to Miami-Dade County, and Broward came through as well," said Gallon. "With each win, the journey toward perfection became about more than wins on the field, but wins for the entire community. We witnessed us in one year go from cannibalism to communalism in which everyone won. I was humbled to have been able to set the table for the schools and community, one in which everyone eats."