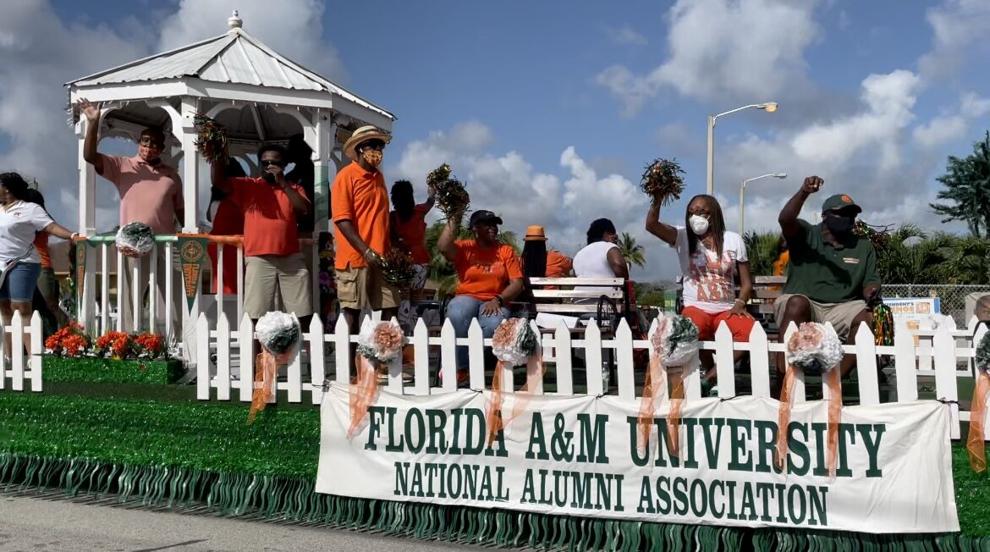 Hundreds of people lined up under the Saturday morning sun to watch the first Orange Blossom Classic parade to make its way down the streets of Miami since 1978. Local residents, Florida A&M and Jackson State University fans, students and alumni came to the parade dressed in their school colors and ready to party. Other high schools and universities that participated in the parade included Florida Memorial University, Talladega College and Miramar High School, among others.
It was a celebration of a historic annual game that's been on a 43-year hiatus. The parade was meant to follow a Battle of the Bands event Friday night that was canceled due to area thunderstorms.
Rodney Harris, mayor of Miami Gardens, said that rain, sleet or snow, the HBCU community always comes together to support each other.
"We don't worry about cancellations," he said. "We'll find another party."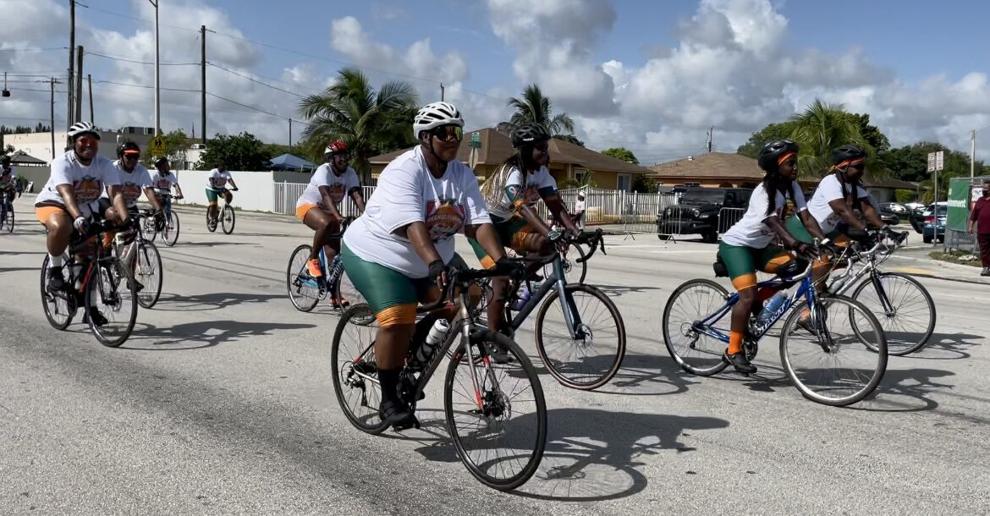 The Orange Blossom Classic (OBC) is one of the most renowned games in HBCU history. The game was created by Florida A&M University in 1933 to boost the profile of its football program. But bringing the game back doesn't just increase the visibility of HCBUs, it also unites families and communities at a time when the world is still struggling to shoulder life living in a pandemic. Harris compared the parade to a family reunion.
"We're bringing everybody back together again, and hopefully we can keep this thing going and it's not the last time," he said.

While hundreds of fans cheered on their alma maters, the sound of marching bands filled the air. Marching in unison, they jubilantly demonstrate their hard work and discipline.
Many fans and alumni have been looking forward to this weekend for a long time, especially since the OBC's big comeback was postponed last year due to COVID-19. For many in the crowd, it was the first big event they attended in the last year and a half.
"COVID has shut us down for a little while and now this is one of the first big events since we opened up," said Harris. "People are ready to get out and just be amongst each other again. This is what it's all about."
William Youmans, Florida region vice president of the FAMU National Alumni Association, said the parade meant a lot because FAMU was one of the initiators of the OBC. Youmans said that although many chose not to attend due to pandemic-related concerns, for him, "COVID just built up the anticipation."
Ashley Robinson, JSU's vice president and director of athletics, noted the game's rich tradition, pointing out that people still showed up early on Saturday morning after Friday night's event got canceled – proving that the HBCU community is uniting as one. Robinson said it's important to unite for young people to see the sense of community being created by HBCUs, now more than ever.
JSU's band announcer, Richard Myers, said it was an honor to participate in the parade and any event with HBCUs, because they have survived throughout the years on togetherness – and Saturday's parade was a testament of that.
Many alumni were happy to just be outside, engage with others and breathe in some fresh air while backing their alma maters.
"Just getting back out to socialize and be able to support our school is just everything," said FAMU alumni Rolanda Powell, 37.
JSU alumni Rosie McGowan, who was decked out in JSU gear and full of excitement, said it was an amazing experience to be in Miami representing Jackson State and seeing other alumni and band members. McGowan said she was grateful for the opportunity to travel to Miami on a charter bus with about 55 other fans and alumni to show their support, especially since so many events, including this one, were postponed last year.
Students and marching band members also said they were thankful to be able to participate in the first OBC parade in more than four decades.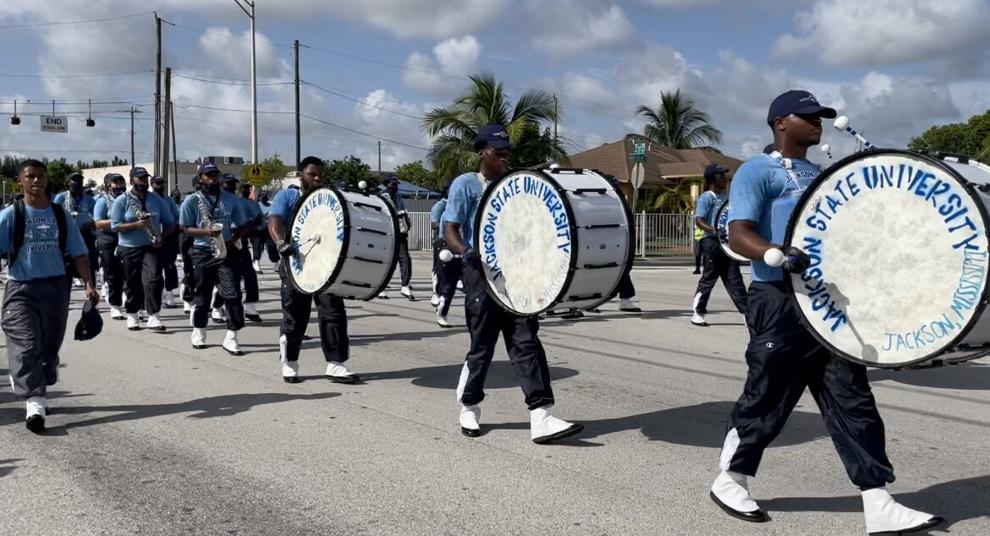 Tai Lee, a junior JSU band member, said he felt honored to represent his school while doing something he loves. He said that although the pandemic has made it hard to practice with the entire band, they made it work by following recommended protocols. Lee added that pushing through those difficulties to make it to Miami is proof of the passion and energy of the HBCU experience.
Morgan Kelley, a member of the FAMU Marching 100, said she hopes to inspire high school students interested in joining marching band and was pleased to hear someone in the crowd say "I hope that'll be me one day" as she marched by.
Kelley believes it's important to emphasize the benefits of being a member of a marching band, to encourage young musicians to enroll in HBCUs to further their education and pursue their passion.
The overwhelming participation in Saturday's parade reflected the unity and pride found within the HBCU community, and many participants said they believe they came together for a greater purpose.
"[Being here] means a lot because I'm from South Florida," said Isabela Zamudio, 20, another member of the Marching 100. "I'm really happy that I'm able to show out for my friends and family."