In our Oct. 28 edition, The Miami Times highlighted how some of Miami's notable Black cultural institutions were using creativity to survive the COVID-19 pandemic, and uplift the Black community during these unprecedented times.
This week, we're talking to some of the individual artists and curators who've found ways to adapt, so the curtains wouldn't close permanently on their dreams.
Here are their stories.
Courtney Mickens
Courtney Mickens has been singing as long as she can remember. The Liberty City native comes from a musical family and it seems like she was destined to be on stage. But when COVID-19 hit and all the venues she performed at shut down, costing her more than $22,000 in income, Mickens had to figure out how to ensure the show could go on.
"All of the artists from everywhere at every level – major, minor, indie, all of it – went online. It was a very interesting shift, and no, it wasn't easy," Mickens told The Miami Times in an exclusive interview. "Talk about being creative in a time where you are literally inventing your means of income as you go day to day. That was a large chunk of income that I had been using to fund not only myself, but my projects, my studio time, equipment I need, photo shoots – everything I need for artistry, it came from the work I did as a singer."
According to Mickens, her "day job totally saved" her. But because her lifestyle is built around her having multiple streams of income, she had to figure out how to make things work.
She is not alone. Artists from every discipline have been using their creativity to pivot during the pandemic. Like Mickens, they admit it hasn't been easy.
Don Seward
"It's been very interesting and challenging at the same time," said actor Don Seward. "Right before COVID, I was in the running to play Mufasa in 'The Lion King' Broadway show. I literally was supposed to go one day to meet with the producers for a final callback, then boom, COVID happened and they shut down everything."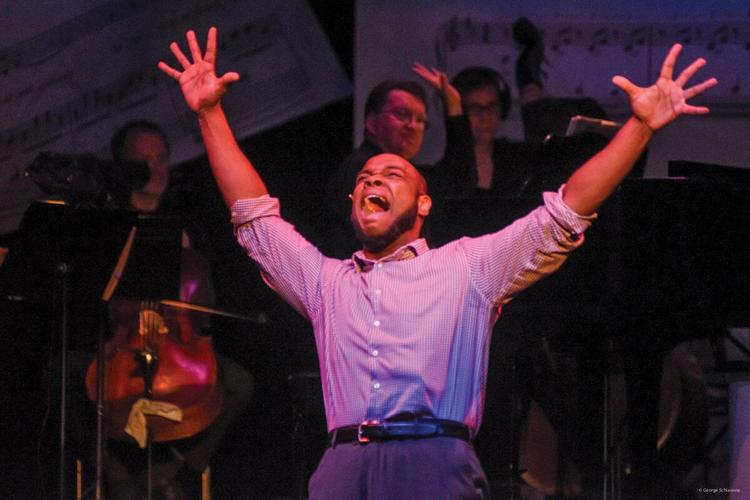 Being an artist is also Seward's family business. He is the son of Charlette Seward, the iconic director of Miami Northwestern Senior High School's PAVAC drama department.
Though he is from South Florida, Seward currently lives in New York, which was initially the epicenter of the coronavirus pandemic. Since Gov. Andrew Cuomo shut the state down to combat the virus, Seward experienced firsthand the virus' impact on cultural artists.
He went from booking shows like "Spelling Bee," "Amazing Grace," "Dreamgirls" and "Ragtime" to having to depend on unemployment and the generosity of his family and friends to make it.
That changed when one of his best friends called him about a job opening at Lionsgate, where he now works as a production assistant. Acknowledging that he's "really blessed," Seward said it is a fate many of his fellow artist friends haven't had.
"I've had a lot of friends move back home who were on Broadway, who were in 'The Soul of Broadway,' 'Aladdin,' 'Lion King,' the new Michael Jackson musical, all kinds of shows," Seward said. "A lot of them were forced to move back home with their parents because you have no health insurance. All of a sudden these apartments that you moved into because you secured your bag you can no longer afford. It is expensive to live here and when you're working, you're making a lot of money to live very nice … then all of a sudden you don't have that anymore. For some of them their shows closed permanently. It's sad to see that this is what it has come to."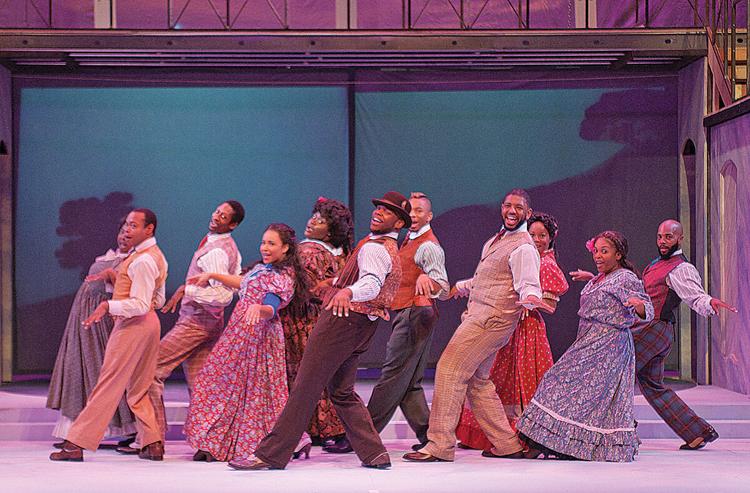 Rosie Gordon-Wallace
Rosie Gordon-Wallace knows the heartbreak of watching your friends struggle all too well. The founder, president and curator of the Diaspora Vibe Cultural Arts Incubator (DVCAI), Gordon-Wallace said many contemporary artists she works with have similar stories.
"It's messy and rough," Gordon-Wallace told The Miami Times. "The difficulties that our Black and brown artists face in navigating their way through the contemporary art world were already difficult before … now instead of having a sniffle they have pneumonia. It's really difficult for them now. Many of the artists have had to give up their independent living to go live with friends and family members."
Having worked with more than 1,500 artists for the 25 years she has been running DVCAI, Gordon-Wallace noted the challenges of COVID-19 extend beyond loss of income. She also mentioned the psychological toll it has had on stifling some artists' creativity.
"People don't always understand the process an artist takes when creating," Gordon-Wallace said. "What happens when you're in a space like this is my concern. How do you manage the psychological deficit that comes with lack, need and being fearful. I am seeing doubt. Artists are asking, 'Can I do this work?' The creative artists who want to dedicate at least 80-90% of their time creating work have found themselves in this very difficult space."
For many, the answer lies in innovating as creators, and supporting their artistic peers through collaborative efforts.
Gordon-Wallace began an artist relief program called "Farms to Studios" that provided artists with fresh fruits and vegetables for a few months until resources ran out.
In addition to their day jobs, Mickens and Seward pointed to doing online shows, teaching virtual classes and workshops, and using social media and other content platforms as being among their saving graces.
Michelle Grant-Murray
It's also one of the ways Miami Dade College dance professor Michelle Grant-Murray adapted.
She and her colleagues were in the midst of preparing for a huge conference that would bring in guest artists from across the globe when they had to shut down, then pivot to teaching on Zoom.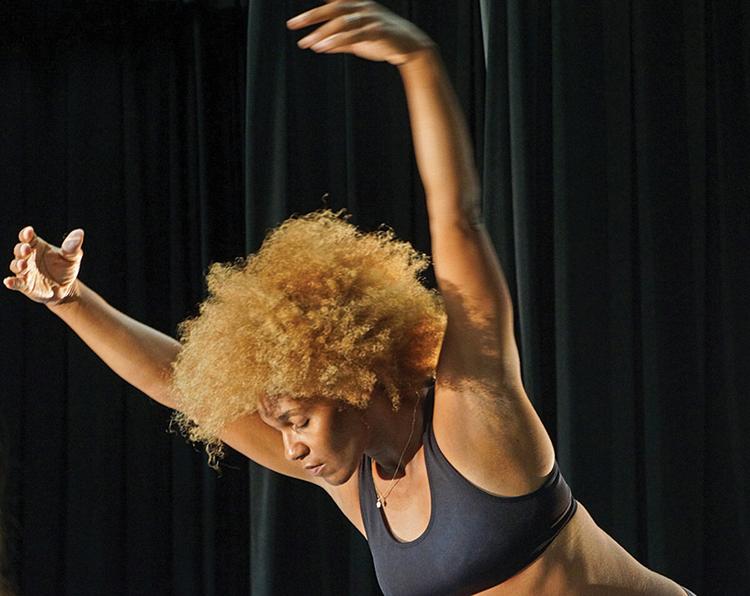 After some weeks of trial and error, Murray – who also directs Olujimi Dance Theatre – said they decided to create an online dance instruction platform called Woodshed Dance. She noted it was still difficult because rehearsing and teaching dance online is starkly different from doing so in person.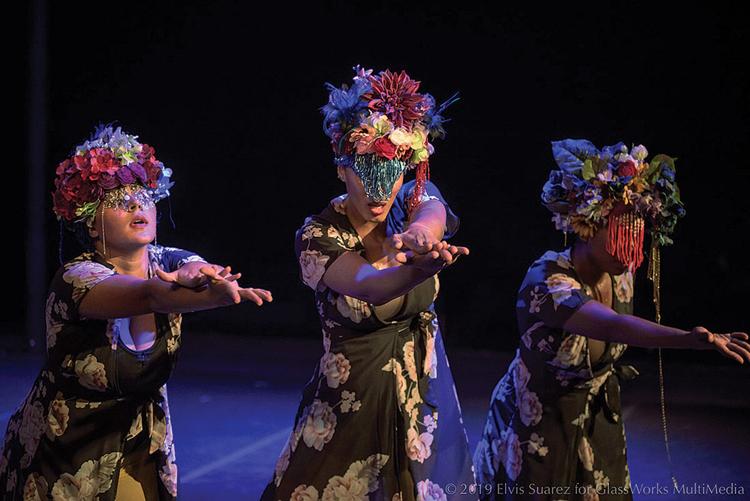 "It took a little while for everybody to get adjusted to what virtual performance looks like and how to engage in that and share your energy with the rest of the world," Grant-Murray said. "I almost feel like artists are unique people. You're not like everyone else in your family. You're a creator and sometimes you just need space to be with like-minded people, and you need space to really explore your body."
In addition to losing lots of students, adjusting to online instruction and witnessing dancers have to leave world tours to come home and work 9-to-5 jobs, Grant-Murray echoed her peers' concerns about the effect COVID-19 is having on dancers' psyches.
"A lot of dancers are struggling because they're not able to dance," Grant-Murray said. "When you're a dancer, you're accustomed to being physical and you have the space to jump around and leap around. In this pandemic, there's limited space to do that."
Marvin Weeks
Marvin Weeks is a visual artist and the recently appointed chairman of the City of Miami Arts and Entertainment Council. His mural of Ahmaud Arbery in Brunswick, Georgia, made national and international headlines.
Like his peers, Weeks intimately understands the challenges of COVID. He credits the financial support he received while painting the mural of Arbery and other commissioned projects with helping him make it through.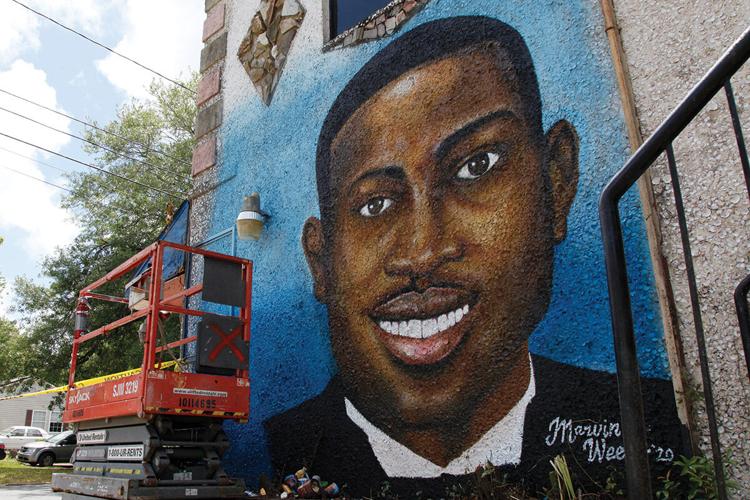 He's challenged his fellow Black artists to remember that COVID-19 is only one of their problems.
"Keep in mind that as Black people we're dealing with two pandemics because there's a social justice issue that affects us at the same time," Weeks said.
Despite the difficulties of COVID, the artists agree they could either quit on their passions or rise to the occasion. They've chosen to do the latter and encourage others to do the same.
"People who really want this move forward,' Mickens said. "If you really want this artistry, if you want to do this in your life, you find a way. Pandemic or no pandemic … the people that push through, that persevere, are the true testament to what it's like to be an artist at any time."
"We're all taking it moment by moment, day by day. … How do we unify in a time and era of COVID where that's discouraged, especially as Black people because we're a gathering people? We're social, so how we do that during this time has been concerning for me," Grant-Murray said, before ending her interview on a hopeful note. "We're a resilient people and we will overcome this. We will get through it."
Gordon-Wallace said she was "encouraged" despite the added obstacles Black and brown artists are now facing.
"Many of them are forging ahead to a mid-career and mature status. I'm encouraged that although they have this gentrification – they're moing around and they're unstable – many of them are staying the course to do the work," she said.
Weeks asked that Black artists use the moment to do something bigger than themselves.
"As Black people, we have a greater responsibility of stewardship for ourselves and our community because we're the voice of conveying what's happening. I look at art as that engine that can transform our communities," he said.
Seward celebrated Black artists for "creating our own lane" and "including our culture" on a world stage that has never been bigger. He encouraged others to stay the course even if it meant doing things differently.
"It's never about the place or the stage. It's about how you feel and it's about sharing your art to inspire someone else. No matter where you are – social media screens, movie screens, you just gotta get it out," Seward said. "Don't give up … when there's no space for you, create your own space and it will work out. Just stay relentless."