Conch salad, clear-water beaches, fresh seafood, lively locals and plenty of time to relax make up the ingredients of a visit to Grand Bahama, the northernmost island of the Bahamas. Did we mention the swimming pigs?
With only 60 miles off of the east coast of South Florida, Grand Bahama can be a quick getaway.
Those who visit Grand Bahama will likely stay in the city of Freeport, where the airport and seaports are located. Hotel resorts and rental apartments are available in Freeport, a city that thrives on tourism.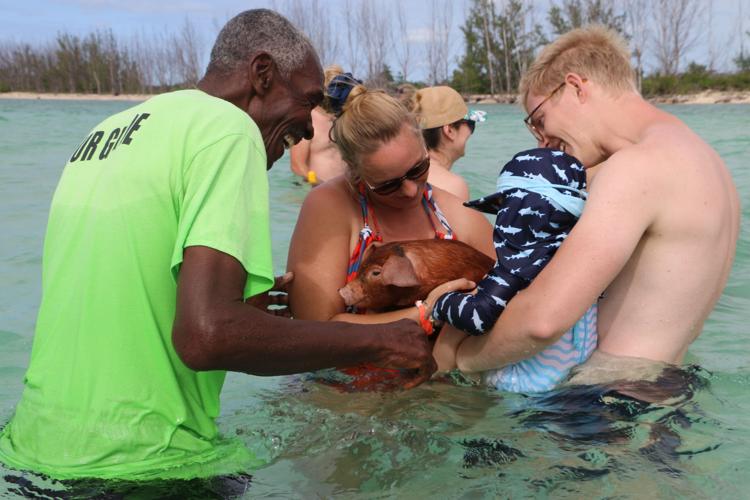 While most tourists would be tempted to enjoy hotel accommodations and enjoy the spas and private beaches, the best way to explore what Grand Bahama has to offer is to sign up for a tour of the island. Visitors can either ride around in large buses, or can opt for the smaller, personalized, tours given by licensed island guides.
Hida Ingram, owner of Experience Grand Bahama, is a licensed island guide who specializes in small, tour trips of Grand Bahama. Since 2011, Ingram has curated trips for visitors wishing to take advantage of a day full of activities throughout Grand Bahama.
"This is my country, I love the Bahamas and I love to interact with people," Ingram said about why she decided to become an island guide. "I'm passionate about our history, culture, customs and everything that we are." Ingram accommodates tourists by making improvised stops throughout the tour, all while she explains the history and culture of Grand Bahama, and the Commonwealth in general.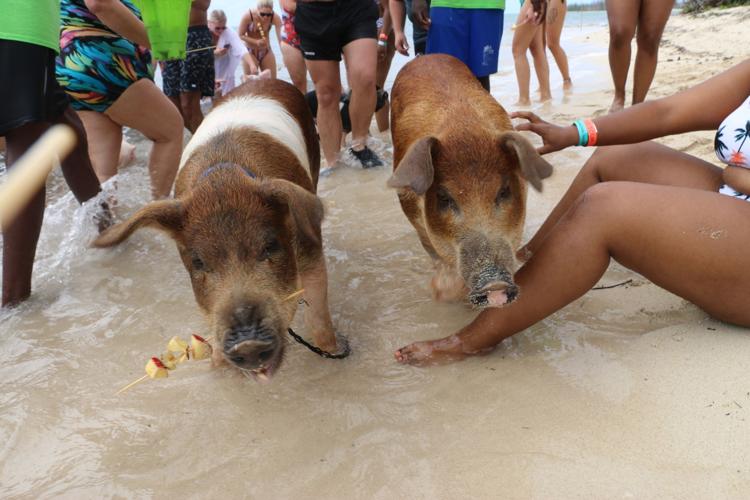 New this year to Grand Bahama is the swimming with pigs experience at Crystal Beach. The swimming with the pigs program began in January, and is a highlight of Ingram's west end tour of the island. Visitors can sign up for an hour-long session to feed skewered apples to a litter of friendly and docile pigs. The pigs are receptive to people and enjoy the interaction. You can swim in shallow water and take pictures with pigs, who are graceful and adept swimmers. Throughout the experience, a guide explains the history of Grand Bahama and tells jokes. The swimming with the pigs experience originally began in the Exuma archipelago of islands, a plane ride away from major cities such as Nassau and Freeport. "When people found out we have swimming pigs in Grand Bahama, this became the biggest attraction for us," Ingram said.
A long day at the beach will create an appetite and thankfully, Grand Bahama offers fresh seafood, though conch is usually the center of attention. While tourists can venture on their own to try different restaurants, a food tour will take the edge off deciding where to go and what to eat.
Jennifer and Andrew Styles, owners of A Taste of Grand Bahama food tours, offer tourists an intimate experience centered around the native food of the island. "We take visitors to the off-beaten path to the restaurants that they would not normally visit," Jennifer Styles said. While Grand Bahama offers many luxury restaurants, the Styles decided to focus on showing the tourists where the locals like to go to enjoy a traditional meal.
What makes this food tour different is that it gives tourists something to do at night. Grand Bahama, the fourth largest island in the Bahamas, has a population of around 55,000 residents in an area that can hold more than 250,000 people. Though most of the activity happens in the daytime, there is little to do at night, Styles explained, which is why she and her husband decided to create a night-time option for visitors to experience. The night-time tour consists of a live demonstration of how conch salad is made, while enjoying Gully Wash, a coconut-flavored cocktail. Then the tour heads to another destination where tourists can feed native sharks and enjoy conch chowder. And the main dish is served at yet another destination where tourists enjoy a seaside view and traditional Junkanoo dancing.
Much like Ingram, the Styles also do small, personalized day-time tours, that provide a fun and safe way to enjoy Grand Bahama.
"Tourists hear about the history of the Bahamas, the culture and end up with a bellyful; it is a win win," Styles said.
While in Grand Bahama, tourists can also go to the Perfume Factory and create a personalized fragrance just for them. Local vendors populate the streets of Grand Bahama, where tourists can purchase fresh fruits, seafood and artisan jewelry. Grand Bahama also has miles and miles of beach shores and is home to the Lucayan National Park, where tourists can explore the 40 acres of local flora and fauna, as well as one of the largest underwater cave systems of the world.
While Grand Bahama is making strides to diversify its economy, mainly when it comes to the technology sector, tourism makes up a large part of the island's economy.
Add to that the ease of use of currency. There is a one-to-one conversion from U.S. dollars to Bahamian dollars, and most places readily accept U.S dollars.