Stadium-sized bragging rights are now in order for Ernisha Randolph, who landed a contract as a Black vendor for the official NFL tailgate for Super Bowl LIV.
Randolph combined heritage with hard work to establish Sweet Butter Hospitality Group and Shuckin' and Jivin' – Miami's palate purveyor of Low Country cuisine rooted in Gullah Geechee traditions and the ancestral conventions of New Orleans.
The seasoned cook, who creates her own spices with fresh herbs, conjured conch salad and presented it in petite cylinders; small bites of cajun chicken were gathered and lathered with jivin' sauce; she topped it off with her staple southern fried fish, and of course, there was nini bread. That's what she delivered to win the contract.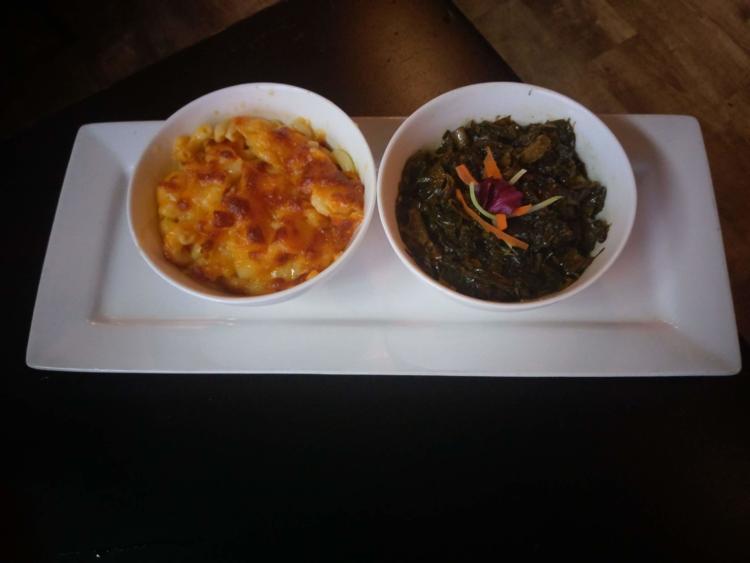 "I don't really know how to not over do it," said Randolph, the 36-year-old visionary who prepared food for a pitch day in the tradition of the venture capital television program, "Shark Tank."
Randolph's strategy was to make sure judges remembered what slapped their lips, made their bellies smile and left everybody talkin' trash. She upped the ante on Gullah eatin' by pulling the best menu selections from Shuckin' and Jivin' her flagship Miami Gardens restaurant opened June 1, 2018.
The mouths to please belonged to ex-NFL players, team owners, and coaches who went person to person tasting food.
"When they ate mine they were wowed and said, 'We don't know if we're supposed to tell you this, but you're in.'"
An official award email was sent to Randolph by the Super Bowl LIV Business Connect Program, National Football League and the Miami Super Bowl Host Committee. Out of 243 vendors from Miami, Broward and Palm Beach, Shuckin' and Jivin' made the cut.
"When I got the email, I started screaming and calling everybody," said Randolph,
who believes it was both her delectable food and catering background that gave her the vote of confidence.
The business leader owns Juanita's Kitchen, a catering business under the Sweet Butter umbrella brand, named in homage to her grandmother. The freshman business venture boasts a client base that includes Miami Heat players Alonzo Mourning and James Jones. When Miami Gardens Mayor Oliver Gilbert committed to matrimony, he booked Randolph's business to provide the fare.
"When I opened Shuckin' and Jivin' in 2018, I wanted to represent Black culture," said Randolph. "There were people in Miami who had never heard of or tasted gumbo, chicken 'n waffles or knew the origins of how Gullah food is prepared."
To set up Shuckin' and Jivin', Randolph embarked upon research that included a road trip to South Carolina towns such as St. Stevens. She returned with a mission to expose her native city to cuisine that transcends ancestral roots.
Preparing good home cooking from scratch daily serves as the foundation for the Sweet Butter brand, but Randolph, too, had the good sense to earn an Associate in Arts in business management from Miami Dade College, and a Bachelor of Science in hospitality management from Florida International University.
"The most important thing I learned in college that has helped my business success was inventory management," said Randolph, who has ensured she will not run out of food. "My catering background and degree perfectly prepared me for that tasting, so I knew all of my offerings needed to not just be delicious, but bite-sized and all fit on one plate. I noticed not all of my competitors did that."
Super Bowl LIV will be the largest scaled event and most-financially lucrative contract Randolph has secured to date. The NFL expects 11,000 guests including official team owners, players and their families, VIP guests, celebrities and entertainers. Randolph and the other vendors are responsible for providing enough food for the guest and she has a trained army of existing employees to help her efficiently carry-out the feat.
"I've had the opportunity to see Ernisha from early days catering with Juanita's Kitchen to a thriving brick and mortar in Miami Gardens," said Rashad Thomas, vice president of Business Connect and Project Legacy for the Miami Super Bowl Host Committee. "It's awesome to see her grow her business and family, and I'm happy to see Shuckin' and Jivin' be a part of record-breaking Super Bowls here in Miami."
Randolph rented additional trucks to assist her company's existing two with transport. The NFL requested confidentiality so no vendor can reveal their menu. They want it to be a surprise, but she shared that not everything served in the pitch tasting will be served at the stadium.
"Tailgate is a large event with fast service. It's like you're in and you're out and a lot of people will rush you," said Randolph. "You feed them and that's it because they have to get ready for the game. I have 25 staff members who will be in place Saturday by 8 a.m. The next day is game day and we must be there by 6 a.m., ready to get started."
FAMILY AFFAIR
Working early mornings, late nights and sacrificing weekends and a day off are the hallmark of Randolph's work ethic. She continues to enlist family to sustain success and has groomed her 20-year-old daughter Shonee Randolph, to be her company's CEO.
In 2004, Randolph's mother died of cancer. That same year, Randolph married Anthony Randolph Sr., and the couple accepted responsibility of raising her younger brother Tayon Anderson and sister Sarah Anderson.
Anderson earned a Bachelor of Science in construction management and helped build Shuckin' and Jivin' from the ground up. At 29 years old, he is the company's COO while his 28-year-old baby sister serves as connoisseur of desserts.
Randolph Sr. manages the company's administrative arm and is a studio engineer who earned a Bachelor of Science in marketing and media from Full Sail University. He produces the catchy jingles and television commercials. Miamians to help keep Shuckin' and Jivin' doors open and the cash register poppin'. The couple have two sons: Anthony Jr., 13 and Omarion, 9.
The NFL's way of providing diverse, qualified and certified businesses opportunities to compete for special event-related contracts is through the Super Bowl LIV Business Connect Program. The extended focus is creating contract opportunities for certified minority women, veterans and LGBT-owned businesses.
An open call for vendors was announced one year prior to the event.
Awardees were asked to maintain confidentiality regarding compensation. Randolph cautiously shared with The Miami Times that her fee's range teeters six figures.
"This is definitely my most lucrative deal because with government contracts and catering, it would take months to earn this much," said Randolph, who plans to invest the funds in opening a second Shuckin' and Jivin' location.
"The mayor of Lauderdale Lakes approached me and said she's finding a spot because we must have a Shuckin' and Jivin'," said Randolph. "There's also an interest group in Cincinnati, Ohio, but we want to keep it local first."