Writing for The Miami Times these last few years has exposed me to the historic side of Miami. The historic side has guided me to information about the pioneers of Miami's past whose deeds led to buildings, streets and parks being named after them. 
This week's "Social Whirl," I had the opportunity to meet people who are not only preserving the historic side but showing everyone what people are missing. One inner-city launched a neighborhood art gallery that will travel to other Miami cities and a famous New York Restaurant plans to open up in Overtown.
Allapattah gathers locals for Art Cafe
 Artists in the realm of food, music, and painting all assembled last weekend to show off their latest work in Allapattah's Art Cafe on Saturday, Oct. 4 at The Motivational Edge on Northwest 36th Street in Miami. 
Art Cafe was created by City of Miami's Art and Entertainment Council. This is an initiative to highlight local artists in Miami neighborhoods. Art Cafe is a rotating symposium showcasing Miami's creative communities.
"This was several years in the making. Convincing my board members to connect to the broader community and get out to our neighborhoods that are rich in culture and art," said Marvin Weeks, Art Cafe facilitator and board member of the City of Miami Arts and Entertainment Council.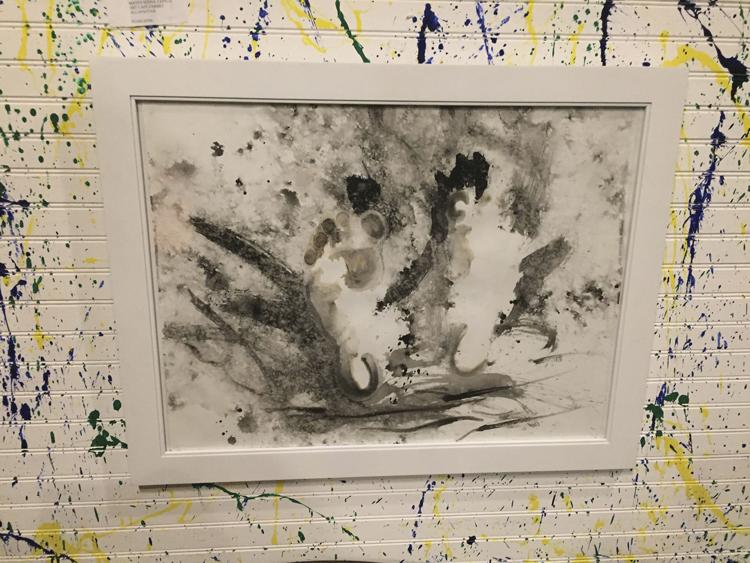 Over 60 people came to Art Cafe. The evening started off with comments from leaders in the South Florida art community. Chris Norwood from the Hampton Art Lovers was present and shared info about the Historic Ward Rooming House. Xavier Cortada, who is a professor at the University of Miami and board member of the Arts and City Council, shared how he grew up he and how he worked his way to his position to preserve what was still here. 
After the remarks, the guests dispersed into the other room where more paintings were on display and a local band was performing. Lauren Hudson was a local visual artist who had her work on display.
"I have dreams about my pieces. One of my pieces is called 'Making the Days Count.' I had a dream I was in the classroom with time winding down to finish an art assignment. I hustled to finish but I keep stopping to help my classmates finish their pieces. My time was up and I didn't finish my piece. The last piece I helped my classmate in my dream was the exact painting I had at Art Cafe," said Hudson. 
Besides the art and the music, the available food stole my attention. Blind Monkey Kitchen is a mom and pop restaurant that had a table at Art Cafe. They were serving this Spanish lasagna that had meat and plantains in it. It got me full after my third scoop. What was more impressive is the chef was actually blind. That evening showed me that Allapattah has gems that need to be visited more often. 
Weeks explained to me that Allapattah was the start of Art Cafe. He and the team plan on entering other areas such as Liberty City and cities such as Miami Gardens to show more local talent in the arts. I can't wait.
Overtown is the new nest for Red Rooster
The Harlem soul food restaurant Red Rooster is coming to Overtown next year. The famous food establishment isn't opening its doors until January but I and other influencers and civic leaders had the privilege to visit the construction site for a special preview reception. We got to see how close it is to completion and hear what this restaurant will do for the community.
 "We wanted to meet the community. We didn't want to open without learning where we are. A restaurant should provide jobs and change the narrative of an area; we are excited to bring jobs to Overtown," said Marcus Samuelsson, celebrity chef of the Red Rooster. 
The Red Rooster reception was held on Monday, Oct. 4 at 920 NW Second Ave., in Overtown. The Red Rooster will occupy the space where the Clyde Killens Pool Hall used to be. 
"We wanted to be in a historic African-American community. To work close to the Lyric Theater, and Jacksons and be down the street where Sam Cook and other performers from the Harlem Square performed. We wanted to be apart of that," said Samuelsson.
The Clyde Killens Pool Hall has transformed into many things over the years. The most recent reiteration I recall was the gallery for Art Africa during Art Basel. In March 2017, the Overtown/Park West Community Redevelopment Agency (CRA) sold it to Samuelsson and his team.
Red Rooster is set to have a lounge, a private dining room, art, three bars, and a creamery post-launch to make their own sweets. At the construction site, I saw many of Black professional leaders there, ready to support the restaurant. G. Eric Knowles of the Miami-Dade Chamber of Commerce, Carole Ann Taylor, managing partner of Noire's Art Lounge and Keon Hardemon, District 5 Miami Commissioner. 
What we saw in the facility were steel beams and cinder blocks but what we all felt was excitement. Overtown gaining another popular restaurant like Red Rooster means more dollars circulating through our community.
Both events this week showed me that plans and resources are still being made for the historic side of Miami. Art Cafe is going to hit more cities and reveal more talent. Red Rooster will be the next restaurant in Miami to bring people from all over the world for a plate.
Share with me your events, stories, or pictures at moregutz@gmail.com
I hope you find a way to preserve Miami history in this Whirl.