Almost a year before the older- and more-celebrated Rosa Parks went into the history books for doing the same thing, 15-year-old Claudette Colvin refused to give up her seat on a segregated Alabama bus in March 1955.
Young Elizabeth Eckford, her mouth firmly set and eyes hidden behind sunglasses, walked calmly into a Little Rock High school in 1957 as a crowd of incensed whites screamed at her. Fifteen-year-old Dorothy Counts endured a similar mob when she was one of four Black students to integrate Harding High School in North Carolina – also in 1957. It was that image, broadcast around the world, of the angry horde at Dorothy's back that prompted writer James Baldwin to leave Europe and come back to America and join the Civil Rights movement.
From the abolitionist to the Civil Rights movements, to the Soweto Uprising in South Africa in 1976, young Black women the world over have always participated in activism. Alabama's Lynda Blackmon Lowery was one of them.
Based on Lowery's book of the same name, on Feb. 7th at 8 p.m. at the Miami Dade Auditorium, Culture Shock Miami will stage "Turning 15 On The Road To Freedom." The play chronicles the efforts of Lowery as she struggled to find justice and equality, becoming one of the youngest participants of the Selma to Montgomery Voting Rights March of 1965. Lowery, who was jailed nine times before her 15th birthday, marched alongside Reverend Dr. Martin Luther King Jr. for the right to vote.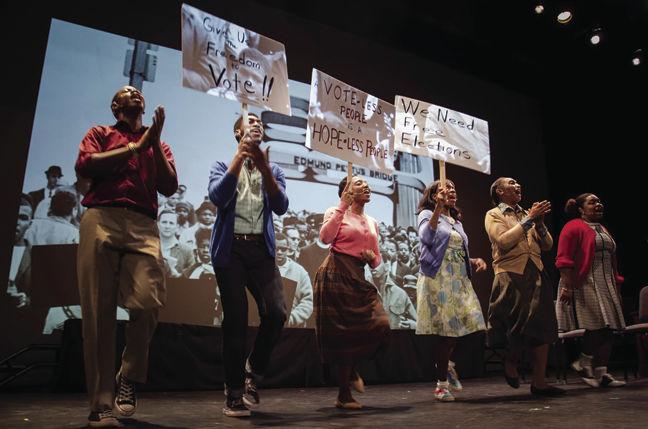 In her book, Lowery talks about the children in her school who inspired her and made her believe that she too, could make a difference. "I was mostly following the high school kids around," she wrote. "Especially Bettie Fikes. Bettie and her friends were trying to integrate Selma by going to whites-only places. They sat at the whites-only Dairy Queen and the lunch counter at Woolworth's department store."
Lowery was 7 years old when her mother died but she was old enough to understand the whispers of her neighbors. Lowery wrote, "I would hear the older people say, 'If she wasn't colored, she would have been saved.'" But the hospital was for whites only.
Lowery biggest influences though, were her grandmother and father who she said in an email to The Miami Times, "Taught me determination. My mother's death taught me how to handle, fear, anger, and the hatred I felt. Lastly, Dr. M.L.K Jr. motivated me to stay the course."
The producer of the play, Miranda Barry, chose it in part because of Lowery's relative anonymity. "We are producing 'Turning 15 on the Road to Freedom' today because Lynda Blackmon Lowery is not the most-prominent name in the Civil Rights Movement! This play tells the true story of the foot-soldiers of the movement, the everyday people who marched, went to jail, and put their lives on the line, non-violently, to win the right to vote."
Lowery and others like her also prove that age doesn't have to be a factor when fighting for a just cause. "Anyone can make history," she states, "regardless of age or background."
Queade Norah who plays Lowery says she considers it a "humbling honor" to play out someone's life while they are still alive. She finds it poignant that the story is being told from the woman's point of view and looks at "Turning 15" as a clarion call for the young. "From the age of 7, Lynda vowed to change the world when she got big because she didn't want anyone to grow up without a mother due to racism," Norah said. "It took determination and consistency to make sure she could see her mission through 'til the end. You don't have to be an adult to stand up for what's right."
A six-character musical, directed by Fracaswell Hyman, the play features gospel and Freedom Songs of that era. Preceding the production, will be a free daytime performance at 10:30 a.m. for local middle and high school students then a special performance by Voices of Heritage, the youth ensemble of the African Heritage Cultural Arts Center, under the direction of Isis Roberts immediately preceding the 8 p.m. production.
Culture Shock Miami is an audience development program of the Miami-Dade County Department of Cultural Affairs. The program provides teens and young adults (ages 13-22) access to $5 tickets to attend art performances and cultural destinations around Miami-Dade County. Those tickets are available at CultureShockMiami.com. Regular-priced tickets may be purchased at miamidadecountyauditorium.org.