Art installations that explore gentrification, the Middle Passage and preserve pieces of Liberty Square were awarded last Wednesday at The Ellies, Miami's visual arts awards.
Artist Edouard Duval-Carrie was recognized as one of Miami's eminent artists at a special reception of The Ellies, which was created to celebrate and elevate the careers of Miami artists.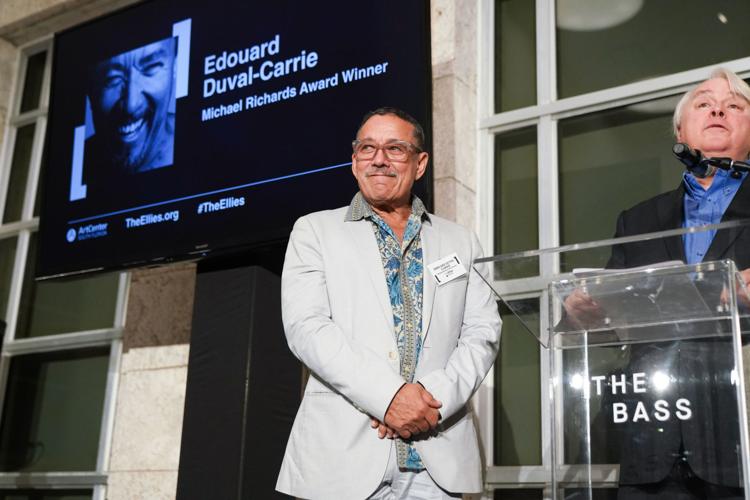 Duval-Carrie is one of 44 artists who will share $500,000 as part of The Ellies, which was presented by ArtCenter/South Florida. The Haiti-born Duval-Carrie will receive $75,000 and a commission at The Bass on Miami Beach.
Marcus Blake will oversee the painting and erecting of slabs of concrete from the demolition of the Liberty Square housing complex in open spaces around Liberty City. The community will have the opportunity to enter these lots, walk around, and enjoy these eye-catching structures.
Additional recipients include:
Woosler Delisfort: For "This is Little Haiti," a multimedia exploration of the people, history and culture of Little Haiti, which is both the cultural capital of the Haitian diaspora and one of Miami's fastest gentrifying neighborhoods. Through documentary film and a transmedia website, the project aims to investigate and preserve the neighborhood's cultural legacy.
April Dobbins: For "ALABAMALAND" is a feature-length documentary that is an ongoing exploration of Black land ownership in the rural South. The film examines three Black women's relationships to their family's 688-acre Alabama farm – a place that has long provided them with solace, free from the discrimination and limitations they face in the outside world.
Adler Guerrier: To create a film that will depict spaces identified with immigrant groups, and explore how people shape them culturally and politically. This examination will offer images of grace and dignity to counter the dominant framing that depicts immigrant spaces as dirty and dangerous.
Michelle Lisa Polissaint: For "Moonshine Moanin," an exploration of the artist's queer identity as it relates to being raised in the South. The work will consist of public performances inviting viewers to watch the artist perform the personas of female Black queer jazz singers from the 1920s and '30s such as Ma Rainey and Bessie Smith, who spoke openly and unapologetically about their queerness in their work.
Johanne Rahaman: For "Water Rights," an installation that examines the African Diaspora's relationship to water, from the Middle Passage, through segregation, to the present, as Black bodies are policed at beaches and swimming pools, and safe drinking water is still not democratized. The exhibition is a segment of the project BlackFlorida, the ongoing photographic archive of Black rural and urban spaces of Florida
Onajide Shabake: For "Alusogbe," a project examining Colonial era and contemporary ethnobotany as material for understanding the migrations of both humans and plants during the Atlantic Colonial slave era. It will culminate with a public exhibition of photographs, works on paper, film and an artist's book.
Troy Simmons: To celebrate Miami's unique neighborhoods, many of which are being gentrified, by salvaging sections of buildings slated for demolition and transforming them into pieces of art. He hopes his work, which blurs the lines between painting, wall relief and sculptural installation, will give future inhabitants of the neighborhood a glimpse into its past.
Symone Titania: For "NOTES TO MY YOUNGER SELF/Women's Photo Documentary exhibit," which captures the diverse images and personal handwritten narratives of bold and innovative women of Miami-Dade County. Both the images and narratives highlight the journey of being a woman, and are crafted to provide practical advice to young, emerging women leaders in Miami-Dade.
Juana Valdes: For "Rest Ashore," a multichannel installation that re-examines the experience of migration and how it relates to the current global refugee crisis. Using the Cuban balsero crisis as a starting point, the exhibition examines how these crises are documented in mass media, while creating a new visual vernacular honoring those who died at sea.
The list of all winners is available at TheEllies.org.