"I still have a dream, a dream deeply rooted in the American dream – one day this nation will rise up and live up to its creed, we hold these truths to be self-evident: that all men are created equal."
It's been nearly six decades since Dr. Martin Luther King Jr. stood on the steps of the Lincoln Memorial and uttered those words during his iconic "I Have A Dream" speech at the historic March on Washington in 1963. It remains the most famous of orations the beloved civil rights leader delivered during his legendary life.
The speech is also a go-to premise by which many measure America's true progress towards a post-racial society. As communities across the country celebrated King's legacy Monday, the true status of his dream remains in question.
The continued murders of Black and brown bodies by law enforcement with impunity; unprecedented Black Lives Matter (BLM) demonstrations; the rise of white supremacist groups like the Proud Boys; a stark dichotomy in the treatment of peaceful BLM protesters and white pro-Trump rioters by the U.S. Capitol Police; and Black people's continued position at the lowest rungs of society contrast greatly with King's dream.
Some feel instead of realizing the dream, Black people in America are in a living nightmare. Others choose to have the audacity of hope, reflecting on the progress that has been made since King's speech that fateful August day.
The Miami Times interviewed South Floridians from different walks of life and generations to gain a better understanding of how they viewed the status of King's dream. Here are their perspectives.
Edith Coleman Bush, 88, still remembers the day her father went to King's funeral. As president of the National Association for the Advancement of Colored People (NAACP) chapter in Andalusia, Alabama, Bush's father set an example of fighting for what was right.
"That's why I became an activist," Bush, who heads the Martin Luther King Jr. Coordinating Committee in Palm Beach County, told The Miami Times. She noted how much has changed since she was young.
"I've lived through segregation … and even when integration happened, in those days it was very, very different," she recalled.
For the past 40 years, Bush has worked with a variety of organizations to keep the dream alive. She said the upcoming generation gives her hope, citing things like Rev. Raphael Warnock's historic win to become Georgia's first Black senator.
"I'm a firm believer in the new generation, the new norm, the Black Lives Matter movement. Like the song says, 'A change is gonna come.' It's almost like we're on the verge of a civil war, but we're going to move forward and I don't think this generation is gonna take a step backward," Bush said. "I am excited that Warnock won because for me, the civil rights movement was promoted in the church. Thank goodness … To have Rev. Warnock elected recently brings us back to where we started from and it's awesome; it's beautiful."
Florida state Sen. Shevrin Jones, 37, also said he believes some aspects of King's dream have come to pass. However, he acknowledges that there is still much more work to do. One area he is encouraged by is the unity among different groups in tackling systemic racism, oppression and discrimination.
"We're living in a movement where women, queer and trans folk, Black people, immigrant people, folks with disabilities, Muslims and Arabs have come together to fight back against the underbelly of American society," Jones said. "America consistently tries to say this is who we are, but the injustices say different; and those same groups that I just called out now have the strength, because somebody did the work before us, to say we're not going back there again. So Dr. King's dream has given us the audacity to raise our voices to make it known that we've been there before and we're not going back."
Retired educator Nancy Dawkins, 97, agrees with Jones. The widow of late City of Miami Commissioner Miller Dawkins is a Liberty City institution in her own right. Recently honored as the oldest living member of the Bethune-Cookman University Miami-Dade Alumni Chapter, Dawkins also attended Florida A&M University. She is a life member of the National Council of Negro Women, which she has served with for more than 50 years.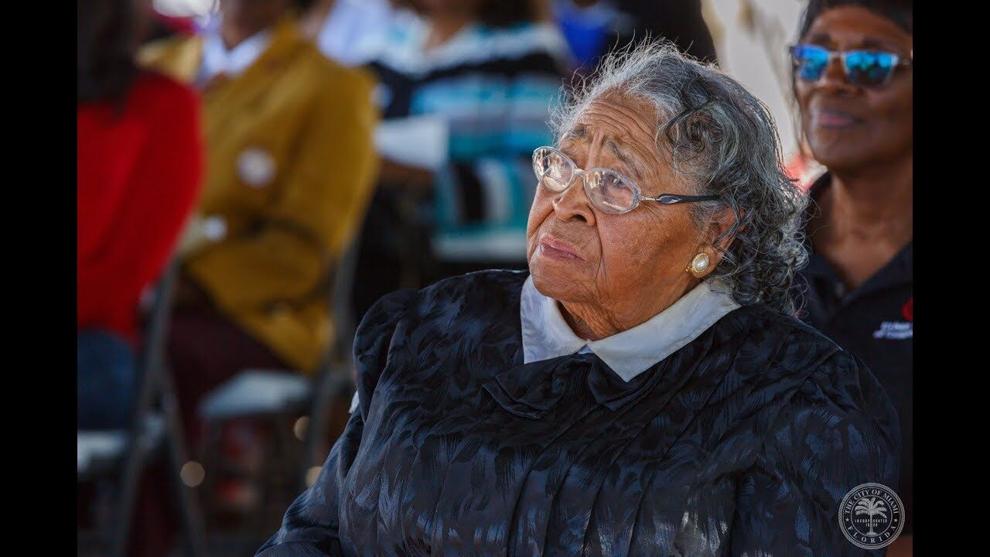 "I think what we see now, Dr. Martin Luther King set the current for," Dawkins said. "It's great to see people doing a wonderful job fighting for us and to know that we're still fighting. We have made some progress, but there's still a lot of progress that needs to be made. As I listen and look at TV and I see what's going on, we still are not free to move and get what we're entitled to. We're supposed to be free, but we've got to fight to be free. We're depending on the young people to peacefully protest [and] continue with education, and I think we need to put some prayer in this movement because really and truly, we are still struggling."
According to Dawkins, she had to be careful with her activism back in the day to avoid losing her job as an educator. However, she joined the local chapter of the NAACP and participated in sit-ins at the McCrory's lunch counter in downtown Miami.
Like Bush, Dawkins vividly remembers segregated water fountains, being barred from trying on clothes and hats in stores, being forced to use second-hand books from white schools and having to sit in the Jim Crow coach on the train when traveling. She said the recent Jan. 6 riots in the U.S. Capitol underscored how much work is yet to be done.
"You can see from this incident in Washington, we're still segregated to a certain extent. There are so many people that we really don't know what side they're really on now. You don't know who you're talking to," Dawkins said.
It is a sentiment shared by Dewayne Martin, who is 78 years Dawkins' junior. A 19-year-old public policy major and history minor at Hamilton College in upstate New York, Martin founded the Youth Education Coalition to increase young people's ability to get involved in education policy. The Miami Gardens native said he questions whether all self-proclaimed allies of today's racial justice movement are sincere.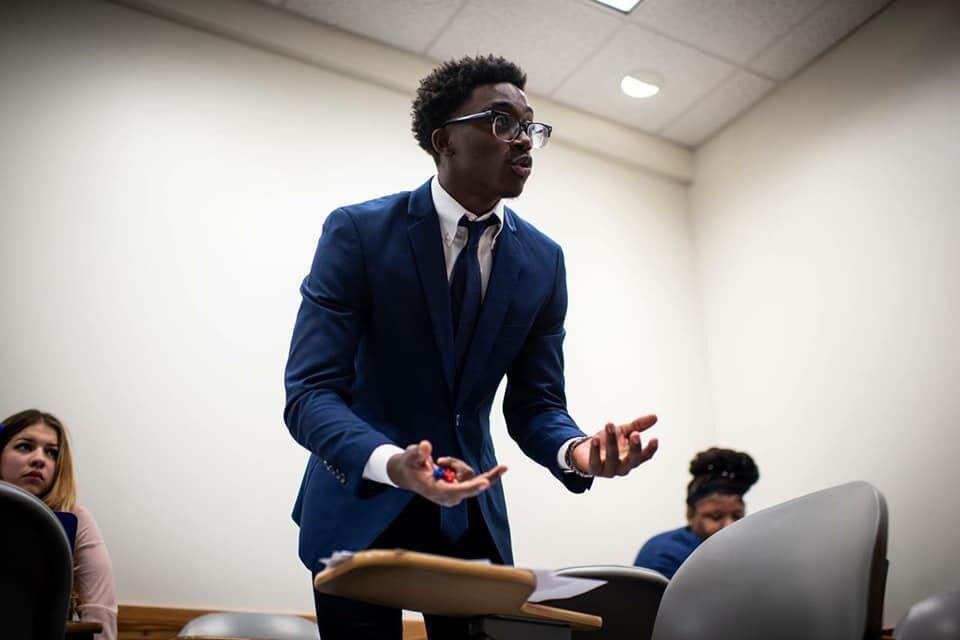 "You see the same folks who more than likely caused a lot of racial violence and racial tension now wearing Black Lives Matter in their profile more as a pin of moral masturbation as opposed to a thing that truly matters to them," Martin said. "These terms of Black Lives Matter and organizing, etc., now become fashion for certain people as opposed to a true caring for the lives of the individual. My question is how do we determine who is truly an ally and who is performatively using Blackness as a way for social mobility."
Martin said having much more work to do to achieve racial justice and equality doesn't diminish the contributions made by King and other Black revolutionaries that came before him.
"We oftentimes forget to humanize our ancestors. When we think of slavery, when we think of Jim Crow, we see them as caricatures of the moment as opposed to individuals with real feelings, and when we fail to do that, we also interpret them as just beings who existed and accepted the moment and that's just not the case," Martin said. "These are individuals who did not accept the moment who were true revolutionaries in their own way, and that same revolutionary spirit has spilled over and continues."
Bright young people like Martin give lifelong educators like Maxine Perry-Du Pont hope. Perry-Du Pont, 68, is a court education liaison in West Palm Beach who helped integrate what is now Atlantic High School in 1971. As a youth advocate who has been a member of Alpha Kappa Alpha Sorority for nearly 50 years, Perry-Du Pont is optimistic about King's dream.
She points to the historic gains made by her sorority, Vice President-elect Kamala Harris and the fearlessness with which youth are raising their voices as evidence of hope.
"We're so proud of Kamala Harris, and I know as a part of Dr. King's dream, he could envision where we are right now and [that] despite his untimely death, it can get even better. Who would have ever thought that there would be a Black female as vice president of these United States?" Perry-Du Pont said.
Like Jones, Perry-Du Pont believes "we're doing much better, but we have a way yet to go."
She is confident we will get there if we keep trying.
"I look to the future for improvement and progression. I don't look to the future as us regressing. We cannot let that happen even if all the mobs come. … We can't let something like that stop us," Perry-Du Pont said. "We've got to move forward. We've got to be able to bring up other young folks. I've always tried to do anything I can to help anyone else. … That's what I think Dr. King was all about. His service was a selfless act. He didn't want to keep it all to himself because he realized one day he wasn't going be here and somebody needed to carry things on after he was gone."
King's efforts to build a sustainable and diverse coalition is something Jones models to this day. Acknowledging that "everyone is not a fan of how I do my politics," Jones said he prefers to "call people in instead of calling them out." He believes if more people would work together to find common ground, instead of crucifying each other over where they don't agree, more of King's dream would manifest.
"Some people believe if you don't agree with me there's no need for us to converse with each other and I see that differently. … I call you in for us to share our differences and see where the commonality in all of this actually lies," Jones said. "I reason with those various groups by allowing them to stand firm in what they believe in as I stand firm in what I believe in, and where we can agree we build our mountain there. … I want to know who's willing to play in the paint for the sake of a beautiful picture. I'm here for it."
Martin summed up the current status of King's dream as a dichotomy of progress made and promises that remain unkept.
"If you don't know the history, then you are ill-prepared for this moment," Martin said. "I think it's important for us to find hope in our despair. I think it would be impossible to deny that there has been some level of material gain for Black folks in this world. There are things that we don't necessarily acknowledge because they seem so normal now. We must acknowledge those things and accept them and celebrate them, while also having a continued critique because there's not a mutual exclusivity to those things. We must find new locales of energy and hope to continue the struggle and fight against anti-Blackness because it's very easy to get burned out from this work."