Thursday, June 24, started off like any other day for Miami-Dade firefighter and paramedic Oliver Samy.
The 37-year-old, who was born in Haiti and raised in Miami, was working overtime at his station along with his canine partner, Lexie. At around 1:30 a.m. he glanced at his phone, which he doesn't usually do during his shifts, and noticed that there were several missed calls from his teammate and partner, Frank Garcia.
"I knew that around that time, he would never call unless there was something very important," Samy recalled.
He returned the calls, and that's when he heard the news. A major building collapse had happened in Surfside, and they needed all canine handlers at the scene. In disbelief, he asked his partner to repeat himself over the phone.
"I could hear it in his voice," Samy said. "My partner, he's put in over 20 years with Miami-Dade Fire Rescue. While talking to him over the phone, I knew the magnitude was pretty serious, because he has a few deployments under his belt."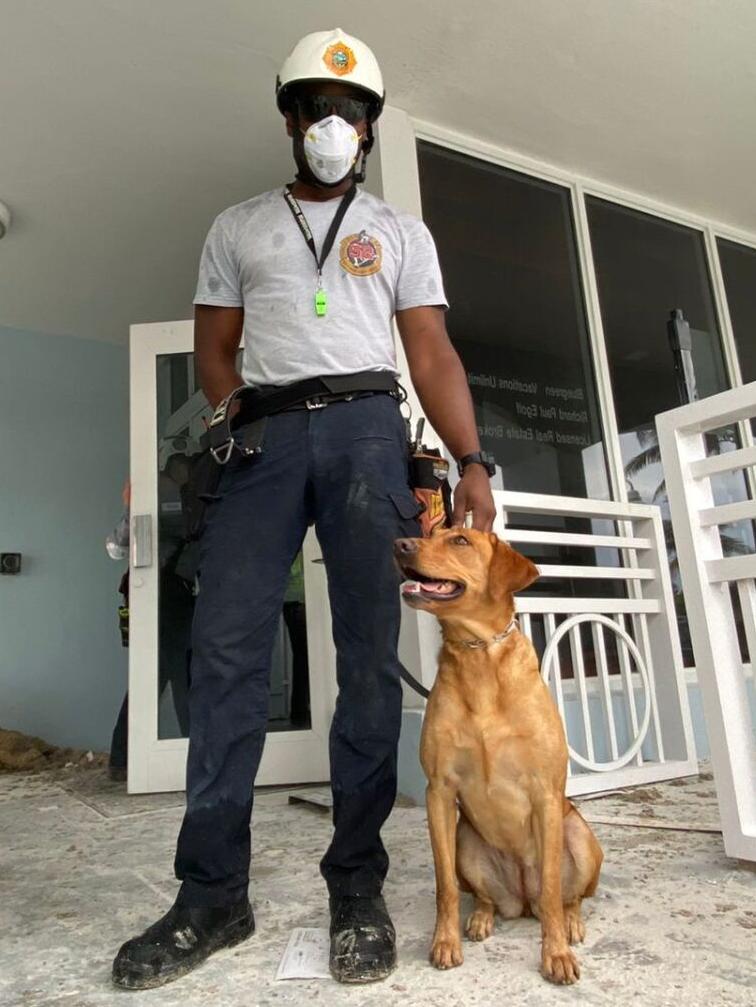 Samy has been with the fire department for just under five years; he worked low-risk jobs within the county for 10 years prior to that. Surfside would be his first search and rescue deployment, and he didn't quite know what to expect.
"[I was] trying to paint a picture based on the information coming in via radio communication," Samy said. "But when I was on Collins, heading toward the actual address where everybody was staged at, that's when it hit me. I looked over and saw that the back end of the building had fully collapsed."
More than 300 hours have passed since then, and rescue workers from all over the world continue to work at the site in shifts, searching for victims of the 12-story oceanfront condo tower that partially collapsed and was later completely demolished to ensure the safety of those who continue to comb through the rubble. The death toll at deadline was 36 and climbing, with 109 people missing or unaccounted for.
What remained of Champlain Towers South was leveled on Sunday.
Surfside is an affluent, predominantly white community, but first responders of all backgrounds answered the call of duty to assist with the disaster. Samy said growing up in Miami exposed him to people of all cultures and backgrounds. Race isn't something he thinks about when serving the community he knows and loves.
"To me, it's always been service before self," he said. "We serve all walks of life, you know, throughout our department and throughout our county, so I've never seen any color."
As far as deployments go, the Surfside building collapse is a particularly difficult situation. First responders have had to deal with the possibility of secondary collapses, fires breaking out on some of the building's floors and unpredictable weather because of hurricane season. Nonetheless, rescuers are sacrificing themselves to save anyone they can.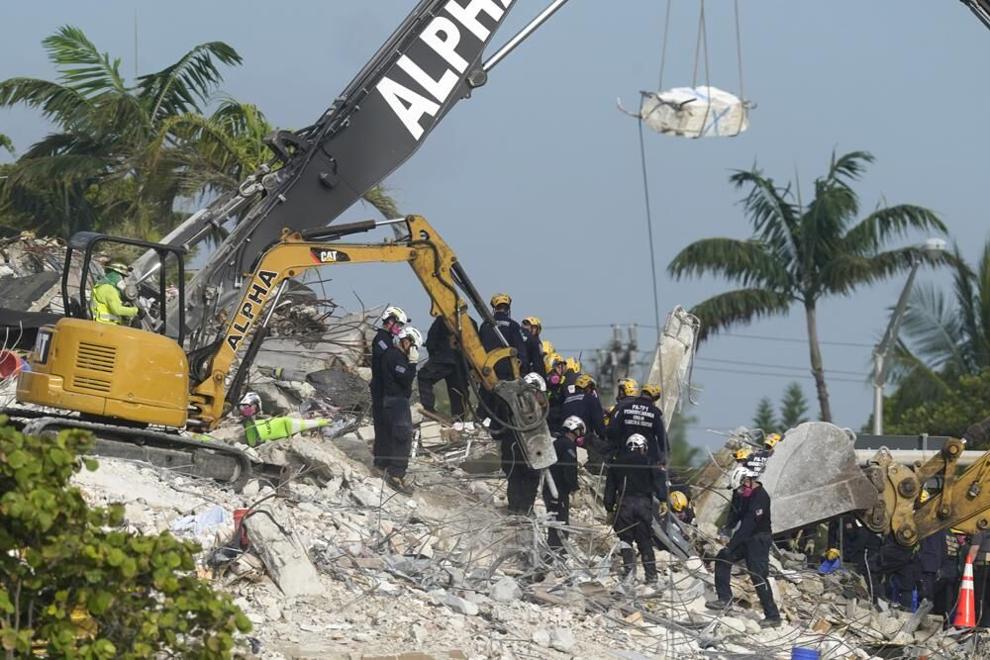 Samy did have some worries about the possible risks, but his training and objective kept him centered.
"My thought process with everything being thrown at me was, 'What hazards do we have? Have utilities been shut off? Has the gas been shut off? Could there be a possible secondary collapse?'" he said. "But then training kicks in and you think 'Who can we save?'"
Samy said the extensive training required to become part of the Urban Search and Rescue Florida Task Force helped prepare him for the magnitude of the Surfside tragedy. Becoming a canine handler also required additional training for him and his 3-year-old yellow Labrador, Lexie. But there's one thing his training couldn't have prepared him for.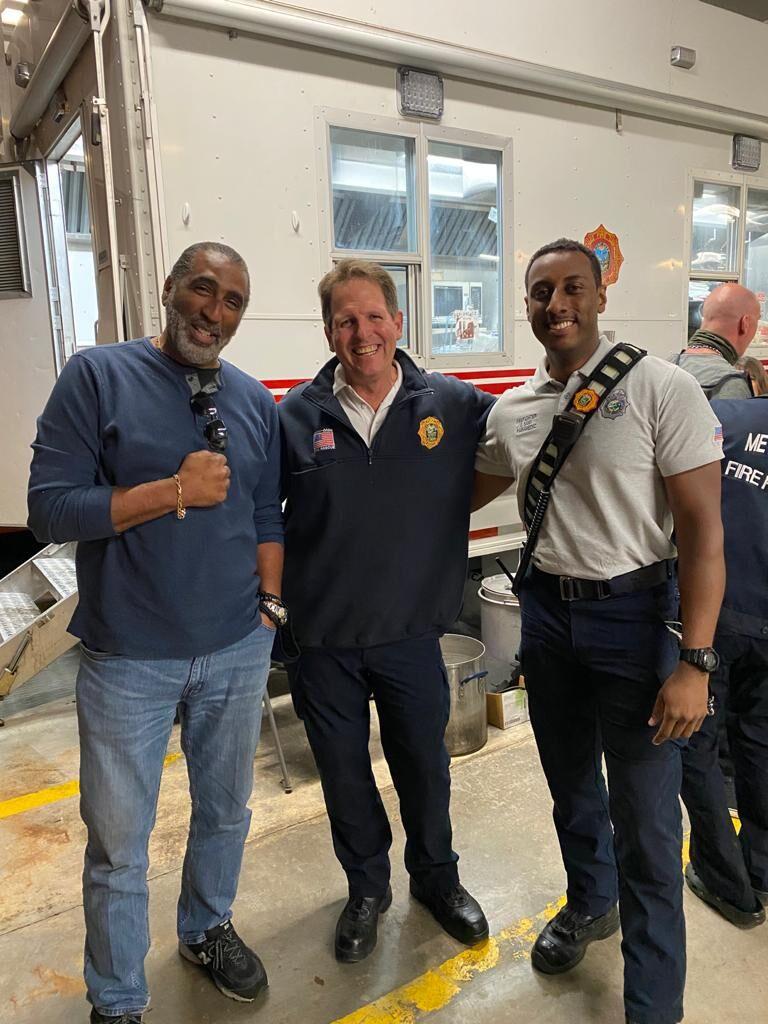 "Everything that we're seeing in the rubble was from a building that was fine a few hours ago … You're seeing the teddy bears, personal items, identifications, everything and anything that could be in a household belonging to the victims," he said.
The tragedy has sent emotional shockwaves throughout the community. Processing all of the loss has been difficult for passersby, let alone those on the front lines.
"As far as what the hardest part of this whole thing is, as the days continue we're seeing the loved ones wanting an answer," he said. "Putting up missing posters and signs."
Although it's been hard, Samy said that giving those family members and loved ones an answer is what drives him.
"It means a lot to me that I've been able to help," he said. "We're doing this for the family members."