There are several reasons why some Americans have nicknamed Barack Obama their "Forever President" – and the years he spent in office are only one of them. Another is the way he effortless connects with everyday people, which he did this past Saturday, Oct. 24, during a stop in North Miami at a drive-in rally to campaign for his former vice president and the current Democratic presidential nominee, Joe Biden.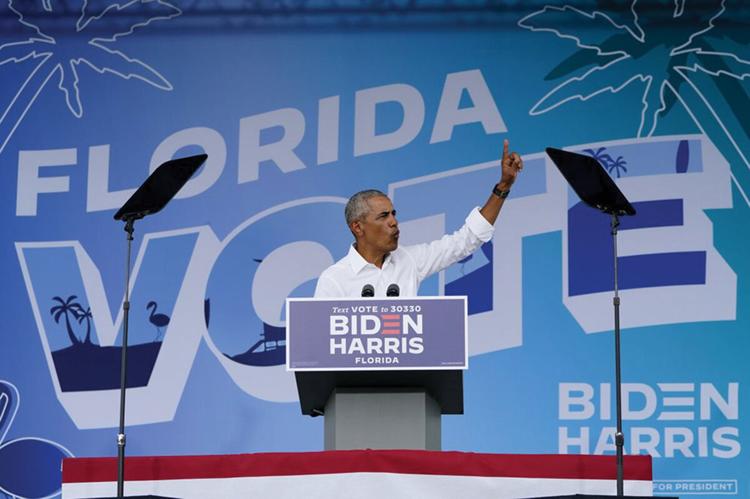 In typical Obama fashion, the 44th commander in chief delivered an engaging speech laced with humor, intellect, charm and quick wit while making his case for the Biden-Harris ticket. He simultaneously pointed out the seriousness of the hour.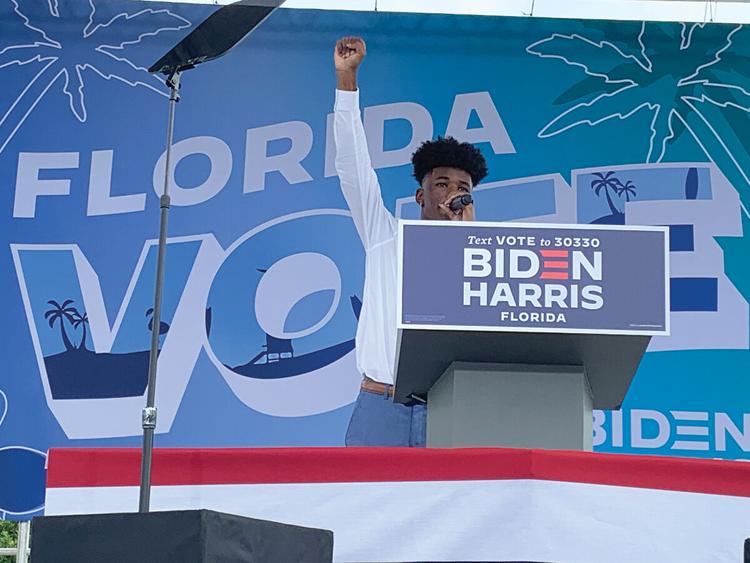 "Ten days Miami, 10 days until the most important election on our lifetime … Do not wait," Obama said, encouraging attendees to vote early either in person or by mail-in ballot. "This election requires every single one if us. What we do in these next 10 days will matter for decades to come."
So far, the state hasn't disappointed. Floridians might approach the highest voter-turnout rate for a general election in at least half a century, as more than 41% of eligible voters have already cast ballots in the Nov. 3 election.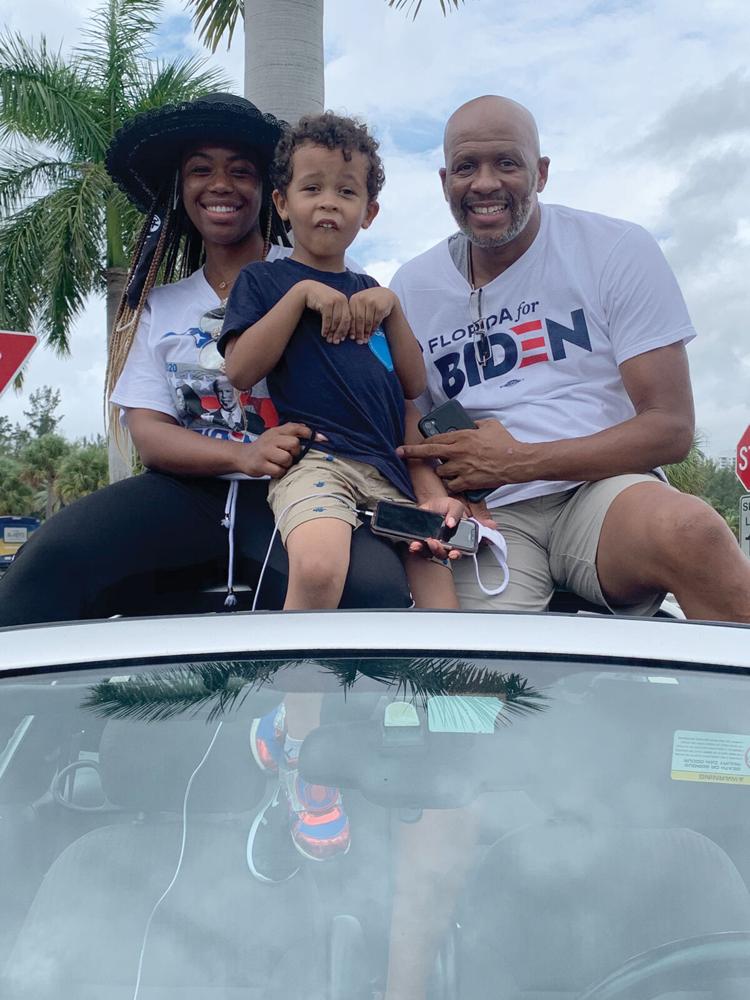 With the second week of early voting underway, the state Division of Elections reported Monday that 6,018,430 ballots had been cast at early voting sites and by mail. By Election Day, 50-60% of voters are expected to have cast their ballot.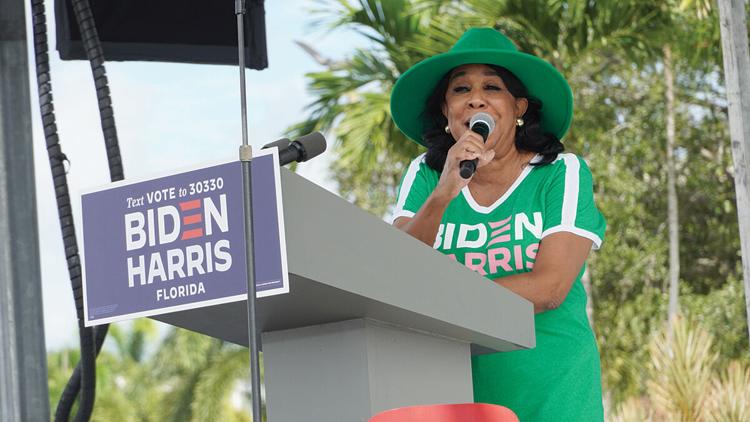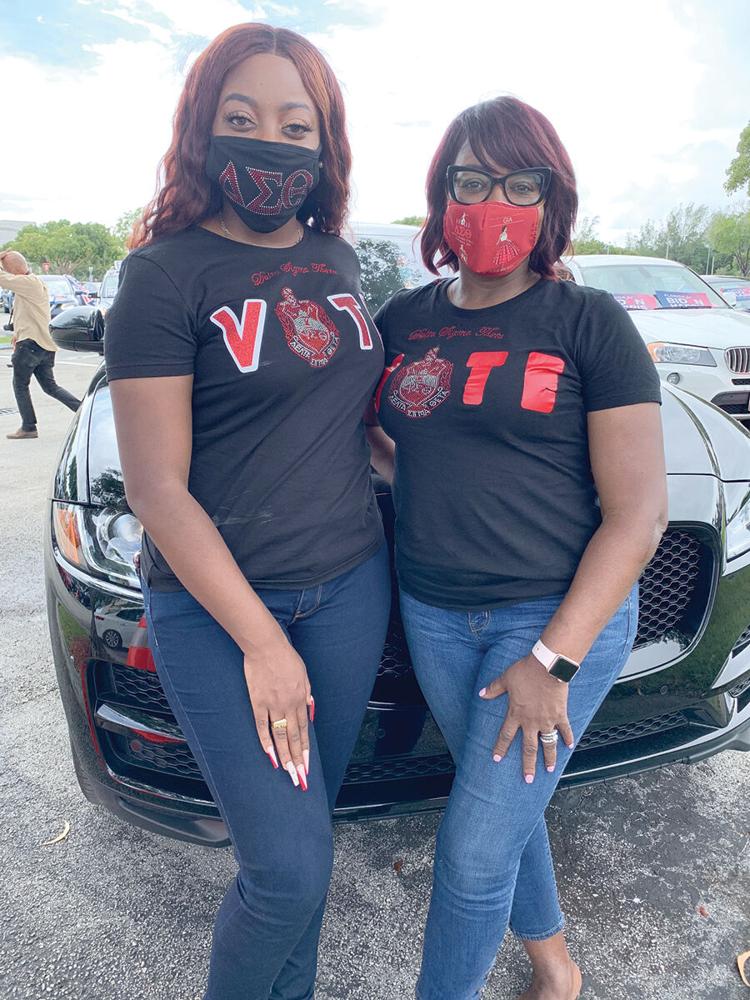 During his speech, Obama covered everything from health care, the coronavirus and climate change to the economy, racial injustice and foreign threats to national security.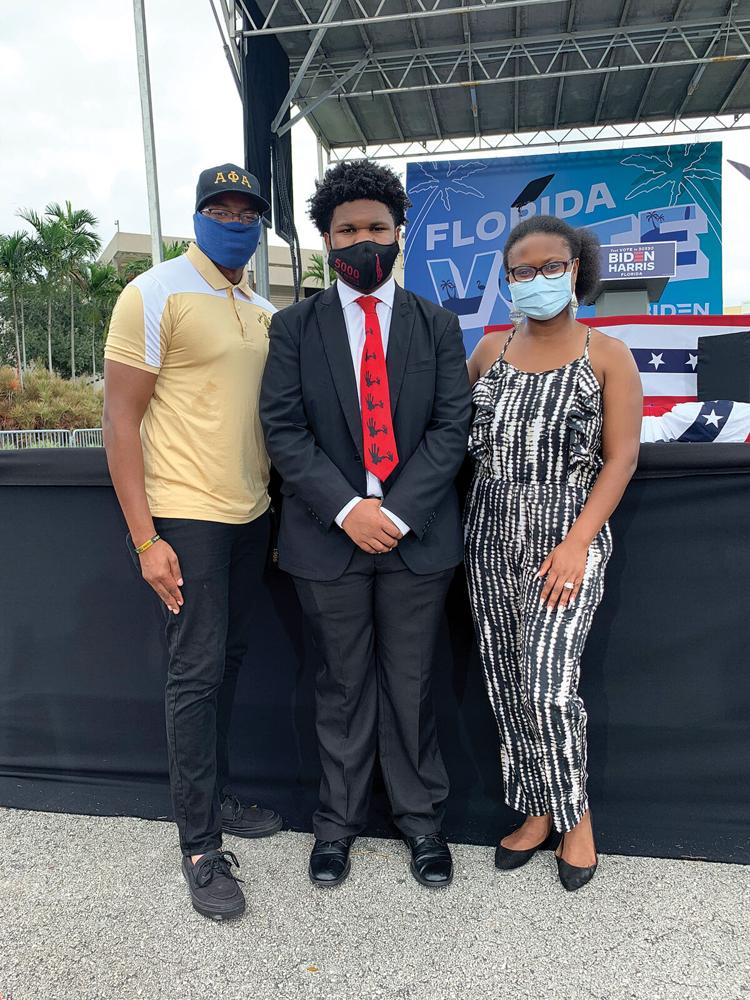 "We literally left this White House a pandemic playbook that showed them how to respond before a virus reached our shores. It must be lost along with the Republican health care plan. We can't find it," Obama said, noting the pandemic would have been difficult for any president. "This mismanagement would be comical and ridiculous if it didn't mean people losing lives, if it didn't mean the economy not recovering."
Obama also highlighted the significant impact that losing the Affordable Care Act would have on Floridians.
"Miami-Dade has the highest enrollment of any county in Florida. Florida has the highest enrollment of any state in America. Nobody has a bigger stake in making sure those protections stay in place than folks right here in Florida," Obama said. "Miami, Joe and Kamala will protect your health care."
Obama roasted President Donald Trump – who was in Palm Beach County casting his ballot that same day – throughout his speech. One of the more comical moments came when he compared Trump to the viral "Florida Man" internet meme.
"We're not going to have a president that goes out of his way to insult anybody who he doesn't think is nice enough to him. We won't have a president who threatens people with jail for just criticizing him. That's not normal behavior, Florida. You wouldn't tolerate it from a coworker. You wouldn't tolerate it from a high school principal. You wouldn't tolerate it from a coach. You wouldn't tolerate it from a family member. Florida Man wouldn't even do this stuff," Obama quipped. "Why are we accepting it from the president of the United States?"
He also challenged Trump touting record Black unemployment as one of his proudest accomplishments.
"He loves talking about Black unemployment, says he's the best president for Black folks since Abe Lincoln," Obama laughed. "Listen, Black unemployment was almost at 17% during the Great Recession eight to 10 years ago and through a lot of hard work, Joe and I helped get it down to 7.8 by the time we left office; and it just kept on going down … not because Donald Trump did anything. … This year it went way up back to 17%, right here in Florida, and he hasn't had an answer for it."
Obama also said the accusations that Biden is a socialist were not only unfounded, but should also be unbelievable.
"Some of the rhetoric you're hearing down here in South Florida, it's just made up, it's just nonsense," Obama said. "Listening to the Republicans, you'd think Joe was more communist than the Castros. Don't fall for that garbage, don't fall for that okey-doke. Joe Biden is not a socialist."
His 45-minute speech ended with Obama asking the crowd to turn Florida blue in November.
"Now listen, you delivered twice for me, Florida, and now I am asking you to deliver for Joe and deliver for Kamala," he told the crowd, which responded with loud honking and applause.
U.S Congresswoman Frederica Wilson echoed Obama's words when she spoke to the crowd. She said democracy itself was on the ballot.
"For the first time in history, a Black woman is on the ballot for a major party nomination," Wilson said. "There is so much at stake. What happens between now and Election Day is so much up to us."
In addition to Obama's turn at the podium, the rally featured speeches from local and statewide Democratic candidates and leaders; video broadcasts, one of which included Obama having a conversation with Democratic vice presidential nominee Kamala Harris; a performance by The 9 Marching Drum Corp; and a moving rendition of Sam Cooke's "A Change Is Gonna Come" by 16-year-old Wesley Wray, who lifted his hand into a Black power fist at the song's end.
"When I was asked to sing for this, I was honored. This is so important and I'm so passionate about this message, which is why I ended my song the way I did," Wray said.
Obama was introduced by George Pickens IV – a 17-year-old senior at Miami Northwestern Senior High School, who is the valedictorian with a 5.0 GPA and the president of the school's 5000 Role Models of Excellence Project chapter.
"When I first found out I was introducing him I was honored," Pickens. "Whenever people asked me if I could meet one person in the world who it would be, I'd always say President Barack Obama, because of the change that he has made in this nation and my community. I was very excited to know that I'd get the chance to introduce him today."
Pickens was accompanied by his older sister, Ra'Anna Pickens-Gill, and brother-in-law, Juston Gill. They were very proud of Pickens – who said he wished he was old enough to vote, but since he wasn't asked Miami to vote for him. The couple stressed why it was so important that everyone vote, particularly those in the Black community.
"Our ancestors, not too long ago, sweat, bled and died so that we would have the right to be able to vote," Gill said. "We have to take advantage of the opportunity regardless of how we feel about either candidate. You're not just voting for yourself; you're voting for your great-great-grandparents, who weren't able to have a voice … It's about those who came before us and those who will come after us."
"We deserve for our voices to be heard," Ra'Anna agreed with her husband.
Approximately 224 cars and 400 attendees filled the grounds of Florida International University's North Campus in Biscayne Bay for the rally.
Mother-daughter duo Gia and Sa'Vanna Smith – 56 and 23 respectively – were among them. The two, who are members of Delta Sigma Theta Sorority, said they felt compelled to attend.
"The right to vote is at the core of our every existence, from our sorority to what our founders did and our ancestors, so we are here to support Biden and Harris," Gia said.
"Even before I became a Delta and before my mother became a Delta, she always made it clear that my voice did matter," Sa'Vanna added. "My parents made sure to show me the steps to making sure that my voice counted; so it means a lot to me and I feel like I'm coming full circle to finally be at a rally and say you know what, my voice does matter. I'm happy to be here, especially with my mother."
Five-year-old Ethan Jennings was at the rally with his father and stepmother, Bernard Jennings and Vanessa Cassis. He summed up the crux of the day's message.
"To save our families, we have to make them vote," Ethan said.
Presidential candidate Joe Biden is scheduled to campaign in Broward County and Tampa on Thursday.